RTÉ pundit Eamon Dunphy believes Ireland's team spirit can help them progress to the Euro 2016 knockout stages, but has concerns over Martin O'Neill's "conservative" management style.
Ireland get their European Championship campaign underway against Sweden at the Stade de France on Monday (5pm) and a positive result is seen as crucial if Ireland are to emerge from a group containing both Italy and Belgium.
With four third-placed teams qualifying for the last 16, O'Neill's side could progress if they match their exploits from their qualification group where they finished behind world champions Germany and Poland.
Speaking at RTÉ 2fm's Game On roadshow at the Aviva Stadium, Dunphy said he's feeling positive about the Irish team but is concerned about the tactics and team selections of O'Neill.
"I'd be optimistic we'd get to the quarter-finals depending on the draw for the last 16," he said.
"I'd have reservations on the management team.
"If you look at Shane Long, who everyone now agrees is a certain starter, he didn't start many games. He didn't start against Germany or Scotland.
"I think most people think Wes Hoolahan should start but he didn't start any of the big games."
Taking four points off Germany has put Ireland back on the European radar, but the outspoken pundit is worried over the starting team and whether the best players are actually selected for action.
"I think there's an X-factor and a team spirit that we'll have and many other nations won't have"
There are issues around goalkeeper, centre-half and the attacking personnel and the RTÉ pundit is unsure what XI will face Sweden in Paris and isn't impressed by the "conservative" approach from the former Celtic boss.
"I don't know if the manager knows his best team," he said. "I have no reservation about the players, they are a great bunch of pros.
"I think there's an X-factor and a team spirit that we'll have and many other nations won't have.
"I'd be optimistic but it depends how they are managed and I can't predict that.
"We were hopeless in the Aviva against Scotland because of team selection and because of the kind of game he wants to play. It's very conservative, long ball stuff.He signed Emile Heskey twice!"
Dunphy also questioned the work of assistant manager Roy Keane and his influence on the midfielders in particular since his appointment in November 2013.
Stoke City midfielder Glenn Whelan has been the defensive lynchpin for some time, while James McCarthy has been criticised for failing to replicate his club form in international colours.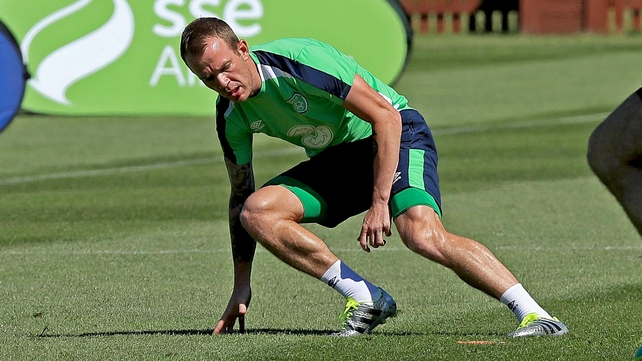 The analyst says the lack of improvement in their play, as he sees it, is an indictment of Keane's work.
"We've got two midfielders in [James] McCarthy and [Glenn] Whelan and Roy was one of the greatest midfielders ever.
"Not just physical, but thinking about the game. Knowing about the tempo and how to play the position.
"In the two and half years he's been with Martin O'Neill, I haven't seen any change in those two players who are both very stationery, don't get on the ball, don't take up the right positions to receive the ball and don't press the ball when they need to.
"That's what Roy should be working on in the training ground and I just don't see it."