Former Republic of Ireland and Chelsea midfielder Damien Duff believes that new Manchester United manager Jose Mourinho is the "only man for the job" and will have the Red Devils back challenging for the title.
Following a long-running saga of rumour and speculation, Mourinho was appointed to the United role last week, replacing Dutch manager Louis van Gaal, who had failed to impress during his tenure at Old Trafford.
Speaking at the launch of RTÉ's Euro 2016 coverage, RTÉ analyst Duff, who won the Premier League under Mourinho at Chelsea, insisted that the appointment of his old boss to the United hotseat was the right decision.
When asked whether Mourinho would be able to turn United back into title contenders, the Dublin man replied: "A million percent, without doubt."
"I'm not saying it's guaranteed success because it's a tough league next year with all the top managers flooding to the Premier League.
"He's a top coach, a top manager and has charm and charisma – something they haven't had there"
"I think with what's gone on at United for the last three years, he's the only man for the job."
Indeed Duff believes that United should have appointed Mourinho before now and that only a run to the FA Cup final prolonged van Gaal's reign.
"The fact that it took so long, possibly because they got to the FA Cup final, I thought was madness," he said.
"They were humming and hawing about it and he's the only man for the job, he's a top coach, a top manager and has charm and charisma – something they haven't had there."
Looking forward to Ireland's opening game of the European Championship campaign against Sweden, Duff sees similarities between this summer's group and the one his side were faced with in Euro 2012.
Euro 2012 was a tournament to forget for Giovanni Trapattoni's side and Duff believes that Ireland will have a similarly tough task this time around.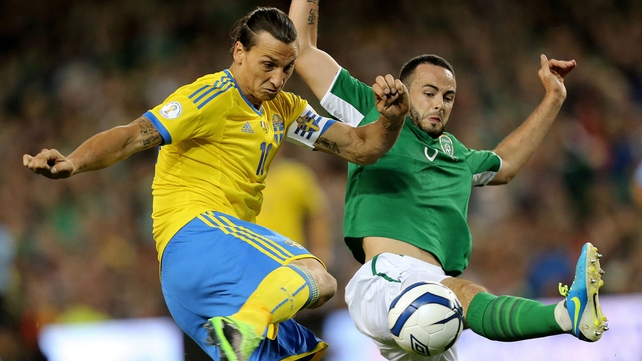 "I think it's exactly the same as four years ago," he said. "It's a similar group – very tough. We knew four years ago that if we didn't get a result against Croatia it was going to be an uphill battle.
"Then Spain scored two or three minutes into the second game and you might as well have walked off the pitch there - 1-0 down against Spain, one of the best teams ever, you're not clawing that back.
"But Croatia, it started there and it's the same this time."
Despite that, the former Irish winger believes that Ireland can get a result against Sweden and he tipped the Irish defence to stop their talismanic captain Zlatan Ibrahimovic.
"It looks like all four centre-halves are playing well and they're all putting each other under pressure, so that bodes well for when they're going to be marking the likes of [Ibrahimovic] over there.
"I'm not saying that Sweden are a one-man team, they obviously have quality in the squad but if you stop him you'd fancy your chances."