Manchester United's Juan Mata has written about the shock he and fellow players experienced as Sunday's clash with Bournemouth was abandoned over security concerns.
Old Trafford had to be evacuated shortly before kick-off after a suspect device, later revealed to be a fake bomb not removed after a training exercise, was discovered in toilets at the stadium.
"What happened in Old Trafford left all of us who were there absolutely shocked"
The item was destroyed by bomb disposal experts while the game - both clubs' final Barclays Premier League fixture of the season - was called off and rearranged for Tuesday.
The players were warming up on the pitch when the evacuation of the stands began.
The Spanish midfielder wrote in his blog for manutd.com: "What happened in Old Trafford this Sunday left all of us who were there absolutely shocked.
"Everybody in the security team did an effective job, resulting in a quick evacuation of the stadium. It helped not to spread panic around, although all of us had a very odd feeling; something like strain mixed with a lack of understanding.
"The fans left the stadium before we did. I think we left Old Trafford at around 5pm, with the feeling that everything was already under control.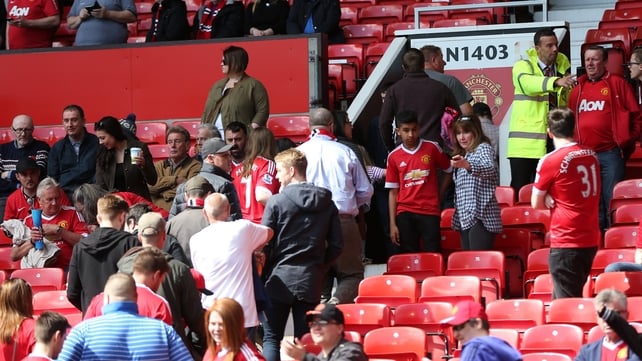 "I feel sorry for all those people who had to go back home without watching the game, because that's what they had come for. Obviously, safety is always the top priority but what I'm really sorry about is that this kind of issue affecting football, sports and society in general.
"Many of us think that sport has the capability to unite people, and we must keep believing that."
Greater Manchester's police and crime commissioner Tony Lloyd has demanded an inquiry in what he has described as a "fiasco" of a situation.