Louis van Gaal expects to still be Manchester United manager next season – even if his team fail to make the Champions League.
The Dutch man knows that missing out on Europe's premier club competition would fall short of expectations at Old Trafford, but doesn't think it would cost him his job.
The 3-2 midweek defeat at West Ham saw the Red Devils waste the chance of taking fourth spot from Manchester City ahead of Sunday's season finale.
Van Gaal's men now need to win against Bournemouth and hope City fall at Swansea - a tough ask underlined by bookmakers' odds of 7-1 on United overtaking Manuel Pellegrini's men.
Failing to reach the Champions League cost David Moyes his job two years ago and speculation is rife that the Dutchman could follow suit, with Jose Mourinho linked to the post.
Furthermore, Van Gaal's name was conspicuous by its absence as investors and executive vice-chairman Ed Woodward sidestepped the subject of the manager's position following the announcement of United's third-quarter results.
The manager remained steadfast in his belief that he would be kept though, bristling at the suggestion it would be harder to keep the players' concentration given they know he plans to retire at the end of next season.
"Yeah, but you and your colleagues have sacked me for six months, so I have worked with these circumstances already for six months and we are still in the race," he said, aiming a shot at the media.
"You cannot say that we are not. We can win the FA Cup. How many are still in the race? How many? It's not so much so.
"Of course, when we don't qualify ourselves we don't reach our aim. That is true because our aim was to qualify ourselves for the Champions League. That was our aim.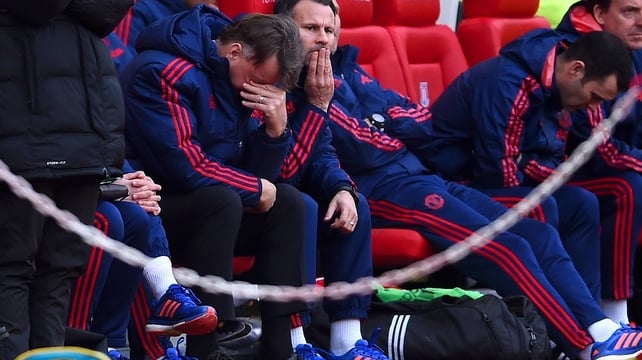 "But we are in the final of the FA Cup and we are in the race in the last match - mathematically we can qualify ourselves still. How many clubs can say that?
"Of course you can say Manchester United need to be champions - yes, I know, the expectations are like that, but I don't think that is realistic."
He continued: "And I have said I shall be here, that is my opinion, so the board has to decide if it is like that. That is a different way of looking to the situation."
"The facts are that we are still fighting for Champions League qualification." - Louis van Gaal
Van Gaal foresees no issues with players' attitude if he's given the chance to stay on and see out his final campaign of his three-year contract.
After the 2016-17 season the Dutchman wants to 'go spoiling my wife' during retirement and refused to be drawn on how he would react should United offer him an extension.
"That is 'if' and I want to keep to the facts," Van Gaal said. "Also when it is positive for me, it's not good - you cannot talk about if, only talk about the facts.
"The facts are that we are still fighting for Champions League qualification."