Slaven Bilic believes West Ham's final game at Upton Park ticked all the boxes as the hosts came from behind to beat Manchester United.
In what was an emotionally-charged game, headers from Michail Antonio and Winston Reid secured a 3-2 victory for the Hammers as they bade farewell to their home of 112 years ahead of their move to the Olympic Stadium.
Diafra Sakho had given the hosts the lead until Anthony Martial put United ahead with a second-half brace.
The occasion was marred before kick-off when bottles were thrown at the Manchester United coach as it made its way into the ground.
The Metropolitan Police confirmed a police officer and a member of the public were hurt, with the Football Associaiton confirming it would launch an investigation.
Kick-off was delayed by 45 minutes but West Ham were quickly out of the blocks and, although the Red Devils rallied after the break, Bilic ultimately saw his team win and severely dent United's hopes of Champions League qualification.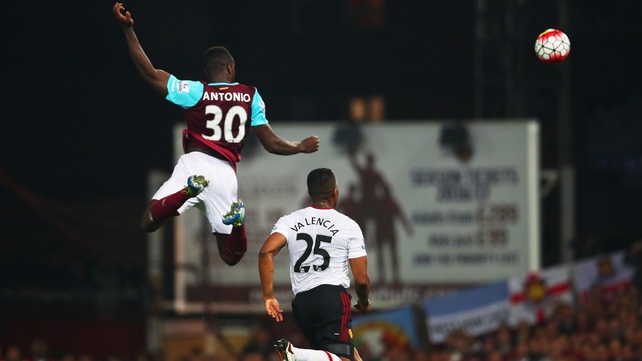 "It's a great night," he told Sky Sports.
"It's our history and it's not just a game. It's against them, (United) it's fighting for Europe and everything, a late night game - it couldn't be better.
"All the boxes you need to have a special kind of a game, it was tonight. All the boxes were there, Man United, late night....thriller, five goals....so brilliant."
Bilic felt the victory was well-deserved and praised his players for dealing with such an emotional situation.
He said: "It was a special game, it was big, big pressure for us although we've had a great season and I told the guys 'whatever, you...however we finish the last couple of games, this season has been great for West Ham in terms of breaking a few records and everything'.
"We were till the end in a couple of competitions and battling for the Europa League and a good run in the FA Cup so it was good, very good or excellent, but we were under pressure.
"We didn't want to lose our last game at this fantastic stadium. We just wanted to win and this was a win of character.
"We didn't stop believing because we were unlucky to be 1-1 all the time.
"Okay, they are Manchester United and they have scored a couple of great goals.
"We knew that they were highly motivated because it meant a lot to them as they could have overtaken Manchester City but we should have been more than 1-0 up at half-time."
Louis van Gaal refused to blame the pre-match attack on the club coach as a reason for United's shortcomings as their Champions League hopes were taken out of their own hands.
"First of all you cannot prove that (it had an effect)," he said.
"We live in this world, we know that, I know it is not the first time it happens. Okay, I have a long experience in football and there are players who don't have the experience.
"It will have an influence but I don't think we have to look for excuses because we chased the match in the second-half and 20 minutes before full-time we are ahead so I don't think you have to look for that excuse.
"I think the disappointment is because we were 2-1 ahead, we changed the match in our favour and in a fantastic way.
"Then you lose because of the set-plays and that I have already said before the match, we tried to organise everything but still you miss the centimetres so we have a lot of set-plays and corner goals against us already.
"That is disappointing because it has a big consequence and you lose a game you have to win."
Despite the loss handing the impetus back to Manchester City in the race for fourth, van Gaal has not conceded his side will miss out on the Champions League this season.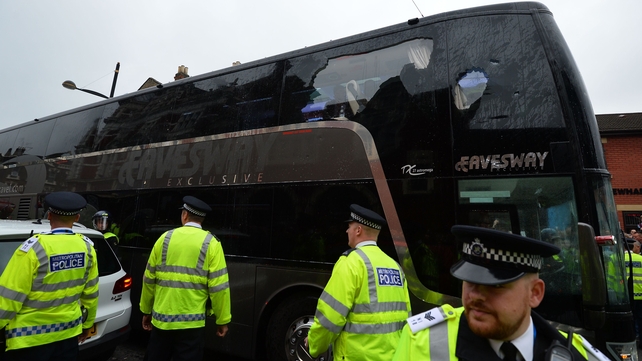 "No it (a top-four finish) is still not gone," he added.
"In the last match of the season we can pass over Manchester City, they can lose and we can win - then we are fourth, you can count I think?
"I don't think it is not likely, in this league it happens a lot and Swansea City has a very good run.
"We have to beat Bournemouth and that is tough.
"We have less points than last year and last year we were qualified two matches before the end and now we are still fighting on the last day. It is less but still we can finish as fourth, we have to think only of that.
"It is a mental blow for the players but against Bournemouth we have to give everything so that we don't give Manchester City a free trip into the Champions League."
Meanwhile, West Ham have promised to ban for life any supporters who are identified following the trouble. 
A statement from the club said: "It was an extraordinary night full of extraordinary moments in front of extraordinary fans.
"99% of whom behaved impeccably and were a credit to the club.
"We have already had thousands of Tweets and emails from fans to say how proud they were to be a part of such a special evening in West Ham's history.
"However, we are aware that there were some supporters outside the Boleyn Ground who didn't act in an appropriate way when the Manchester United team bus was damaged.
"That was not acceptable and we will work with the police to identify those responsible and ban them for life."