Southampton manager Ronald Koeman believes Shane Long's current form has been key in his side's upswing in results.
Saints are unbeaten in their last four Barclays Premier League games and the 29-year-old striker has scored 10 goals in the league this season.
This is also great news for Ireland ahead of the Euro 2016 campaign in France next month.
Long managed just five goals in the Premier League last term, his first with the club, and his manager is delighted with the improvement.
"I remember when Shane came, I think in all aspects he has learnt a lot," said Koeman, who sees his side sit seventh in the Premier League table, ahead of the likes of Liverpool and Chelsea.
"We did a lot with Shane in a lot of aspects of football and I think he is more complete as a player, as a striker.
"His pace, his timing, his movements are full of confidence. It is a big example that you can still learn when you are 26, 27, 28. You can learn every day.
"It is a big example of how you can develop with the help of coaches and that is nice to see.
"He was always really excited to come to Southampton and I remember talking to Shane about training sessions, ours are a little bit different to the usual English striker.
"He is really complete as a striker, in the box he is clever, he has a really good header, he makes it so difficult for the defenders because he is always on the move."
Former defender Koeman joked: "I am happy I played before Shane was a striker!"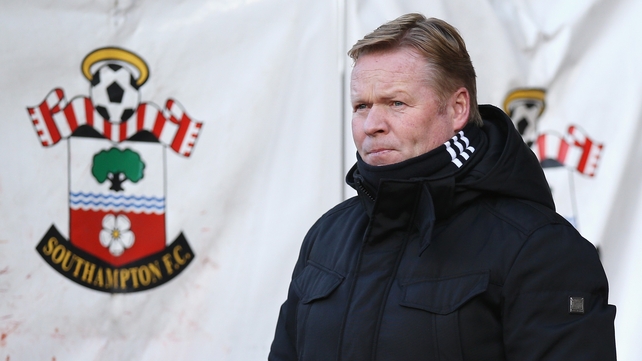 Tottenham are the only top-flight team Koeman (above) has failed to beat since he joined Southampton as manager in June 2014.
In his first season in charge of the club, he led Saints to a seventh-place finish with 60 points.
A win and a draw from their final two games - at Tottenham on Sunday and at home against Crystal Palace on the last day of the season - will see Southampton beat their best points total in the division, something Koeman would love to achieve.
He said: "I think that is the big example of what we are doing with Southampton in two seasons.
"We have beaten everybody once, only Tottenham we have not. It would be great to have a win this Sunday.
"Last season was great and if we do better than last season then that will be fantastic."
Koeman remains determined his side have a chance of playing European football next season.
And if Liverpool beat Sevilla in the Europa League final and Manchester United beat Palace in the FA Cup final, eight English teams will be competing in Europe next season.