Jurgen Klopp believes seven months of evolution since his arrival has turned around Liverpool's season and set them up for a pivotal Europa League semi-final second leg against Villarreal.
Liverpool have battled inconsistency since Klopp's appointment as they adjust to his methods, but he reckons they have the quality required to reach the final, despite carrying a 1-0 deficit from the first leg
"In October Liverpool changed their manager. That's not the sign of a perfect situation," said the German, who replaced Brendan Rodgers seven months ago.
"If we play our best then we can go to the final"
"Something went wrong before then. After the change we didn't change everything immediately, we developed.
"We still had problems - injuries. We played sometimes really good, sometimes not that good, but only two really bad games - Watford and Swansea.
"This team has built consistency step by step, this good shape and good moment we should use.
"These players gave me a lot of positive signs about their qualities and quality is always potential plus talent plus attitude. That is really good.
"If we play our best then we can go to the final."
Klopp has been boosted by the ahead-of-schedule return of midfielder Emre Can from ankle ligament damage, although captain Jordan Henderson remains out with a knee injury.
"Emre Can is ready to return to the squad, for sure," Klopp said.
"Hendo is in a good way for England (for Euro 2016). I'm not sure how good a way it is for Liverpool.
"He's not been on the pitch until now. We will have to see day by day how that improvement is so only Emre will return to the squad for this game."
Liverpool got to this stage with a remarkable come-from-behind 4-3 win over Klopp's former employers Borussia Dortmund.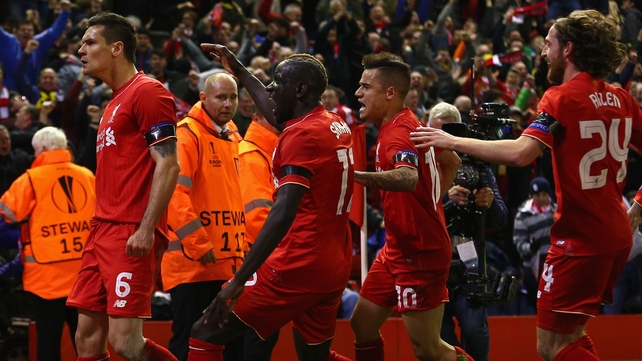 The victory has already gone down in Anfield folklore, given the atmosphere before and during the match, and, with expectations sky-high about a repeat performance, Klopp urged his players to embrace those feelings.
"I have not enough words for this. To be honest, it is one of the things in life you cannot buy. It is most special," he said the fans' support.
"It is these moments when you really know it is not just the crowd in the stadium: I saw some videos of fans celebrating our fourth goal (against Dortmund) at home.
"I'm sure a lot of people didn't have their cell phones on so we missed a lot of wonderful celebrations.
"I don't want to make it too big. It is a moment for the whole Liverpool world.
"Everyone will be watching on television, listening on radio or following on the internet.
"To know about this is absolutely no pressure; it is only the 11 starters, the boys on the bench plus boys in training plus the staff who will do everything."
Villarreal's wild celebrations at their last-minute winner in the first leg left a mark on Klopp, but he insists it does not give him extra incentive.
"They scored a goal in the last minute so if they hadn't celebrated something would have been really wrong," he said.
"The only thing I thought in this moment was 'half-time'. Nothing happened. They have to come to Anfield.
"I am still feeling this, so the feeling is we are halfway through and I know how difficult it is.
"I sense the chance more than I am afraid of something - so let's try."