It's a familiar-looking scenario for the Republic of Ireland. Two formidable teams and one more on their level, theoretically at least.
But Ray Houghton hopes that the Boys in Green don't pin all their Euro 2016 hopes on winning the opening game this summer, as he believes that the crushing disappointment of a 3-1 defeat to Croatia four years ago made defeats against Spain and Italy inevitable.
Most observers believe Sweden - Ireland's opposition in Paris on 13 June - are the most beatable team in a group also containing Belgium and, hello again, Italy.
But former international midfielder Houghton, who famously scored the winner in Ireland's 1-0 victory over England at Euro '88, warns that Ireland must be "realistic" and, above all, avoid defeat.
"Hopefully as a nation we don't put too much pressure on the first game," he told RTÉ Sport.
"I think that's what happened four years ago. We put so much emphasis on beating Croatia that when we lost we were deflated afterwards, as if we had no chance in the other games. It was a pretty poor showing, the three games we played in.
"That's something that we have to learn and I'm sure the players will have learnt from that.
"A more realistic approach from everyone, could prove the best way to go"
"I thought Giovanni (Trapattoni) was a pragmatic manager. I don't know if he got caught up in the hype of thinking 'we have to win this if we're going to qualify".
"I think Martin will have looked at what we did wrong four years ago. He has experience of playing tournament football, as does Roy Keane, so I think that helps.
"I think this time around, a more realistic approach from everyone, could prove the best way to go. Take the pressure off the players and let them go out and perform.
"We're playing Sweden. They are beatable but it's a game we can ill-afford to lose. At least if we get something from it, it keeps the other games alive."
Houghton admits that Ireland face a task tough in a a group with world number two-ranked Belgium and four-time World Cup winners Italy but believes the new 24-team format will reward teams who fight till the end.
"We're in a tough group. I don't what we've done to deserve this! This is three times in a row we've qualified for the Euros and every time we've been in a major group.
"From '88: England, Russia and Holland, which was tough I can assure you, to four years ago: Croatia, Spain and Italy; and this time Sweden, Belgium and Italy. Another really tough group.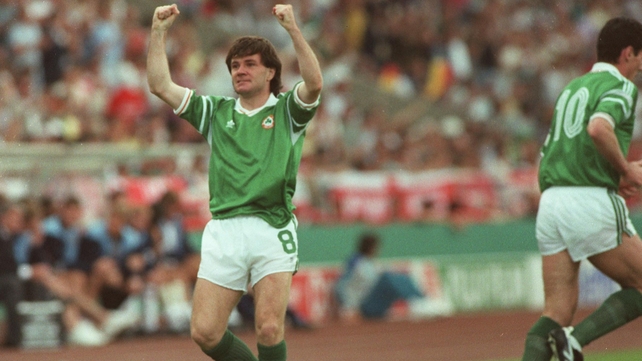 "The only bit of solace you can take out of it is that only eight teams go out of the 24 (after the group stages). It gives you a little bit of scope that even if you don't win your first one you can still qualify.
"You might get through with three draws. You might need five points. You just don't know how these games are going to go.
"The most important thing is that we don't lose the first one."
Houghton sees Shane Long, Seamus Coleman and James McCarthy as being Ireland's key men this summer and says he wouldn't hesitate to bring record goalscorer and cap-holder (67 in 143) Robbie Keane to France.
"Shane Long is playing really well at the minute. He's having a very good season with Southampton, he's scoring goals and looks really confident.
"Seamus Coleman could be huge, if he's fit. Seamus is a massive player for Ireland.
"James McCarthy is another you'd be looking to to really perform.
"And then some on the periphery. McClean, McGeady, Walters, Hoolahan. There the ones that if they get into the starting XI have to shine.
"I'd bring Robbie. We don't score enough goals and Robbie's got a fantastic goalscoring record. Coming off the bench for the last 15/20 minutes to open up the defence, he might be your man."