Ray Houghton says he hopes the families of the Hillsborough victims can find closure after "enduring 27 years of pain and lies".
An inquest jury in England today ruled the deaths of 96 Liverpool fans at the Sheffield football ground to be unlawful, following years of campaigning by the families to reveal the extent of police incompetence and against the original verdict of accidental death.
Houghton was on the pitch in the 15 April 1989 FA Cup semi-final against Nottingham Forest, which was abandoned after Liverpool fans were crushed in over-crowded terraces.
"It brings it back," the former Liverpool and Republic of Ireland midfielder told RTÉ Sport. "You've got your memories of that day. It's very fresh, it'll never go away. It's something that you'll always remember.
"We've had some great times with the football but that's undoubtedly the worst.
"But it's more about the families. They've had 27 years of pain. 27 years enduring lies being told about their loved ones and finally they're going to find out the truth and who's accountable. I think that's hugely important.
The 96 victims of the #Hillsborough disaster from oldest to youngest.https://t.co/BcmlH9TMPd

— RTÉ News (@rtenews) April 26, 2016
Houghton hopes that the families will be able to move on somewhat following today's verdict but says the toll of the struggle might be too much to "ever get back to normality".
"Maybe today might be closure for them. I'd like to think so but I'm not so sure," he said.
"I'd like to think they can get on with their lives.
"Obviously, they'll never forget their loved ones that have passed away but maybe they'll start to enjoy themselves for who they are and not worrying about what's happened and the reasons that it happened. Because now they've got the answers that they want.
"They've lived with this for 27 years. It's something they can't switch off from. It's not as if they can just get on with their normal life. This is there all the time.
"They've had to fight for justice. When there were people that were doubting them, there were stories, that they had to be above that and believe.
"They knew what their loved ones were like, they knew what sort of people they were. That wasn't being portrayed so they had to stand together.
Hillsborough victims' families sing "You'll never walk alone" outside the court after the inquest.https://t.co/oJlcm1fHQM

— RTÉ News (@rtenews) April 26, 2016
"That's what's come across when I've seen them. The dynamic of the group is quite incredible. They're so tight.
"Listening to them and being around, it seems like their life revolves around what happened that day. They can remember just about everything.
"Whether today's going to stop that and all of a sudden they're going to start to get back to normality, if you can ever get back to normality, I'm not so sure. Only they can answer that.
"People have died waiting for justice. You don't know if the illnesses they've died from have been the result of everything they've been through. The stress they must have had."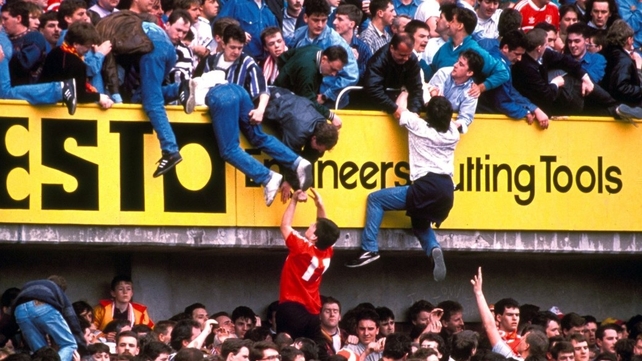 As for his personal memories of the disaster, Houghton recalls the horror of seeing pictures of fans he had met being crushed up against the barriers and his anger at the fences used to restrain fans.
"It had a huge impact," he said. "You're on the pitch because you want to play football. The fans are there to support you and enjoy the day.
"I remember a fan running on and saying there were people dying in the Leppings Lane end but I never thought for one minute it was what it was.
"Then you see the scenes afterwards. I watched the TV that night and then felt angry that we had these fences at football grounds.
"These fans couldn't get out because we had these six-foot pens keeping them in. I didn't understand why.
"I remember seeing faces of fans who'd been down to the ground the week before and there were (pictured) on the newspaper up against this six-foot fence.
"A few days before you were talking to them and having a bit of fun with them. Fortunately, they were okay."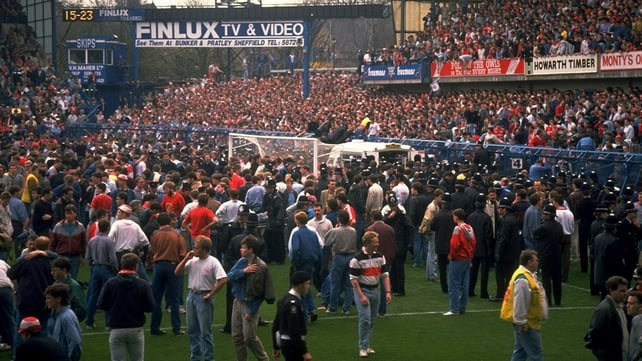 Jason McAteer, also a former Liverpool and Ireland player, had two football team-mates die at Hillsborough.
"It's a great sense of relief for the families and everyone concerned," he said.
"It's moved in the right direction at last. 27 years was a disgraceful amount of time to try and uncover the truth, a truth that we've always known.
"Today I think is the start of closure and we can start moving forward in the direction now.
"The people who've spent all their lives campaigning for this, you've got to take your hats off to them.
"They've worked hard tirelessly for the truth and we've been thoroughly behind them. They're the real heroes.
"We've got our justice today. It's a sad sad day but it's a good day as well."