Louis van Gaal is eyeing a place in the FA Cup final after Manchester United ratcheted up the pressure in the race for the top four.
United moved within a point of the Champions League places with Wednesday's victory against Crystal Palace, which was far more comprehensive than the 2-0 scoreline suggests.
Matteo Darmian created one and scored the other against fellow FA Cup semi-finalists Palace, who made seven changes ahead their clash with Watford on Sunday.
United face Everton the day before and Van Gaal hopes the victory will be a platform for more success this weekend.
"I wanted three points because that was the most important thing," he said.
"We needed to close the gap, we needed to win and that is what I said to my players in advance of the match.
"We had to win, and that we have done - and now it is another game.
"I have said, 'First you can enjoy (this), but you must recover also because soon you have to play again'.
"Now we have to do it again, at quarter past five on Saturday."
Van Gaal will certainly hope for a start akin to that seen at Old Trafford, where Damien Delaney's own goal put United on course for victory within four minutes.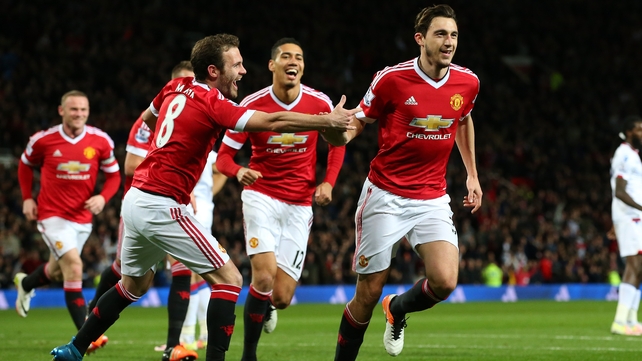 Darmian eventually added to that after the break but the Dutchman had hoped for more goals from his side.
"I have told my players after the match that it was a good game," Van Gaal said.
"The only remark was that we didn't score too much goals, because it was a match (that should have had a scoreline) of 5-0, I think.
"But I am pleased with the way we have played.
"We have created a lot of chances in the first half and the second half, and we didn't give any away - maybe one in the first half and that was it, so I am very pleased."
It was a one-sided display against much-changed Palace, whose manager Alan Pardew believes many of his players were distracted by Sunday's trip to Wembley.
"The FA Cup, for Manchester United, is going to be a big, big event - but for us, it is a huge event," he said.
"I could see a bit of blurred focus from our players in terms of that game, and that is understandable.
"A lot of our guys might never get another chance to get to an FA Cup final"
"A lot of our guys might never get another chance to get to an FA Cup final.
"You could see a little bit of that in our play, but I hope you give us a little bit of leeway on that."
There was a strange atmosphere at Old Trafford, where there appeared to be quite a few empty seats despite an official attendance of 75,277 - a figure that reflects the number of tickets sold.
But when that was put to Van Gaal in his post-match press conference, he brushed off the suggestion.
"I don't see a lot of empty seats - but you have seen it because you want to see it," the Dutchman said.