The FAI have laced the Republic of Ireland's underage teams with the experience of Damien Duff, Stephen McPhail, Keith Andrews, Kenny Cunningham and Mark Kinsella in an ambitious move to bolster the underage back-room set-ups. 
The Irish Independent have reported that Duff will come into the U-15s set-up, with former Leeds United midfielder McPhail working with the U-16s, Andrews linking up the U-17s side, Cunningham helping with Tom Mohan's U19s and Drogheda United coach Kinsella bringing his expertise to Noel King's U-21s.
All four former senior internationals will work with their teams from next season, initially for a year. There will then be a review of the arrangement, with high performance director Ruud Dokter hopeful it will lead to something longer term.
Last year Cunningham and Kinsella worked with the U-15s and U-16s, with Duff and McPhail already doing some work in Shamrock Rovers' youth set-up.
Dokter told the Irish Independent: "We're delighted they will work with us. They bring great experience.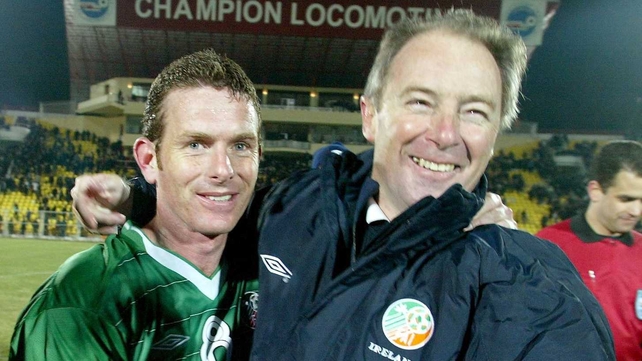 "We did it last year already. Mark Kinsella was with the U-16s, Kenny Cunningham was with the U-15 side. They were interim roles but it was already in my mind.
"I want to extend this process, and it has to work for both sides. It's not a contract. We'll review it after a year and if everybody is happy, we will continue. It's a long-term commitment from my side. It's not a closed window. They will be working in conjunction with the good coaches and managers that are there and they don't have a problem."
FAI CEO John Delaneyadded: "The FAI has always sought to progress talent, whether that is our own coaching staff, or in this case to involve former players, who have played at the very top level.
"I'm delighted to have these big names onboard, and I look forward to watching them develop their own coaching talents as well as observing the development of the players who they will work with."
Ex-Chelsea and Blackburn Rovers man Duff hung up his boots last December after a stint with Rovers that brought the curtain down on a glittering career. 
He racked up 100 appearances for his country, featuring at the 2002 World Cup and Euro 2012 European Championships. 
McPhail is still plying his trade with Rovers, having earned 10 senior international caps, while Andrews played 35 times for his country, lining up alongside Duff at the 2012 Euros.
Cunningham captained his country and played in Korea and Japan, while Kinsella took the reins at Drogheda last season but couldn't stop them going down. He's stepped back into a coaching role as part of Pete Mahon's back-room team this campaign as they chase a swift return to the top flight.