John O'Shea will attempt to erase the memory of the Republic of Ireland's disappointing Euro 2012 campaign by targeting qualification for the knock-out stage this time around.
The Sunderland defender was a key member of Giovanni Trapattoni's squad which went to Poland and Ukraine four years ago and failed to collect a single point from tough group games against Croatia, Spain and Italy.
"It's a different time, a different group of players, different management, everything's different"
Martin O'Neill's men have been presented with an equally difficult set of fixtures at Euro 2016, with Sweden, Belgium and Italy awaiting them in France, but having beaten world champions Germany on the way to the finals, O'Shea insists Ireland are looking to make significant improvement.
"I've done my best to erase it from my memory, but people keep bringing it up! I was hardly delighted with it," he said when questioned about events four years ago.
"Obviously we wanted to get out of the group and we didn't, so that's the main thing we'll be looking to do this time around.
"Preparation is very important for it, but it's a different time, a different group of players, different management, everything's different.
"But ultimately... fingers crossed the manager has a fully fit group to pick a squad from, and if we can have that, hopefully it will be a different set of results."
O'Shea, who will be 35 by the time the finals get under way, knows it could be his last tournament, and he will head off to France hoping to have helped his club avoid relegation from the Barclays Premier League once again.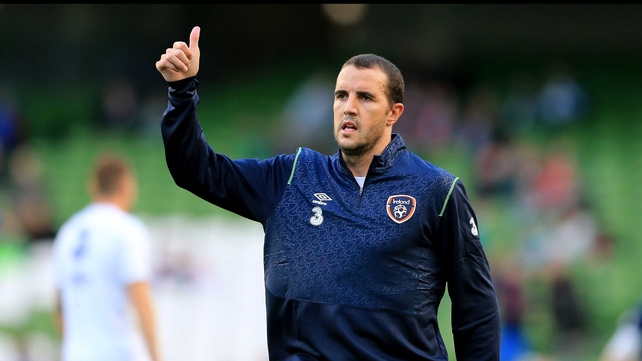 He said: "Obviously, there are not going to be many more, so you are just focusing on enjoying every game that comes.
"Look, the Premier League is a very strong league as it is and obviously at the end of a season like that, fingers crossed, you are fully fit.
"You've played the games and what you have worked for through the group stages, all those games you have battled through to get to the finals in France, it's the thing you are looking forward to most.
"It's something that you're keeping in the back of your mind. Ultimately you get your club business sorted, done and dusted, and then you look forward to international football."
Robbie Keane and Anthony Pilkington have been ruled out of tomorrow's friendly with Switzerland, while Jonathan Walters will not feature due to a hamstring injury, but should be fit to face Slovakia next week, while Bournemouth's Harry Arter will miss both games after damaging his achilles.