Under-21 international Jack Byrne wasted little time making an impression on Martin O'Neill by telling the Republic of Ireland manager that he would be able to make an impact in the upcoming international friendlies against Switzerland and Slovakia.
Byrne was invited to train with the senior team this week and O'Neill admitted after today's session that words were exchanged with the self-assured Manchester City teenager, who plies his trade in the Dutch top flight with Cambuur.
When asked how Byrne fared in his maiden training session with the senior squad, a relaxed O'Neill was quick to share his interaction with the ball-playing midfielder.
"I was speaking to him there and he certainly doesn't lack confidence," said O'Neill. "He said that he could influence the games."
O'Neill was not willing to elaborate on his thoughts about the player's immediate future, but it was evident that he was looking forward to seeing more of the Dubliner in training this week.
"I don't know yet, I'd need to see a wee bit more about him.
"He might be dumped on his backside tomorrow by a couple of the senior players, but good luck to him.
"Once I let the senior players know that he's been 'onlining'...I'll have a wee word with Glen Whelan about that.
"So if you see him being carted off tomorrow, you know that the boys have read the online stuff," joked the Ireland manager.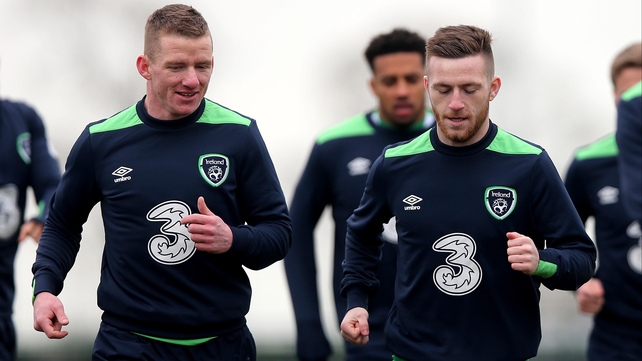 The new faces in the Ireland squad were also paraded before the media following training at the FAI headquarters in Abbotstown.
Wolves defender Matt Doherty and Aberdeen winger Jonny Hayes (pictured above with Jack Byrne) are both looking to make their senior debuts in one of the upcoming games over the next week.
Aberdeen midfielder Hayes admitted that it took a few minutes to get up to speed with the pace of training today but enjoyed mixing it with a number of Premier League players.
The self-described "old-fashioned winger" said that the chances of picking up his first cap were like an unexpected dream and he said that he is keen to make an impact by playing his natural game, which he describes as getting on the ball and creating goals.
Wolves defender Doherty said that he was very excited to get out and train and felt that his introduction has been quite smooth as he has played with several members of the squad at underage level for Ireland, including Robbie Brady and Jeff Hendrick. 
Byrne re-emphasised his confidence in these surroundings, saying that he was good enough to affect any game that he plays in, and being a technical footballer, he feels that his strength is getting on the ball.
The former St Kevin's Boys player said that his earliest footballing memories go back to the World Cup in 2002 and admitted that it felt a bit surreal to be eating dinner alongside Robbie Keane.
The Netherlands-based player is unlikely to remain with the senior squad and should play with the Under-21s in Waterford on Thursday as they take on Italy.
Several players sat out of today's session, including Jonathan Walters, Glenn Whelan, Jeff Hendrick and Robbie Brady.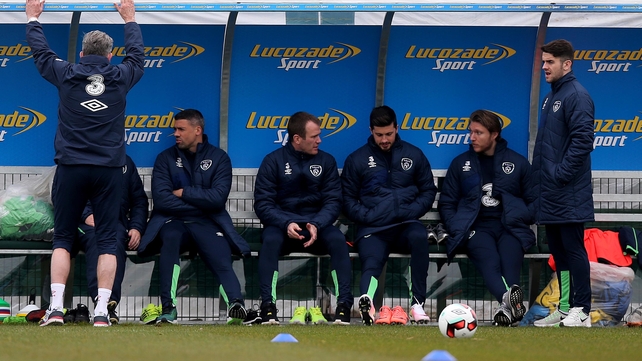 Former St Patrick's Athletic player Chris Forrester was omitted from the final squad but the Ireland manager appears to believe that he is definitely a player for the future.
"He is a young fella, he has loads and loads of time," said O'Neill.
Dundalk keeper Gary Rogers has also been invited to train with the squad for two days, but O'Neill confirmed that it was just based on a previous meeting where the keeper had expressed an interest in coming along for a couple of days.