Louis van Gaal is confident of leading Manchester United into the Champions League - a drum Manuel Pellegrini is also beating despite Manchester City's poor league form continuing.
The 171st Manchester derby was always likely to have a huge impact on the remainder of the campaign, with City hoping to keep their faint title hopes alive and United looking to avoid their top-four hopes being extinguished.
Van Gaal admitted in the build-up to Sunday's match that defeat would all but end their Champions League hopes, but his side produced a manful display to close the gap on misfiring City.
Marcus Rashford's first-half strike at the Etihad Stadium saw his first Manchester derby end in a 1-0 win, making his manager believe a top-four finish is within their grasp.
"I have said in advance that we must win this game and we have done it, so I am very happy because otherwise the gap was too big if they won," Van Gaal said.
"Or a draw is still four points, eight matches to go, so then it should be very difficult. Now it is in our own hands, I think. We have to win our games, we have more home matches than away matches. We don't lose so much at Old Trafford so we have a big chance."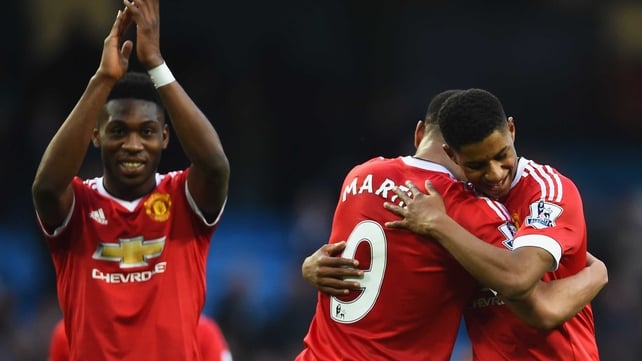 Van Gaal says that the belief was palpable in the dressing room after a match which was a "test of survival".
City certainly had plenty of opportunities but were unable to eke out a leveller, allowing United move to within a point of them in fourth.
The Champions League quarter-finals may await the Capital One Cup winners, but they have now only won one of six league matches, raising questions of whether Pep Guardiola's impending arrival has negatively impacted the squad.
"We continue in fourth position," Pellegrini said. "We have to play for another 24 points. We must be focused on the next game.
"I am not unhappy with the performance of the team. We had 26 attempts on their goal and we dominated the game but missed chances to score."
Understandably, Pellegrini was not in the best of moods after the derby loss, even walking out of a broadcast interview.
As if defeat was not enough, the City boss lost key men Joe Hart and Raheem Sterling to muscle injuries that are set to keep them out of England's upcoming friendlies.
"Both of them have muscle injuries," City boss Pellegrini said. "Raheem his groin and Joe in his calf. I don't think that a muscle injury you can be fit in one week. Normally three or four weeks."