Louis van Gaal knows Manchester United "have to deliver" if they are to overcome a first-leg loss and keep their European dream alive against Liverpool.
Jurgen Klopp's men make the short trip for the return leg of this Europa League last-16 tie boasting a 2-0 lead - a scoreline that would have been a lot worse for United had it not been for an inspired David de Gea display.
The inability to net an away goal at Anfield has made Thursday's task even tougher for Van Gaal's side as they look to upset the odds and secure a memorable comeback under the Old Trafford lights.
The Red Devils do, though, have a famous history of bouncing back, and their manager is confident they can still progress to the quarter-finals.
"I think the challenge to beat Liverpool and the challenge that we are two goals down is a big challenge," Van Gaal said.
"We have to believe in it and it starts with the players, of course, but it starts also with the fans. The fans have a lot of impact on the pitch.
"I have spoken only with the players about the victory and we have to believe in it."
Asked if United owe their fans a big display, the Dutchman said: "Yes, but we owe always to the fans a big result because the fans are paying to see that.
"We have to deliver, but in sport you can lose and you can win. It's very difficult but you have to accept that.
"But (on Thursday) we only have to think we have to beat Liverpool and we have beat them 2-0 - not with 3-0 because we can do that also in extra time.
"We have to do it in 90 minutes, 2-0, then we have the chance to beat them and go to the next round. You know that we have scored goals within three or four minutes this season, so it is possible."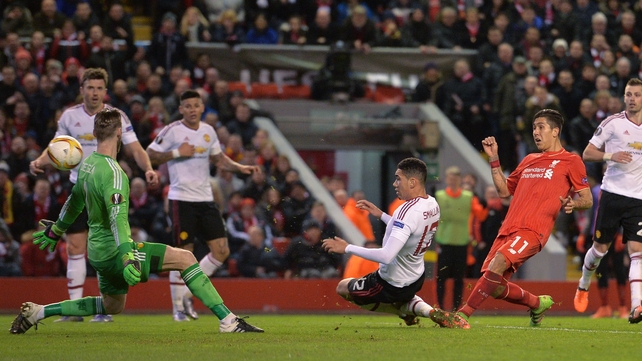 Van Gaal pointed to the 5-1 victory at home FC Midtjylland in the previous round when asked if they had the wherewithal to score the four required should Liverpool grab an away goal on Thursday.
The Dutchman says United are thinking about "making goals" rather than conceding them and hopes the home fans can create an impressive atmosphere like that seen at Anfield last week.
"I am very satisfied about the fans because the results what we have achieved this season are not the results the fans are thinking that we have to fulfil," Van Gaal said.
"We don't fulfil the expectations and still they support this team and this manager. But the most important thing is this team. That's the main thing.
"We need their support also because their impact is big. The atmosphere at Anfield was a big impact also."
Ashley Young and Cameron Borthwick-Jackson are unlikely to play a part despite training on the eve of the match, but Juan Mata is available having missed the FA Cup draw with West Ham through suspension.
Bastian Schweinsteiger is not deemed fit enough to start, so Marouane Fellaini - whose substitution on Sunday was cheered by disgruntled United fans - could continue his record of starting for United against Liverpool.
"I cannot say if he will play (on Thursday) because then I give part of my line-up and I don't want to do that," Van Gaal said.
"Fellaini has his way of playing and he can give us a lot of qualities. He has contributed to a lot of games in a very good way.
"For me, it's very important if he can contribute in the game-plan that we have created with each other. That's the main thing.
"When I put a player in a line-up, then I think he can do better than other players in that position. That's why I select players for the line-up. If Fellaini is selected you shall see in the line-up."
Klopp is confident the atmosphere at the stadium will not cause a problem for Liverpool.
"It is loud when all the people hate you, but I can't understand what the crowd are singing so it's easy for me," he said.
"Our performance will help decide how good the atmosphere is."