Republic of Ireland captain Emma Byrne says the squad return to Euro  2017 qualifying with a pep in their step after the Cyprus Cup.
The Women's National Team recorded a win over Finland and a draw with Italy during their four-game stay in Cyprus.
And the Irish skipper says those results have injected belief that the dream of qualifying for the European Championships in the Netherland next year is still on.
"The dream is still alive, definitely," said the Arsenal goalkeeper.
"These kinds of weeks that we are together is a huge advantage for us because it builds good team bonding and morale within the camp.
"We didn't get all the results we wanted but at the end of the day we finished well. 
"It's really all about our European campaign and we beat Finland in the last game and I think mentally and psychologically that is going to be a huge boost for us and that is what we are going to take from the whole trip."
There are less than four weeks to the resumption of the Euro qualifying campaign with the double-header away to Montenegro and Spain and Byrne says her only thoughts at the moment are on the opening game.
"I am focused on the Montenegro game because it is a must win match," said Byrne who added two more appearances to bring her total number of caps to 124.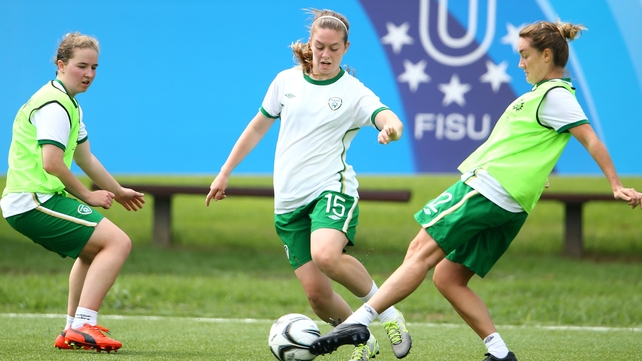 She continued: "We really have to beat them. We are focused on them because we have to win that but I also think we can beat Spain.
"They recently drew with Scotland and the Scots should have won. We know we are capable of beating Scotland so you pick up on these little things and they help build up your confidence.
"I know Spain beat us 3-0 at home but I don't think the result reflected on our performance. I know Spain don't like playing us and if we play like we did against Finland then they should be worried about us."
She also believes that the 1-1 draw in Cyprus against Italy, ranked 13 in the world, was another major boost for the squad.
"I actually think the kids coming through are some of the best we have ever had at that age." - Emma Byrne
"The girls felt they could have won and that was a huge confidence boost for them," said Byrne.
"Italy have always been a very good team and we have never beaten them so I think a draw was fantastic and I definitely feel the girls took a lot of confidence out of it."
The squad arrived in Cyprus with 11 of the 23 players under 22 years of age and Byrne is the only member who is over 30.
She laughs that it makes her feel old but adds that the quality of player now emerging is something she has never seen before.
"I actually think the kids coming through are some of the best we have ever had at that age," she noted.
"I am really hopeful about the future of Irish football because the likes of Megan Connolly, Emma Hansberry (above, centre) and Grace Moloney mean the future is definitely looking bright."