Louis van Gaal is confident Marcus Rashford will cope with his new-found fame, saying the Manchester United teenager's attitude matches the remarkable aptitude displayed over the past week.
The 18-year-old has gone from relative unknown to one of England's most feted players in a matter of days, having been given a surprise first-team opportunity last Thursday.
Anthony Martial's hamstring complaint ahead of the Europa League tie with FC Midtjylland saw Rashford thrown in a the deep end - an opportunity the striker capitalised on in style, netting twice as United won the do-or-die last-32 second leg 5-1.
As if that was not enough, Rashford netted another double at Old Trafford on Sunday as title-chasing Arsenal were defeated 3-2 - a fairytale that could be continued if Martial fails to recover in time for Wednesday's match with Watford.
"First, I think that the media have to let him in peace and rest," Van Gaal said of Rashford. "When you are in front of his house and that kind of stuff, I don't think that is beneficial for a boy of 18 years old.
"Give him the time also to be 18 years old and we shall guide him also in that way, but he is a very modest guy so I don't think that shall be the problem
"But of course when you have so much attention of the media, it can go in another way, but I believe that he shall keep his feet on the ground.
"Too much attention is not always easy to deal with," the United boss added. "And, of course, it is remarkable and I can understand that you are praising him, but he still has to show his consistency."
Van Gaal is doing his best to help Rashford deal with his new status, along with the other four youngsters handed a United debut last week.
That focus on youth has been borne out of necessity due to United's lengthy injury list, although Martial, Chris Smalling and Matteo Darmian could return and add more experience for Watford's visit.
Wednesday's game offers United the chance to extend their winning run to four matches in all competitions, but those hoping for more touchline dramatics from Van Gaal look set to be disappointed.
Much of the talk after the win against Arsenal was about Van Gaal hitting the deck during a bizarre touchline spat with fourth official Mike Dean, when the United manager attempted to illustrate his frustration at Alexis Sanchez's supposed diving.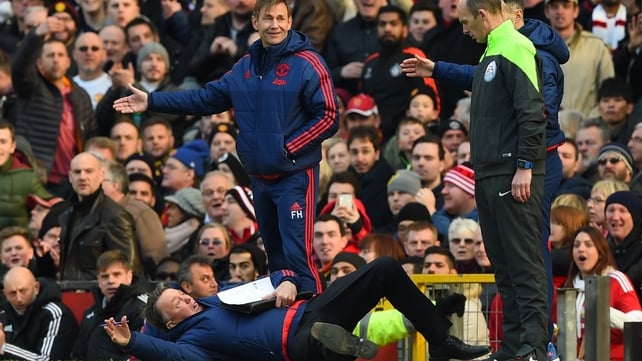 The footage has gone viral and it is not the first time the Dutchman has gone over the top on the sidelines, which he compared to his touchline high-kick when Ajax coach during the 1995 Champions League final following a challenge by AC Milan defender Marcel Desailly on Jari Litmanen.
"It was too emotional and that's why you have to deal with the fourth referee, and the referee and the authority of referee," he said of the most recent incident. I think that I have to control my emotions, like I say to my players always.
"That is why I have apologised but I don't feel sorry for it because it is me. I think at that time maybe I was right."
Sunday's colourful outburst certainly appeared to warm the hearts of some doubters, with a rare chorus of 'Louis Van Gaal's red and white army' heard at Old Trafford.
"It is not part of my philosophy because I don't think you can influence the game from that spot," he said, when asked if he would return to the touchline.
"I know (I can influence the fans from there) but I am not a clown, I am Louis van Gaal. I am a human being, a professional manager.
"Part of my philosophy is that my players have to think on the pitch and not the manager, but I want to help them.
"Sometimes I help them with these actions or something like that, but I help them more to train in the brain with what I have said - and I have been training already for 18 months - (so) that they see the solutions on the pitch.
"That's why I am not dong that because I have the experience that you cannot influence the game. The players can influence the game by themselves."