They say absence makes the heart grow fonder. It's why you'll see packed League of Ireland grounds this weekend and followers and sufferers of our great league will wind down their working week with an extra spring in their step.
It has been four months since the final day of the 2015 season – but I don't even want to dwell on the ludicrously long off-season. This week is the pure joy and elation for all fans to welcome back live football.
I'll start with my fancies for the 2016 season: Dundalk.
It's not the most original choice but the reigning champions have set the standard for the rest of the country.
I don't expect them to have it quite as easy as they did last season. There will be improvement from the four clubs chasing the Lilywhites and the obvious loss of Richie Towell will hinder them.
The 25 league goals that Towell contributed were firmly on Stephen Kenny's mind as he tried to strengthen his midfield options after losing his star man to Brighton.
I think he's recruited well in Patrick McEleney and Robbie Benson – two technically gifted footballers – but they will not match that goal tally and arguably may not even do it between them.
They are more creators of goals than actual goal-getters. McEleney's signing really intrigues me, as does the question of where he'll fit into this side.
Kenny deployed the former Derry City midfielder on the right side of an attacking three in last weekend's President's Cup and it didn't work.
I think he needs to play centrally, behind a striker, so he can be a link man and involved in everything.
Ronan Finn played in that role last season and was superb. Kenny may change it up to fit McEleney in or play both as attacking midfielders in a three with Stephen O'Donnell sitting in front of the defence.
It's a trio to get all supporters of Dundalk very excited, but Chris Shields loses out, and he very rarely lets Kenny down.
It's a quandary the manager needs to get right, but not a bad one to have. Despite the huge loss of Towell, I still think they have more than enough quality in the squad to win three titles on the bounce. Kenny spoke to RTÉ about what he think the replacements will do.
Cork City have tried in vain to catch Dundalk in the last two season. I expect them to continue that form in 2016 but get much closer this campaign.
John Caulfield has done a terrific job with Cork and has been unfortunate to come up against one of the best teams ever seen in the league. I have often criticised Cork for their brand of football - it has at times been far too direct and cautious, especially away from home.
Recruitment for this season looks like addressing those issues. Greg Bolger is a fantastic signing. He is arguably the best defensive midfielder in the country, technically brilliant, and will start attack after attack for Cork.
Kenny Browne is another excellent addition. He went a bit stale at St Pat's so I expect him to be reinvigorated by this fresh challenge.
Sean Maguire could turn out to be the best of the lot. He hasn't quite hit the heights that a move to West Ham promised a few years ago and chopping and changing clubs in recent seasons hasn't helped that.
At last, he has stability combined with regular football and we may just see the best of him. Caulfield is excited to see how he copes with the new environment.
The return of Gearoid Morrissey is also a big boost to the manager to provide physical strength to drive this team from midfield.
Ian Turner and Stephen Dooley are also good signings – both showed what good players they are last season.
I'm expecting the Rebels to push Dundalk right to the wire.
Shamrock Rovers are another side that need to improve. Pat Fenlon is under pressure to deliver a more sustained title challenge in 2016. and I think the Hoops will rise to the challenge.
The signings of Gary Shaw and Dean Clarke are not spectacular for a club of their standing, but I think they'll add a lot.
They are both young and will develop playing alongside better players.
Shaw can be a handful because of his height and his pace but he scored just five goals in 32 games last year. He will get far more chances created for him with Rovers and a platform to improve.
Clarke finished the season extremely well with Limerick. He's very quick and will add a lot of zest to Rovers attack. At just 22, I think he'll have a good season, but is another player that needs to work on finishing.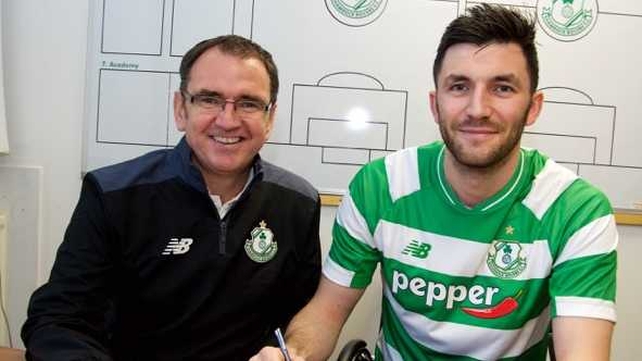 The big news to come out of Tallaght during the off-season was the return of Killian Brennan. I feel he still has loads to offer. He has massive experience and remains one of the best players in the league.
A midfield three of Brennan, Pat Cregg and Brandon Miele sounds pretty good to me. I think Miele will kick on this year – he has all the attributes to be the next player to make it to England and I'm backing him to follow up last year with an even better showing in 2016.
The Hoops have had the best pre-season preparations with their recent trip to India. Fenlon leaves no stone unturned in his attention to detail and he will have been delighted to get some warm weather training, plus games against very strong opposition. They should be right at it next Saturday night in the Showgrounds against Sligo Rovers.
It may surprise a few but I'm going for Bohemians to take fourth spot.
I watched them Saturday in a friendly against Athlone and while the opposition was poor, I really like the make-up of their squad.
Derek Pender is back from injury and provides a big boost. The acquisition of Kurtis Byrne from Dundalk is a big coup for Keith Long and even more important was holding onto Ismahil Akinade.
He was superb when he came in mid season last year and if he can pick up where he left off he could fire them into Europe.
Keith Long is an ambitious manager and he will demand that they improve again this year.
St Patrick's Athletic are an interesting one for me as they have made the most changes out of the title challengers.
I felt the squad needed freshening up I don't think they've replaced the players let go with sufficient quality.
Greg Bolger, Killian Brennan and James Chambers are as good as any three around – it is a big void to fill and I question whether the likes of Graham Kelly, Mark Timlin and David Cawley can do that.
Kenny Browne is a loss as mentioned, Darren Dennehy has big shoes to fill. As you can hear from Liam Buckley below, he is very confident that the new boys can improve their chance of a title challenge.
Keeping Christy Fagan fit will be crucial - they suffered so much without him last season and for my money he is the best player in the league.
Young Jamie McGrath looked like a really exciting talent last year and he too will be looking to improve further and nail down a regular starting spot.
Old reliables Ger O'Brien, Ian Bermingham and Conan Byrne remain but the quality they've lost, particularly in midfield, is my biggest concern.
Bray Wanderers were also busy shoppers and all appears to be good by the seaside at the moment - I hope it stays that way.
There was too much off-the-field disruption last year and the way the players stuck together was a credit to them. Ryan Brennan and Dean Kelly were the two signings that caught my eye.
Brennan is a very energetic midfielder and has an eye for a goal. He'll do very well for Mick Cooke's men. Kelly can score goals in the top fight but since returning from Oldham in 2011 he has played with six different clubs and only managed to play over 20 games once in a season. With a full season, he could easily be challenging for top scorer. Consistency is his challenge.
I've gone for Galway United to come out on top in what will be another competitive bottom half of the table.
Tommy Dunne did a very good job in securing the club's Premier division status last season and I think he can achieve that same feat this year.
He's added some new faces throughout the spine of the team in the shape of Stephen Folan, Eric Foley and, most notably, Vinny Faherty.
They are three very good players and if Faherty in particular can pick up where he left off with Limerick at the end of last season I see no reason as to why Galway should struggle this year.
Securing Premier Division status is the priority obviously but with a bit of luck they might go well in either cup competition too.
It's all-change again with Sligo Rovers this season with a new manager that has recruited almost an entirely new squad.
It's a group which is extremely young but made up of lots of very technical players. Dave Robertson has spoken a lot in the build-up to the new season about the type of player he wanted and the brand of football he is hoping to bring to the Showgrounds.
It all sounds very good but now he must deliver it. The worries I have is their inexperience of the league, both with the players and the manager.
Physically, I think Sligo could be found wanting too because this is a tough league. It's all well and good wanting to play lovely pretty football but you've got to be able to mix it too, especially in the early weeks of the season when the pitches are at their worst.
I also think they are light up front and may find it tough to score goals. There has been a lot of talk during pre-season about Kieran Sadlier so he is one I'm really looking forward to watching.
It's a season of transition for Rovers after the disastrous one last season so if Robertson can deliver a mid-table finish and a good cup run it will be a job well done.
Wexford Youths could be the story of the season. They will be competing in the Premier Division for the first time in the club's history. They were superb last season in the First Division in not only winning the league but doing so in style.
Shane Keegan has been at the club for five years now and this has been his goal from day one. Year on year they've improved and finally reached their target.
The fact that Keegan has been there so long and has such a strong relationship with his players will benefit them greatly with the step up. They will have good nights ahead and also some tough ones but that strong bond and unity will make sure they stick together through good and bad. I'm delighted to see them take their place and they might just surprise a few this season.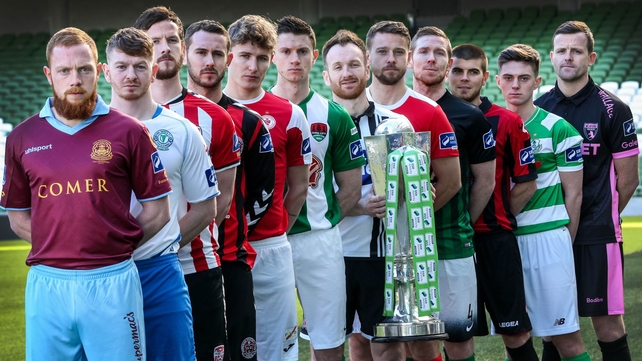 Derry City could be in for another long season. It's hard to put your finger on why things have gone so badly wrong for such a wonderful club like Derry but they find themselves trying to rebuild again. Kenny Shiels is the new man in the dugout but he has a big job on his hands. They've lost some quality players in Patrick McEleney, Mark Timlin and Stephen Dooley.
They have added some new faces Harry Monaghan and Jordan Allen amongst others. Rory Patterson also returns and they will rely so much on him getting goals for them. We all know he's more than capable of delivering but the worry I'd have is how many chances he'll have created for him.
Sadly, I don't envisage this great club finishing anywhere near the top half of the table.
Longford Town could suffer from second-season syndrome. In their first season back in the Premier Division last year I thought Tony Cousins and his players did very well. They've lost a few of those players, Mark Salmon, Stephen Rice and, most notably Gary Shaw, so I see this season being far more difficult for them.
Like most clubs finances are tight so it's very hard for the manager to go out and sign the type of quality it would take for him to kick on from their respectable mid-table finish last year. If they avoid going down I think that will be success for Longford.
Unfortunately, there has to be one to fall and the favourites for that will be Finn Harps. Having done remarkablly to reach the Premier Division against all expectations they will find it a real struggle this year.
Ollie Horgan is a real character and will bring a lot to the division. They certainly won't be found wanting in effort and endeavour as that's the least Ollie demands but I think there is a lack of quality.
The gap between the First Division and the Premier is very, very wide and I'm sure Horgan is under no illusions as to how difficult his task will be to keep them up. If he achieves that it will be a massive success.
I'm absolutely delighted that our great league is back. Let the games begin.
Alan Cawley's League prediction:
1. Dundalk
2. Cork City
3. Shamrock Rovers
4. Bohemians
5. St Patrick's Athletic
6. Bray Wanderers
7. Galway United
8. Sligo Rovers
9. Wexford Youths
10. Derry City
11. Longford Town
12. Finn Harps