Midfielder Emre Can believes winning the Capital One Cup will put Liverpool on the right path to success under Jurgen Klopp.
Less than five months after taking over at Anfield, Klopp, who on his first day had no issue stating his intent to win titles, will lead his side out for a final at Wembley against Manchester City today (4.30pm).
He will be the first Liverpool manager to do so since Kenny Dalglish in 2012 when the Merseysiders visited what was nicknamed 'Anfield South' during the glory years of the 1980s twice for the FA Cup and League Cup final, winning the latter for their only trophy in the last decade.
There have been a number of close calls - Klopp's predecessor Brendan Rodgers got them to two semi-finals last season but failed in both, dismally so against a poor Aston Villa side in the FA Cup - but Can thinks victory against Manchester City on Sunday could be the start of regular successes.
"I played one Supercup final (in 2012) against Borussia Dortmund and against Jurgen Klopp for Bayern Munich and we won and that is the biggest game I've had in my career so far," said the Germany midfielder.
"I think it is the best feeling in the world to win trophies and that is what I could do in the Supercup and that is what I want more times.
"I came to Liverpool to win trophies. Liverpool is the same (as Bayern). Both are big clubs and they want to win titles and that is what I want here as I wanted at Bayern Munich.
"It is very important for us to win a trophy. We are such a young team so to get that feeling you can win trophies we can then say we are in the right way."
Can was in the side which lost to Villa at Wembley last April when they threw away a first-half lead against a side struggling to avoid relegation.
That left a bitter taste for the 22-year-old and he intends to make amends second time around.
"I lost the last game at Wembley and it was not a good feeling and hopefully that will change," he added. "When we lost that game last season it makes the team stronger and you stronger because you don't want to feel the same.
"You train every day, every session, harder to win trophies and when you lose it makes no sense. That is what we don't want in the final."
The game will more than likely to be decided by who takes their chances better with City's Sergio Aguero (19 goals in 27 appearances) having the edge over Liverpool's injury-plagued Daniel Sturridge (five in 10)
Sturridge, who has started the last three matches after a two-month lay-off with a hamstring problem, is still working his way back up to match sharpness but Can believes there is little to choose between either striker.
"They are both world-class players for me," he said. "I don't think you can compare them because they are a different type of player but both very good. I think it is more about the team performance.
"Of course it will be a tough game for both teams but at the end you will see who wants it more."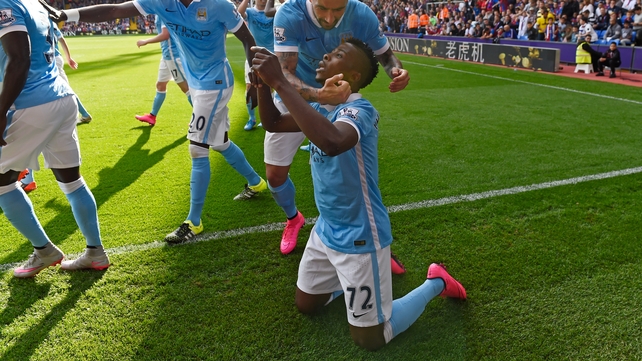 Meanwhile, rising Manchester City star Kelechi Iheanacho is determined to repay Manuel Pellegrini for giving him his chance this season.
The 19-year-old Nigerian striker has made a big impression since being promoted to the first-team squad by Pellegrini over the summer.
Iheanacho has scored nine goals from just seven starts, including an eye-catching hat-trick in last month's FA Cup fourth-round win at Aston Villa.
He is used only sparingly, with 16 other appearances from the bench, but Pellegrini has repeatedly stated his faith and pointed out that Iheanacho's potential is the chief reason no strikers were signed last summer.
Iheanacho said: "I am very happy to hear that from the boss and to not sign another striker. He believes in me, trusts in me, so I need to give him the best and give the team the best."
Many of Iheanacho's opportunities have arisen because of injuries to Sergio Aguero and Wilfried Bony at different stages of the season.
Bony has missed the most action - although he is in contention to return in Sunday's Capital One Cup final against Liverpool - and Iheanacho has relished the chance to cut his teeth alongside the prolific Aguero.
"I am learning a lot from him," said Iheanacho. "He is a good player, so watching him every day and playing alongside him is a great privilege.
"I am happy playing alongside him and think I am learning a lot and improving. It is a very good experience and I fit in that role playing alongside him."
Iheanacho is now hoping to be involved at Wembley this weekend, although he is happy to bide his time as he continues to learn his craft.
He said: "I am very happy to be in the Capital One Cup final. I am looking forward to it. If I start it is fine but if I am a substitute I will just wait to get a go.
"I am happy to be scoring a few goals this season. It has not been easy but I think the hard work has worked so I will continue working hard every day in training and games."