Franz Beckenbauer has been warned and fined by FIFA's independent ethics committee after failing to cooperate with an investigation into the bidding process for the 2018/2022 World Cups.
Beckenbauer, who won the World Cup as a player and a manager with West Germany, had been suspended during the disciplinary process before subsequently cooperating and has now been fined 7,000 Swiss francs [around £4,900] and warned.
A statement from the independent ethics committee read: "The adjudicatory chamber of the ethics committee chaired by Jack Kariko has imposed a sanction of a warning and fine on football official Franz Beckenbauer. The sanction comes into force immediately.
"The decision was made based on investigations carried out by the chief of investigation, Vanessa Allard, member of the investigatory chamber of the ethics committee.
"In the present case, Mr Beckenbauer failed to cooperate with an ethics committee investigation conducted by the then chairman of the investigatory chamber of the ethics committee regarding the 2018/2022 FIFA World Cup bids despite repeated requests for his assistance."
In 2010 FIFA awarded the 2018 World Cup to Russia and the 2022 tournament to Qatar.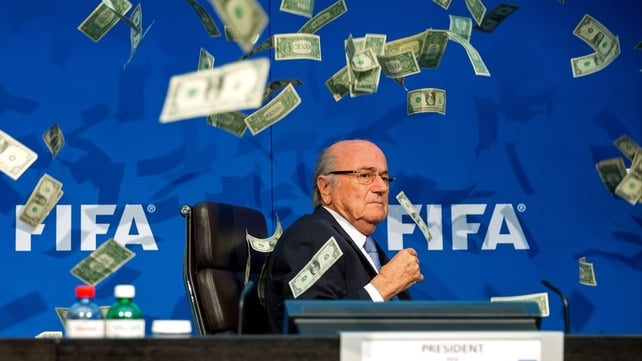 The scandals which have emerged surrounding the awarding of the 2018/2022 World Cups have engulfed FIFA.
Football's world governing body has been swamped in allegations of corruption. FIFA's long-time president Sepp Blatter is contesting an eight-year ban and appeared before an appeals committee this week.
Next week FIFA is due to elect his successor in Zurich. Beckenbauer's sanction does not relate to the awarding of the 2006 tournament to Germany, which is also being investigated.
The 70-year-old was on the FIFA executive committee which awarded the 2018 and 2022 World Cups before leaving his role in 2011.
Beckenbauer was in June 2014 suspended for 90 days by FIFA for refusing to cooperate with Michael Garcia's report into the awarding of the tournaments.
Two weeks later the ban was lifted only for the investigation into his non-compliance to continue, reaching a conclusion on Wednesday.
The statement added: "Mr Beckenbauer thus did not behave in accordance with the general rules of conduct applicable to football officials in the context of the investigations, thereby violating article 13 of the FIFA Code of Ethics [FCE].
"In addition, the adjudicatory chamber found Mr Beckenbauer to have violated article 18 [Duty of disclosure, cooperation and reporting] and article 42 [General obligation to collaborate] of the FCE.
"The present case did not look into the matters related to the awarding of the 2006 FIFA World Cup to Germany."