Manchester United manager Louis van Gaal is delighted to have Wayne Rooney back in form in front of goal.
His captain scored from their only shot on target in the 1-0 win at Liverpool to make it five goals in his last four games, having scored in each one.
Both Rooney, for his form, and Van Gaal, for his tactics, have come in for criticism this season but the Red Devils boss believes his striker has turned a corner.
"A striker who scores is always very important and now he is scoring in a row and we are winning in a row," the Dutchman said after United's third win in four games.
"I'm very happy for him but also for Manchester United. Everyone wants to see Rooney scoring."
Van Gaal believes the win at Anfield can breathe new life into an unexpected title bid.
"Everyone wants to see Rooney scoring"
The three points against the Merseysiders, coupled with Arsenal's goalless draw at Stoke, leaves them seven points behind the Premier League leaders.
"We have a lot of matches still to go," said the Dutchman.
"We started 2016 very good with a lot of wins and I think this game will give a big boost to the players and the fans and everyone in the environment of Manchester United.
"We have to continue, which is not so easy. We have seen that but we can do it because we show every week we can do it."
Liverpool manager Jurgen Klopp cut a frustrated figure after seeing his side dominate possession and create more chances only to be undone by their Achilles heel of conceding from a set-piece.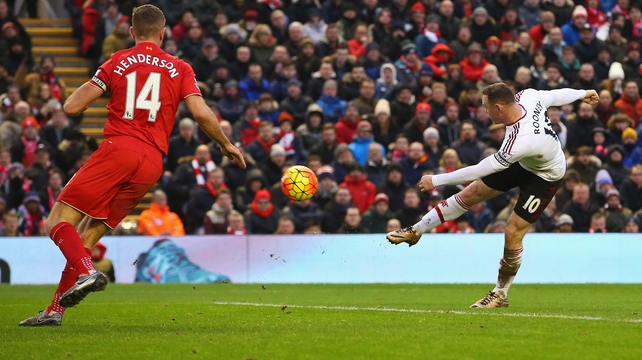 "It's really bad," he said. "It's a derby and in a derby you only have one job to do - you have to win it. That's the only possibility to be satisfied after the game.
"United at this moment will be happy. You can talk about their performance and it wasn't that good but they won so they are really happy.
"We played better but feel frustrated because there were many things that were good but our finishing was not good, otherwise we would have scored a goal.
"The set-play was not good defending but it was unlucky because we had changed a few positions moments before.
"But three mistakes around the goal were too much against a team of the quality of Man United.
"In this moment it is only frustrating, which is how it should be."