Manchester United target Sadio Mane will hope to avoid further punishment from Southampton for turning up late to a team meeting which led to him being dropped at Norwich.
Mane was withdrawn from the starting line-up to face the Canaries on Saturday just a couple of hours before kick-off after arriving late for the gathering
It is club protocol under Saints boss Ronald Koeman for the players to meet prior to games.
Koeman publicly blamed the 23-year-old winger and his team-mate Victor Wanyama after their indiscipline helped condemn Southampton to a 1-0 defeat at Carrow Road.
Wanyama's 74th-minute red card for a needless challenge which led to his sending off was swiftly followed by Norwich's winning goal.
The midfielder has since apologised for his 'reckless and irresponsible' actions on social media.
Wanyama is likely to escape any further internal sanction but Mane's misdemeanor may not be forgiven so easily.
Koeman revealed in his post-match interviews that it is the second time the Senegal international has broken that particular club rule.
Mane, who is reportedly a January transfer window target for Manchester United, did come on as an late substitute against Norwich.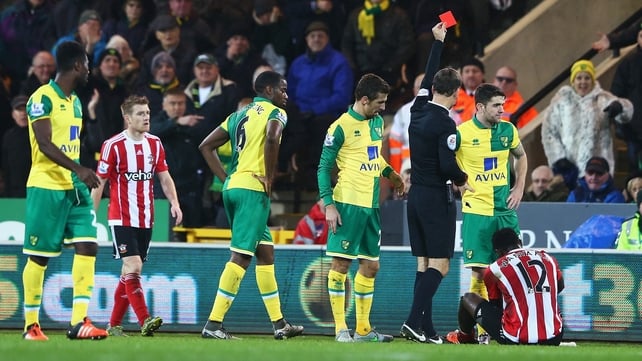 However, with the players having Sunday off, it remains to be seen whether his demotion to the bench is seen as punishment enough by Koeman.
Meanwhile, Wanyama (seeing red above), whose future at Southampton has also been the subject of speculation, has taken to Instagram to say sorry for his red card.
He said: "I would just like to apologise to the manager, fans and everyone at the club for my red card yesterday.
"It was reckless and irresponsible and I should have used my experience to have not let it happen, especially when I was on a yellow card.
"I now just want to focus on getting back on the pitch and helping the team as much as I can."