UEFA president Michel Platini looks set to avoid punishment for attending a football awards ceremony in Dubai even though he is banned from "all activity" within the sport.
Last week Platini was barred from football for eight years after being found guilty of receiving an improper payment of two million Swiss Francs (£1.36m) from FIFA president Sepp Blatter, who received the same punishment. Both men are appealing the decision.
In the meantime, Platini has been pictured attending the Globe Soccer Awards by the Dubai Sports Council.
When asked about the Frenchman's appearance at the awards ceremony, FIFA said its disciplinary committee was "monitoring the situation", but would not intervene "for the time being".
On 27 December, Platini attended the Globe Soccer Awards organised by the Dubai Sports Council in Dubai, along with soccer stars such as Argentinean Lionel Messi and Italian Andrea Pirlo.
The Frenchman was photographed at the event and also made comments regarding his ban to the Italian media while in Dubai.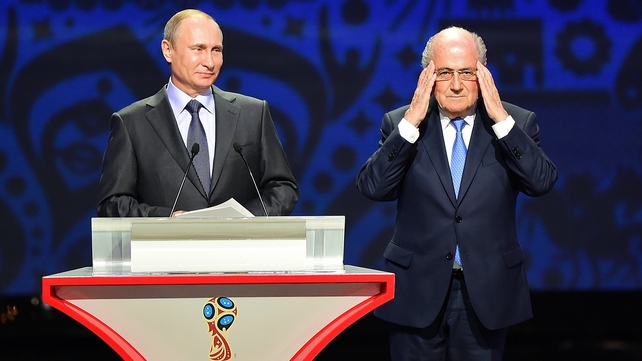 The 21 December ruling from FIFA Ethics Committee chair Hans-Joachim Eckert stated that Blatter and Platini were banned "for eight years from all football-related activities [administrative, sports or any other] on a national and international level. The bans come into force immediately."
Platini has said he will fight the ban through the appeals process, which is likely to end up with the Court of Arbitration for Sport in Lausanne, Switzerland, and has also been fiercely critical of the decision and the Ethics Committee itself. Blatter has also said he will appeal.
FIFA has been thrown into crisis by investigations from the FBI and Department of Justice in the United States and Swiss authorities.
The Swiss Attorney General has opened a criminal investigation into Blatter regarding the payment to Platini. The Frenchman is viewed as "somewhere between a witness and an accused person" according to the Attorney General Michael Lauber.
In the United States, prosecutors have indicted 27 current or former soccer officials, including eight ex-FIFA Executive Committee members and the current heads of both the North and South American federations, over allegations they ran bribery schemes connected to the sale of TV rights for football competitions.