Louis van Gaal has hinted that he could walk away from Manchester United before he's pushed following another humbling defeat.
The Dutchman watched Stoke City swat aside his timid team 2-0 in the Premier League on Saturday.
He has now overseen a seven-match winless run in which United have been eliminated from the Champions League and fallen out of the League's top four after successive defeats by Bournemouth, Norwich City and Stoke.
Having criticised the media and stormed angrily out of his pre-match news conference on Wednesday, there was an air of resignation about Van Gaal's comments after the loss -- United's fourth in a row in all competitions.
"The club doesn't have to fire or sack me - sometimes I do it by myself," the downbeat former Barcelona and Bayern Munich manager told reporters.
"I can also quit by myself, that's something I discuss with Ed Woodward (Manchester United chief) and not you."
"I will speak with him first and then with my staff. I need to have a conversation but I do not need to tell you what I want to say. I am not so interested in public talking."
Minutes earlier, he had been asked if he still thought he was the man to turn around United's season and whether he had the support of United's hierarchy.
"It's more difficult because I'm also part of the four matches we have lost and so people are looking at me," he said.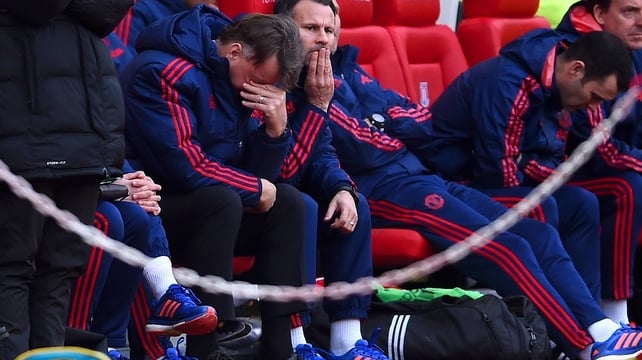 "It's another situation, we have lost the fourth game, we will have to wait and see," he added with a lingering glare towards the reporter.
Speculation is now mounting that there will be a new manager at Old Trafford sooner rather than later, with the name of recently-sacked Chelsea manager Jose Mourinho on everyone's lips as a possible replacement.
Goals from Stoke forwards Bojan Krkic and Marko Arnautovic punished United for a dreadful start at a blustery Britannia Stadium and although the visitors improved in the second half they could not repair 
United, down to sixth in the Premier League, face struggling champions Chelsea at Old Trafford on Monday and few would be surprised if Van Gaal was no longer in charge.
Stoke manager Mark Hughes had spoken this week of his days as a marauding United striker under Alex Ferguson when the side approached every game expecting to win it and he would have been surprised by his side's early dominance.
The 20-times English champions have traditionally been associated with swashbuckling attacking football, but apart from a brief flurry after the break when Van Gaal brought his captain Wayne Rooney off the bench, they were woefully short of belief or leadership.
Van Gaal looked powerless as he clutched his notes while sitting uneasily on the bench next to assistant Ryan Giggs.
"The club doesn't have to fire or sack me - sometimes I do it by myself." - Van Gaal
The biggest indictment of the malaise afflicting England's biggest club was Van Gaal's belief that his expensively-assembled team 'did not dare to play football in the first half.'
Stoke's opener after 19 minutes summed up a truly awful first half for United.
At the final whistle Van Gaal gave a brief wave to United's travelling fans. The next few days will reveal whether it was his parting gesture.