Manchester City playmaker David Silva has stressed that the players are 'very happy' working under manager Manuel Pellegrini.
City are third in the table, six points behind surprise leaders Leicester City with a game in hand.
They can overtake second-placed Arsenal with a win over the Gunners at the Emirates Stadium on Monday night.
However, speculation has been swirling around the club that Pep Guardiola is on his way to Manchester, having announced that he is leaving Bayern Munich at the end of this season.
"We are all very happy with Manuel and it is not something we look at. We look at the day today and not what is going to happen in the summer," he said.
City won the Premier League and Capital One Cup under Pellegrini in 2014, but nothing last season.
Monday's game could prove critical to the title race and although Silva has emphasised the contest will not 'define' anything at this stage, he has no doubt Arsenal are real contenders
The 29-year-old has also expressed his admiration for Arsene Wenger's dynamic side, and admits if City do not win the league, he would be happy to see the Gunners take the title.
"You always feel more attracted to people who play the way you play," said Silva.
"If we don't win it and Arsenal win it, it will be good. But we are here to win it ourselves."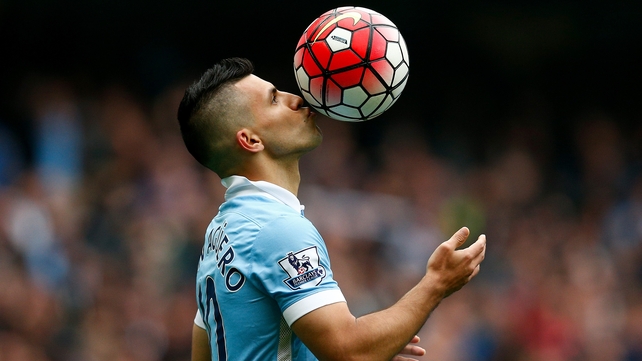 Silva, a City player since 2010, has won every major English club and international honour in his career but says his motivation is as strong as ever.
"For me it is not difficult because I want to win, win and win," he said.
"I don't know what happens with other players or what is in their heads, but for me – just win.
"One day this will all end. And the day I feel I don't want to win any more will be the day I finish."
City could be boosted by the return of Sergio Aguero, above, at the Emirates, and Silva himself has been 'getting the rhythm' back after returning from an ankle injury lay-off at the end of November.
He has had plenty of ankle problems in recent years and had to play through the pain before, but says it is not on his mind when he takes to the pitch.
Silva said: "At the moment they are fine. In the past there have been games where I have played and had to have an injection.
"Two years ago when we won the league, I played for months with pain and having to have injections. But it is something you have to do for the team and the club.
"Clearly I have to look after them because both of them have been damaged over the years by football.
"But when you get on the pitch, there is no insurance that you might or might not get injured. So when I play, I don't think about that."