Leicester winger Marc Albrighton believes Foxes pair Jamie Vardy and Riyad Mahrez have struck fear into the rest of the Premier League.
And Albrighton says there is no reason to believe that the surprise league leaders will lose either player in the January transfer window.
Leicester returned to the summit with a thumping 3-0 win at Swansea on Saturday as Algeria international Mahrez stepped out of Vardy's scoring shadow with his first hat-trick in English football.
Vardy failed to score in the Premier League for the first time since August 22 as he missed out on matching the record of Irishman Joe Dunne, who scored in 12 consecutive top-flight English games for Sheffield United between October 1931 and January 1932.
But Mahrez's treble took his league tally into double figures and the pair have now scored 24 goals between them to take Leicester two points clear at the top.
"We could have been four or five up at half-time and you can see teams fear us going forward," Albrighton said after Leicester had scored for the 16th consecutive Premier League game.
"Jamie and Riyad have been brilliant for us this season and who knows where we would be without their goals and creativity."
He continued: "But if they can continue doing it that could play a massive part in what we do this season.
"But we're not worried about speculation."
"The way the season's going it's wide open. The big teams are losing games and dropping points which is unusual because they're normally quite solid.
"We've just got to concentrate on what we do because it's got us to where we are so far.
If we continue doing that we won't go far wrong."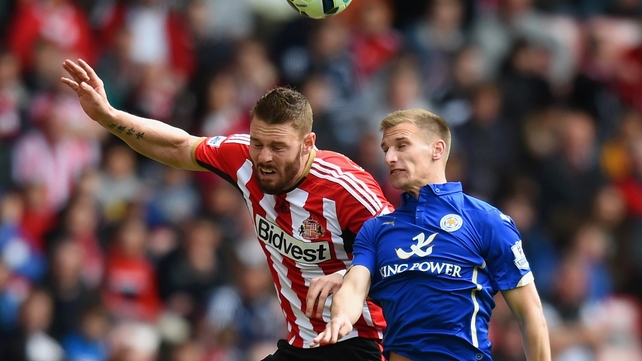 Vardy and Mahrez are both reportedly on the radar of bigger clubs and Leicester know offers for the star pair could be heading their way next month.
But Foxes boss Claudio Ranieri has already insisted Leicester will not be selling any of their prized assets in January and Albrighton, pictured above, says Vardy and Mahrez would not benefit from a move right now.
"There will always be speculation, look at Harry Kane last season," Albrighton said.
"He was on fire at Tottenham all season and there was speculation of him going here, there and everywhere.
"But we're not worried about speculation, Vards and Riyad both know what they bring to this club and how loved they are here.
"I don't think it would do them any good to go anywhere at the minute. We're top of the league, so why would they want to leave?"