For the first time this season Chelsea boss Jose Mourinho has admitted that the Blues might not make the top four.
On Saturday he defending champions slumped to their eighth league defeat of the campaign, an unprecedented number of a Mourinho managed team.
They lost to newly-promoted Bournemouth and now sit six points off the bottom of the Premier League, 17 points behind leaders Leicester and 14 points off the Champions League places.
"Our objective is to finish top four," said Mourinho.
"Before this game it was realistic to think that our quality would take us out of this position, but maybe now we have to think about top six.
"Let's think about winning the next game and forget targets. To fix targets at this moment with our inconsistency is difficult."
Last season's Championship winners were the latest team to go to Stamford Bridge, once such a fortress, and win.
Glenn Murray's late header secured a 1-0 win which Eddie Howe lauded as the most significant result in the club's history.
The loss plunged Chelsea into crisis again and puts Mourinho's position under further scrutiny, two months to the day since he was subject of the first vote of confidence in Roman Abramovich's 12-year ownership.
Asked if he still has the confidence of the club, Mourinho said: "Yes, I believe."
However, he accepted his share of responsibility for this season's alarming slide.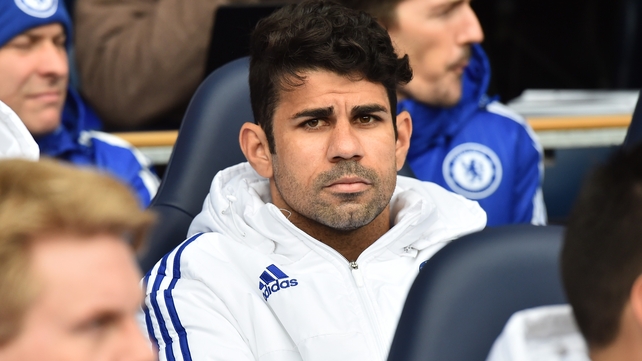 "The owner and the board are not responsible for the bad moments," he added. "The responsibility for the bad moment is my responsibility and the players' responsibility."
Mourinho, who still insists his team don't need to recruit a striker following another goalless afternoon, also had a pop at his players.
"The responsibility for the bad moment is my responsibility and the players' responsibility."
He has had a number of high-profile fallings-out with members of his squad, not least target-man Diego Costa (above), who again started on the bench against the Cherries.
"I explain the inconsistency with unlucky details," Mourinho said.
"You cannot have bigger details than one penalty that is not given and one goal offside that decides the game. We are always unlucky in these little details.
"But apart from that, inconsistency has also to do with individual inconsistency.
"With some players, you don't know when they are performing really well and when the performances is below level, it's difficult.
"When you get good momentum and good consecutive results, it's because you have stability in performances.
"Stability in performances has a big relation with individual performances and we had today again a couple that you need more, you expect more and they don't give enough."