Louis van Gaal has hit back at Old Trafford fans who booed his team off the pitch on Saturday.
Manchester United recorded their sixth goalless draw of the season when they finished deadlocked with West Ham.
They currently sit fourth in the table, three points off first placed Leicester City, though the Red Devils' style of play under the Dutch manager has been uninspiring.
During the game against the Hammers the fans repeatedly chanted 'attack, attack, attack' and after the final whistle they let their feelings be known.
But Van Gaal says that fans knew his style of play before he took up the job and that they can't expect a landslide of goals in every game.
"The fans are disappointed," the United boss said. "I know that because I am also disappointed and so are my players.
"They want to score every minute of the game but it's not possible."
He continued: "But I don't understand that they are shouting 'attack, attack, attack' because we are the attacking team and not West Ham.
"It is in every game like that because we are more dominating than our opponent."
"They don't like the style of play from Manchester United, but everyone knows in advance that all the teams of Louis van Gaal is playing like that," he added.
"So when you have that question, then I say, okay, in Barcelona or Bayern Munich or AZ we have played like that."
Marouane Fellaini, Anthony Martial, Jesse Lingard and Bastian Schweinsteiger all squandered good chances to register a much-needed win against West Ham
"When you miss chances three metres in front of the goal, yeah, what can you say?"
But this was not United's worst display of the season.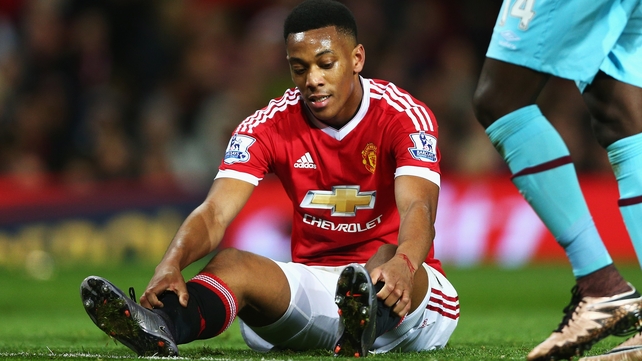 Despite having a shot saved by Adrian from three yards, Fellaini provided United with a direct threat in the first half and the Belgian, making his second league start of the season, clipped the bar in the first half with a deflected header.
Martial, pictured above, caused West Ham problems with his pacy runs and Lingard also proved a threat on the left flank.
However, there was no sharp decision-making or ruthlessness inside the box. United, with top scorer Wayne Rooney out injured, lacked a killer finisher and Van Gaal knew it.
"I am pleased with the performance but when you create these kind of chances, you must finish," he said. "That is the most important aspect of football and we didn't do it.
"When you miss chances three metres in front of the goal, yeah, what can you say?"
When asked whether a top striker like Sergio Aguero or Luis Suarez would score goals in is his team, Van Gaal said: "That's a question mark. You never know. I think they would."