Jamie Vardy has broken Ruud van Nistelrooy's Premier League record after scoring in his 11th successive game - and now stands one behind the all-time record of 12 held by Irishman Jimmy Dunne.
The Dubliner set the record in the 1931/32 season with 18 goals in 12 successive games for Sheffield United.
With headlines often dominated by 'Premier League-era' stats, the pre-war exploits of players like Dunne are often overlooked.
Born in Ringsend in 1905, Dunne came from a Gaelic football background before reportedly becoming exposed to soccer during a time spent interned in the Curragh and Portlaoise prison for alleged 'Republican sympathies'. 
By 1923 he had begun his football career with Shamrock Rovers and then moved to the fourth tier of English football to play with New Brighton.
Dunne joined Sheffield in 1926 for £800 and by the end of the 1929/30 season he had reached the top of British football. He was top scorer in England with 36 goals - even scoring four times in successive games against Leicester City and West Ham.
Then in 1930/31, Dunne hit 41 league goals, 50 in all competitions, the most ever scored by an Irishman in top-flight English football.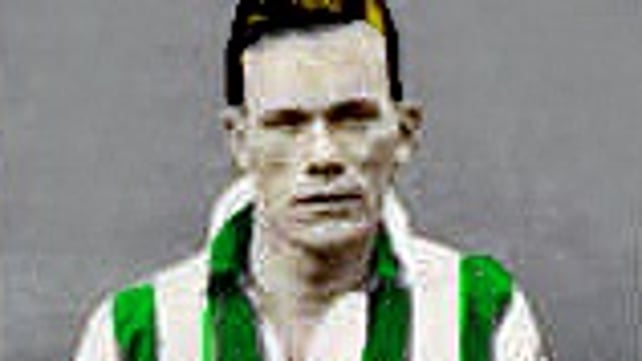 The following year, the Dubliner set the record for scoring in consecutive games when he scored 18 in 12 games between 21 October 1931 and 1 January 1932. That record still stands.
His goalscoring exploits soon attracted the attention of Arsenal and Dunne went on to play four seasons in London with the Gunners. He won the First Division title in 1933/34, the same year that his old club Sheffield United were relegated.
The period of success at Arsenal was brief however. In the years to come, Dunne would be eclipsed at the club by the arrival of legendary striker Ted Drake. In an era long before squad rotation, and despite being regarded as one of the best players in the league, Dunne would only make two appearances in the following two seasons.
By 1936 his time in the English top flight was at an end. Dunne spent one season at Southampton, then in Division 2, and finished the season as their top scorer with 14 goals in 36 appearances, saving the club from relegation.
In 1937 he refused a new contract and decided to return home to to finish his career back at Shamrock Rovers as a player-manager.
Jimmy Dunne's international career with Ireland was not without incident either. He was one of only a few to play with both a Northern Irish IFA XI and for the Irish Free State FAI team and amassed 22 goals across both teams.
The most notable moment in an Irish shirt came in 1939. Dunne was part of the Irish team which was the last to visit Nazi Germany before the invasion of Poland and the onset of World War II. The players were instructed to give the Nazi salute - Jimmy Dunne famously was one of the few to refuse to raise his hand before the game in Bremen.
The war years saw Dunne make a few appearances for a third Irish team, this time a League of Ireland XI, before he moved into management at Rovers full time
Dunne would manage Shamrock Rovers twice, either side of a spell with Bohemians, before a heart attack in 1949 saw him die at the young age of just 44.