Liverpool midfielder Lucas Leiva's performances under new manager Jurgen Klopp have largely gone under the radar amid the hype which greeted the German's arrival.
But that may be about to change.
The Brazil international will serve a one-match suspension for the visit of Swansea on Sunday having accumulated five bookings this season.
Statistics this week showed Lucas has made the second-highest number of tackles in European football this season.
Despite this the quiet midfielder's contribution has gone largely unheralded.
Lucas' future under predecessor Brendan Rodgers was a constant subject for speculation.
He finally appeared to be on his way out of the club on loan to Besiktas in August only injury to captain Jordan Henderson to stall the move.
Since Rodgers' departure the 28-year-old, the longest-serving player of the current squad, has become a permanent Premier League fixture for Klopp.
That run will end at Anfield on Sunday and Klopp hopes it will not have a knock-on effect.
"I hope he's not a big miss. It's good for both of us that I'm here. I like players like this, he likes playing like this," he said."He has improved since we've been here, adapted to our style of play better and better. He is a very important player for us."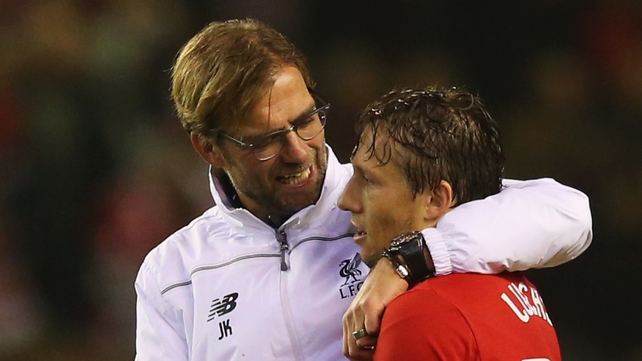 Klopp, above with Lucas, continued: "He can be much more dominant in the game, that's what we are always talking about, but he has a really good personality and in a position like his position it's very important that you have a good personality.
"I'm not sure he's unappreciated because it's one of the most important [positions], for sure.
"I heard here in England it's 'holding midfielder' - we should change this name because [that's] not all of his job.
"He has to organise, he has to read the game in every situation.
"I'm not sure how many passes he has to play in this position but it's a lot because usually we have to switch the game.
"It's an important position in football, in the middle of the pitch it's the heart of the game and we all know without a heart, nothing works."
A convincing 4-1 victory at Manchester City last Saturday put Liverpool within eight points of surprise league leaders Leicester and six adrift of a top-four spot.
"He has to organise, he has to read the game in every situation.
However, despite growing confidence within the squad Klopp has ruled out even thinking about a push for the title - for now at least.
"I don't know in this moment who will win the league and I don't care about this, I don't think about this in this moment," he added.
"It's only important to be concentrated on your own situation and how you can make your own progress.
"That's what we think about and if it would help to think about the end of the season I would do it but I know it does nothing.
"It's always important how far you are away from the position you dream of - it's better eight than 20 but two would be better than eight!
"We have to try to close this gap if it's possible and that is what we try."
Swansea arrive at Anfield with just one win in their last 10 matches and with continued speculation about the future of manager Garry Monk.