Jose Mourinho says John Terry could yet feature for Chelsea in Sunday's Premier League clash with Tottenham Hotspur at White Hart Lane.
The 34-year-old captain suffered an ankle injury in Tuesday night's Champions League win at Maccabi Tel Aviv and afterwards Mourinho appeared to rule the defender out of Sunday's trip to White Hart Lane.
"I don't want to say that it's impossible that he plays, because maybe he plays and you'll say I was hiding," Mourinho said.
"Today he didn't train but we have a little hope that it's possible."
Midfielder Ramires is a major doubt too, having missed the Champions League tie with an undisclosed injury sustained in training in Israel on Monday.
Cesc Fabregas, though, is fit despite revealing a toe injury after the Maccabi win.
Tottenham are unbeaten in 12 matches, since the opening day of the season, and Mourinho believes Mauricio Pochettino's men could win the title.
"When I watch them play it's not a surprise for me," said Mourinho, of Spurs' unbeaten run.
"If they say they are fighting for the title, I would not laugh. I would accept it because the team is very good."
Spurs boss Mauricio Pochettino complained about the noon kick-off on Sunday, so soon after Tottenham's 2,500-mile return from their Thursday night Europa League clash at Qarabag in Azerbaijan.
But there is no sympathy from Mourinho, who has long bemoaned the fixture schedule for teams competing in Europe and recalled April 2014, when his side had three key fixtures in a week.
"We played a Champions League semi-final against Atletico Madrid in one week," Mourinho said.
"We played Wednesday and we played Tuesday. In the middle of these two matches we had to play against Liverpool.
"Our country decided that it was not a problem for us to play Saturday or Sunday, so we played Sunday, before the second leg of the Champions League, which is the biggest competition in the world.
"If this country in that moment decided it was not a problem for Chelsea, why is it a problem now for Tottenham?
"And that Champions League semi-final was at the end of the season, where the legs are a bit heavier than November.
"It was not a problem for us, it's not a problem for Tottenham."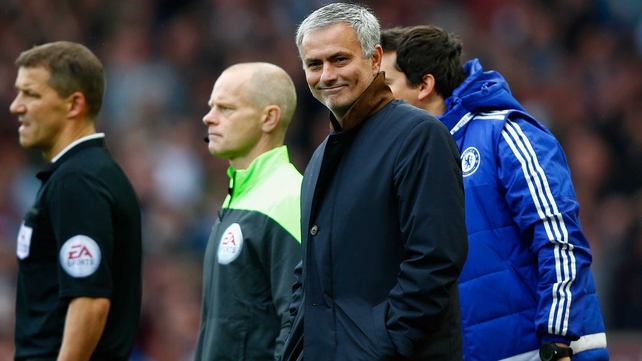 Mourinho, pictured above, suggested Chelsea's fatigue following Tuesday's game in Israel and a journey only marginally shorter than Spurs' was challenging.
"When you play Saturday and then you play Tuesday, you are immediately in accumulation, you are already in overload," Mourinho added.
"And then even if you have a longer period to rest until the next match, you accumulate in the first two matches.
"This story is a story that doesn't convince me and it's a story that we have a solution for everyone or we don't have a solution for anyone.
"For example, in Italy, in Germany, in Portugal, there is a solution for everyone. You play Tuesday in the Champions League knockout, you play Friday in your league.
"You play in Europa League on the Thursday, then you play on the Monday. There are rules for everyone.
"Here, I think it's the same for everyone."
Chelsea, the defending champions, enter this weekend's fixtures in 15th place in the Premier League, 10 places and 10 points behind fifth-placed Spurs.