Speculation is growing over the future of Real Madrid coach Rafael Benitez, with the club calling a press conference for 6.30pm this evening following Saturday's 4-0 home mauling by Barcelona in 'El Clasico'.
The Daily Telegraph reported that star player Cristiano Ronaldo, who has repeatedly been linked with a transfer away from the Bernabeu in recent weeks, has told team-mates, "either he goes, or I go" in reference to Benitez.
Real's drubbing at the hands of their arch rivals prompted angry fans to chant for president Florentino Perez to step down but the construction magnate is not expected to heed their calls and local media reported he will instead give his backing to Benitez.
Perez, in his second stint in charge of the world's richest club by income, has been blamed for Real's woes due to a perception he interferes in team selection.
Rather than give his coaches a free hand, Perez is believed to instruct them to deploy Real's marquee signings instead of players who may be in better form or better suited to a particular match scenario.
The last time the fans turned against him in 2006, Perez abruptly quit and he will be desperate to win back their trust.
Barca's victory on Saturday put them six points clear of Real at the top and Atletico Madrid leapfrogged their city rivals into second thanks to Sunday's 1-0 win at Real Betis.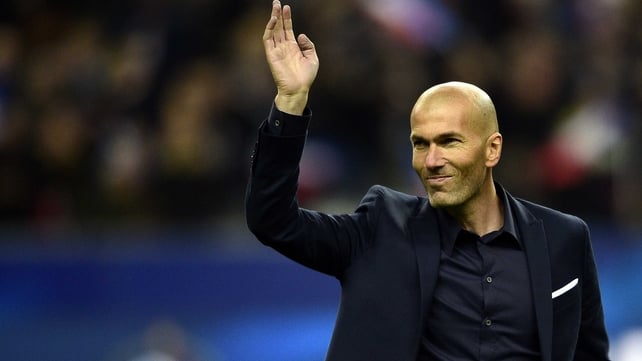 Meanwhile, Zinedine Zidane has played down speculation touting him as a possible replacement for under-fire Benitez, insisting he is still not ready for the top job.
Benitez has only been in charge of Madrid since the summer but already finds himself under increasing pressure, initially for a perceived negative style of play and now due to the scale of Saturday's defeat, which leaves Real six points behind league leaders Barca.
There has been suggestions in the media that Zidane could soon become Madrid's 14th manager in the last 12 years, but the former France and Bernabeu star, who is currently in charge of the club's B side Castilla, says he is in no hurry to be promoted.
The 43-year-old said in AS: "Replace Benitez? I'm the coach of Castilla and Benitez is in charge of the first team. Things are fine at the moment.
"Right now I'm with Castilla. If I stay at the club it is to coach Castilla. At the end of last season I felt that I was still lacking something to take charge of the first team.
"I'm still lacking a lot, and anyway a coach is never ready. I'm doing things little by little and I've no hurry," he added following Sunday's goalless draw with Barakaldo in Spain's third tier.
"The important thing is to be happy day to day with what I'm doing; my present is Castilla."