There are just two games to go in the SSE Airtricity League Premier Division and a third of the league are fearing relegation to the dreaded First Division.
The final series of matches have turned into an almighty scrap to avoid the drop or the relegation play-off.
Limerick, Drogheda United, Sligo Rovers and Galway United are the sides involved and it's extremely hard to call.
Limerick would have happily taken this situation ten games ago - they were so far adrift at the bottom of the table they were in danger of falling off it.
What has transpired since has been nothing short of miraculous. They have picked up 20 points from 30 available and given themselves a very realistic chance of maintaining their top-flight status.
If they do pull it off and survive it will be the greatest of great escapes, up there with Andy Dufresne's breakout in The Shawshank Redemption. What's stopping them from doing it?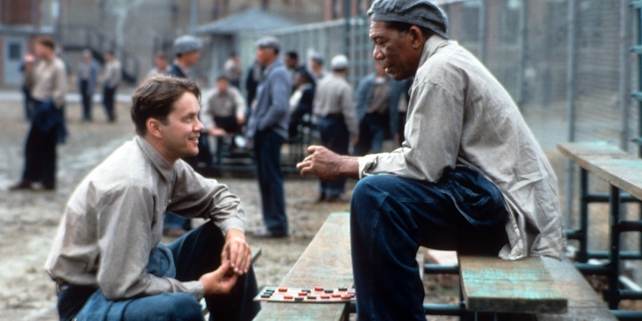 A home game versus Shamrock Rovers and a potential final day shoot-out with Sligo Rovers.
I think they are more than capable of picking up four points from those two games and they will need at least that.
The concern would be that, whilst that run I've mentioned in recent weeks has been fantastic, they still find themselves bottom.
"The position Sligo find themselves in with two games to go is shocking"
Martin Russell's players have been playing with a freedom and with very little pressure on them.
The opportunity rose last Saturday to get off the bottom of the table when Drogheda lost to St Patrick's Athletic the previous night – and they failed miserably – losing 2-0 to Derry City in front of the biggest ever crowd at the new Market's Field.
Despite that, Russell will be trying to stress the positives to his players all this week. The biggest one of those has been the form of Vinny Faherty, he is a striker who is high in confidence and I think he might be the man to decide their scrap at the bottom.
A striker in form that can grab you a goal when you are fighting for your life is crucial.
Galway possess fire power too – Jake Keegan and Enda Curran have proved a lethal strike-force and without them, a return to the First Division would have been inevitable for the Tribesmen, I feel.
But Sligo Rovers and Drogheda lack it. They have no cutting edge where it matters and are the two clubs I fear for most.
The position Sligo find themselves in with two games to go is shocking.
The budget the Bit o'Red work off is far greater than all of the teams around them, plus they are operating a full-time set-up. They should be nowhere near the bottom of the table.
I'm sure there will be a major post-mortem in The Showgrounds come the end of the season.
For now, their destiny remains in their own hands and that's where it must remain before Limerick visit the Showgrounds on the final day of the season.
When Micky Adams arrived, he gave Sligo major hope and following defeat in his first game in charge, they went five games unbeaten, picking up 11 points from 15.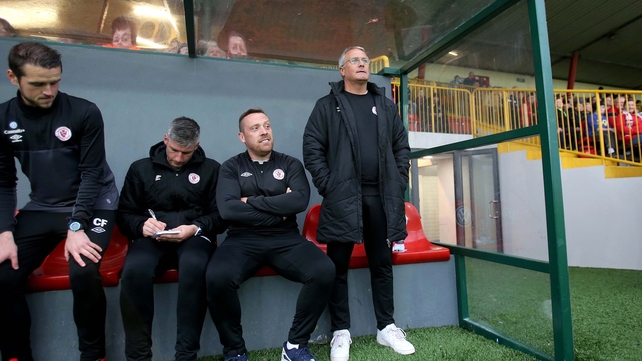 It looked like some people assumed that the job was done but then Rovers were hammered in the FAI Cup against Dundalk and in their last three league games they've picked up just one point from nine – games that were earmarked as the ones to get them out of this mess.
Relegation form? You bet. They've been so poor all over the pitch, and not just in the attacking area I've mentioned.
There is such a lack creativity in midfield and defensively they continually leak goals.
I can't come up with one positive thing to say about Sligo all season, it's been a disaster from start to finish
Relegation for Sligo Rovers would be a calamity. The progress the club has made on and off-the-pitch in recent seasons would be ruined in just eight months.
I watched Drogheda in their vital match away to St Pat's last Friday night and I'm not sure if they realised that there is only three games to go in the season. It certainly didn't look like it.
They failed to lay a glove on the Saints - and Pat's are the type of team you are able to throw more combinations against than most of the top teams because they let their guard down so much.
Drogheda didn't take any risk and bar a set-piece equaliser, they just didn't go for it.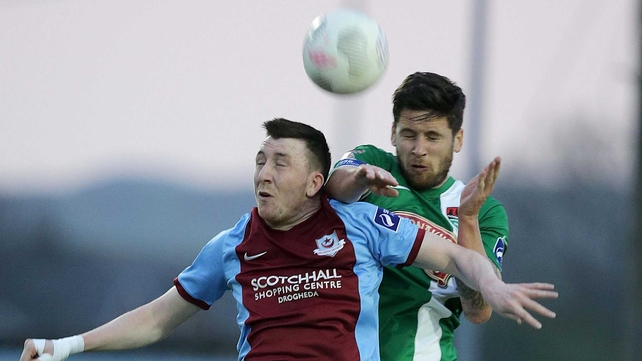 A few weeks ago on Soccer Republic I predicted Drogheda for the bottom place and I've seen nothing since to make me change my mind.
They've picked up one win since the middle of June and it came in Mark Kinsella's first game in charge away to Derry.
They've also picked up two battling draws since but will that be enough? I think their last chance rests on this weekend's game against Longford at home. The midlanders secured safety last weekend so will they might switch off.
Drogheda can't rely on that and must focus solely on themselves and put in a performance that's good enough to pick up three points.
They have Shamrock Rovers away the last game of the season so it's imperative they win this week.
"Galway need one more win and I've no doubt they'll get it"
Micheal Schlingermann has been fantastic in goals this season and Sean Thornton has performed admirably at times.
Lee Duffy looked lively on Friday but they need to get enough bodies up the pitch to try and support him.
Is it possible they will survive? Only if we see marked improvement from what I watched Friday night.
I've complimented Galway United many times this season and considering it's their first year back in the Premier Division, I think Tommy Dunne has done a very good job on limited funds and resources.
He has also taken his team to a cup final and they've played some really good football.
They've two games to secure safety and I think they'll be just fine. They are away to Bray Wanderers this weekend and finish off their campaign at home to St Patrick's Athletic next weekend.
Galway need one more win and I've no doubt they'll get it. They've scored more than the three teams above them in the table – largely thanks to Curran and Keegan – and it might just be one of them to seal a spot in next year Premier Division.
It's one of the most intriguing relegation battles I've seen in quite some time and one to follow closely.
Limerick v Shamrock Rovers is live on RTÉ2 and RTÉ Player this Friday, kick-off 7.45pm