Skipper Robbie Keane has told his Ireland team-mates to forget the disappointment of defeat in Poland to ensure they make the most of their second chance.
The Boys in Green saw the opportunity to clinch automatic qualification for Euro 2016 finals slip from their grasp in Warsaw on Sunday.
Robert Lewandowski's second half goal secured a 2-1 victory for the home side in the final round of Group D fixtures and booked their ticket to France.
Germany's win over Georgia by the same score in Leipzig meant the world champions topped the group despite their shock defeat in Dublin three days earlier.
The Poles finished second, leaving Ireland with the consolation prize of a play-off place.
With only three of the nine groups completed, it remains to be seen which of the third place teams qualifies automatically by virtue of their superior record.
Seven other countries will then join Martin O'Neill's men in the shoot-out, but it is highly unlikely Ireland will be seeded.
Keane said: "What we have to do is to forget about it as much as we all can. I know it's difficult, but we have to try.
"We said at the end there, we've got a play-off and if you looked at the group overall back at the start of the campaign, would you have accepted third spot at the time?
"People would probably have said 'yeah'.
"When you're in with a chance and you think you can take second spot, then of course it's a disappointment.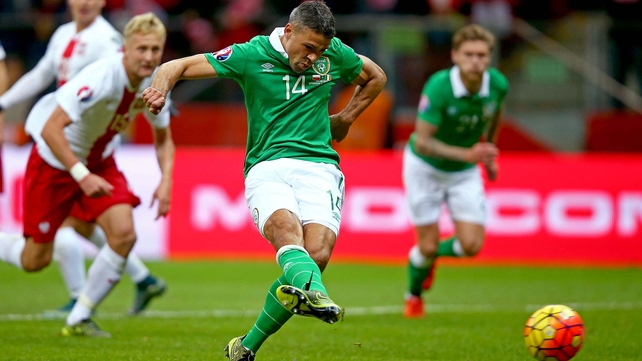 "But I think that we have to try to move on as quickly as possible and try to make sure that the lads going back to their clubs, they'll be fully focused on that, but that they have it in the backs of their minds that we have big games in a month's time.
"We still have the chance to go to the European Championship in France.
"There's still something in it."
The defeat in Poland was just Ireland's second of the campaign, and the goals they conceded only the sixth and seventh in 10 games.
They will, however, go into the play-off first leg without central defender John O'Shea, who was sent off for a second bookable offence for a stoppage-time foul on Lewandowski.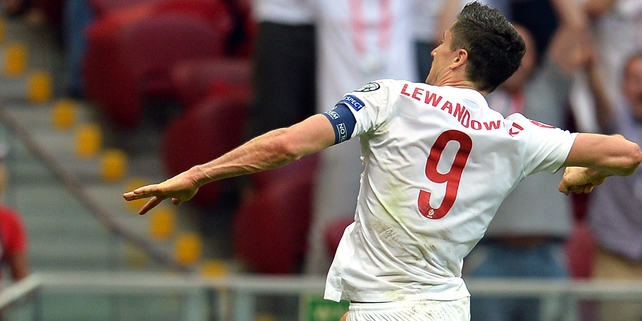 Striker Jonathan Walters, who collected his third caution of the group phase for a late challenge on the same man, will also be suspended.
Walters (pictured above) had earlier given the visitors hope of a positive result - a 2-2 draw at the Narodowy Stadium would have put them through - by converting a 16th-minute penalty.
The Republic are likely to face Ukraine, Croatia, Bosnia, Sweden or Denmark over two legs next month. The draw takes place on Sunday.
Having improved their play-off record with a 5-1 aggregate victory over Estonia four years ago to make Euro 2012, they will hope to repeat the feat this time around.
Keane, 35, said: "Look, we've been successful in the play-offs.
"Having that hunger and desire, knowing that there's a massive prize at the end of it, playing at the European Championships - some players never get the opportunity to play in these competitions.
"We've been lucky enough that we have quite a few who know what it's like, the atmosphere that gets created around it for everybody.
"To have a European Championship on your CV, that's an opportunity the lads certainly have to be mindful of.
"We all have to go on thinking we have a great chance regardless of who we get because we're a good team."