It is impossible to look ahead to tonight's EURO 2016 qualifier between Ireland and Poland at the Stadion Narodowy in Warsaw (7.45pm, live on RTÉ2) without looking back at that momentous result and performance at the Aviva on Thursday night.
Perhaps the complete Irish performance had been coming, but it has only ever been evident in stages throughout this campaign, and it certainly was not expected to arrive against the World Cup winners.
Previously, Ireland's best performances in the Group D campaign consisted of ten minutes away in Germany, the first half against Scotland at home and the final 50 minutes of the 1-1 draw with Poland at Lansdowne Road.
But what a night for it all to come together, not to mention the fact that some of O'Neill's regulars were missing, while many also poured scorn on his selection of the eleven that started against Germany.
To a man, the team excelled in all areas, against a team of World Cup winners, coming into the game on a five-match winning streak and playing with a swagger reserved for only the fewest amount of sides in world football.
Oddly enough, Ireland's least busy player on the pitch in that opening 45 minutes was goalkeeper Shay Given, who didn't actually have a shot to save – but a lot of that can go down to the brave and heroic defending from John O'Shea and Richard Keogh.
Of course, Given departed the scene just ahead of the break and Darren Randolph was really given a baptism of fire at this top international level as he became the final line of defence for the remainder of a thrilling night.
"Poland showed in stages what they are capable of in the Dublin encounter"
The West Ham keeper's first task was to deal with a well-hit back pass, and once that connection was made and the ball sailed high out of the Ireland penalty area, Randolph looked composed and assured and is perhaps now the true successor to that number one spot on the Ireland team.
Stephen Ward was on a hiding to nothing as he returned to his starting slot at left back having played very little football at his club this season.
However, the former Bohemians man looked match-ready from the opening exchanges and was one of the first to make inroads into the German half, bombing down the left wing, patrolling a flank that he enjoyed to himself, as Robbie Brady was very firmly tucked inside looking to close off the space for Germany to play through.
Then there was James McCarthy's dominant display around the middle of the park, the selfless running, harrying and hustling of Jonathan Walters and Daryl Murphy, and those moment of serenity and grace from the Norwich Messi, Wes Hoolahan, holding the ball up and allowing his team-mates much needed moments of respite and a chance to reorganise.
And the reward for that victory over Germany is that it gives Ireland two bites at the EURO 2016 cherry as tonight's game has now turned into a winner-takes-all encounter, with the losers knowing that they have the safety net of a play-off next month.
But let's not get carried away; this Poland side will prove a very tough proposition and if anything, the home side must surely still be considered favourites to take that automatic spot, despite Ireland's heroics on Thursday night.
The home team is packed full of quality, especially going forward, and will prove a real handful for the Irish midfield and defence to deal with.
Poland showed in stages what they are capable of in the Dublin encounter, however, they are a different beast in front of their vociferous home fans, and will be confident of beating Ireland to grab that ticket to France.
Going forward, Poland are as good as any top European team with Arkadiusz Milik, ruled out on Sunday due to injury, Grzegorz Krychowiak, Kamil Grosicki, Jakub Blaszczykowski and Lukasz Piszczek all creating a fine attacking force.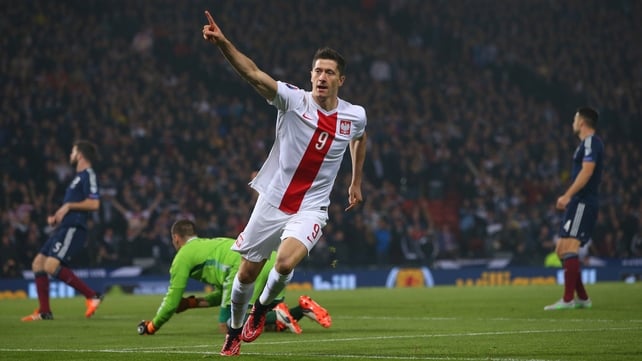 Then add a sprinkling of Robert Lewandowski magic and you have a side capable of beating any team on their day, as the world champions will testify, going down 2-0 to Poland early in the campaign.
But despite Poland's encouraging start to the campaign, where they beat the aforementioned Germany, they have stuttered on the home straight and now find themselves in a very awkward situation, considering they felt that they would have already qualified by now.
And suddenly their campaign is in danger of faltering at the most vital of stages, with several injuries manifesting ahead of the Ireland clash.
Milik has been ruled out through injury and this will really affect the formation and tactics of Poland as the Ajax man has such a vital role to play, linking up with talismanic captain Lewandowski.
The understanding that has developed between the two players is a rare commodity in modern football and as a result, Lewandowski may not be as influential as he has been, although his recent goalscoring record for club and country would beg to differ.
This Poland side actually assumed that they would qualify on Thursday night, and the people here in Warsaw really believe that they deserve to be in France next summer, so there is certainly a lot of unnecessary pressure building up on the home side.
"Expect Poland to come flying out of the blocks tonight"
Expect Poland to come flying out of the blocks tonight, and their high-tempo play really has to be admired, with or without the ball in their opponents' half.
Their attacking qualities are exceptional, however, the work that they do off the ball is equally impressive as their forwards and midfield four will press Ireland right up the pitch and look to keep O'Neill's side on the back foot and force mistakes.
But Ireland's defence cannot be tested more than it was on Thursday night, so O'Neill's game-plan will involve frustrating the home side in the opening 20 minutes and hope that the crowd become subdued.
Changes to the Ireland XI will arrive without question but, as always, it is a guessing game trying to predict the manager's side ahead of kick-off.
Glenn Whelan will surely slot back in to the midfield alongside James McCarthy and Jeff Hendrick, but there is a really big call to make in the right-back position and whether to risk playing the fit again Seamus Coleman.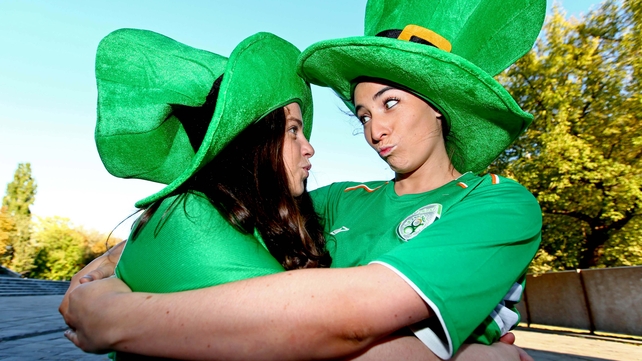 Coleman may be injury free, but it remains to be seen as to whether the Everton man's match fitness is anywhere near the level needed for such an important fixture.
Should Coleman start and then break down at some point in the 90 minutes, O'Neill risks another war of words with the defender's club manager. There is also the strong possibility that Coleman will be needed in a few weeks' time for the play-offs and the wisest option might be to stick with Cyrus Christie and allow the Everton man to get back to full tilt at Goodison Park.
And the play-offs really are still the likeliest scenario for this Irish team, as a victory tonight in Warsaw is a really tough ask, especially after the exertions of Thursday night.

Again, you would have to hope that Shane Long would start, and hopefully the manager will look to recreate the second-half performance against Poland where Ireland played their best attacking football of the campaign.
That could see James McClean get the nod to work the left flank, which worked so well in Dublin, with Robbie Brady sitting in behind and joining the attack when possible.
Jonathan Walters has become a real O'Neill favourite and is sure to start, so the only other real question to ask is whether Wes Hoolahan is selected or not.
We learned earlier in the campaign that O'Neill did not see the Norwich man as an away player, but surely his ball-retention and creativity can give Ireland an extra edge tonight.
Hoolahan was struggling with an injury early in the week and there have been suggestions that two games in such a short amount of time is not a realistic option.
And Ireland must believe that they have a chance with Poland missing key players, and despite their attacking prowess, they can often be left wanting at the back.
They employed a new centre-back partnership on Thursday night as Michal Pazdan joined stalwart Kamil Glik in the middle; they looked far from secure and did not appear to have a natural understanding of each other's game.
And then the midfield cover can often be found too far up the pitch, as the energetic Krzysztof Maczynski is a real box to box player, while the stylish Krychowiak also likes to join in the attack and might lack a bit of bite when Ireland are going forward.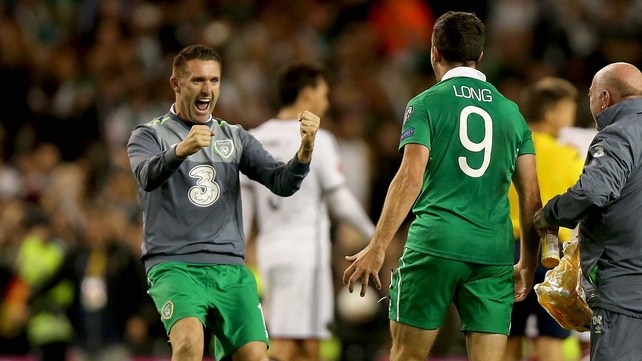 On paper, and throughout the course of the tournament, both sides are really evenly matched, while the Poles also possess a better head-to-head with the world champions as they beat Germany 2-0 at home, while losing 3-1 away.
And as a result, the match has the potential to be a real thriller with goals aplenty, and a real war of attrition is on the cards until that final whistle blows and one side will be heading to France and the other looking elsewhere to see what lies ahead in the November series.
So with all the talk of an upcoming election back in Ireland, the language of politics might be best used to predict tonight's encounter.
Too close to call.
Verdict: Score Draw