Louis van Gaal claims David de Gea told one of his coaches he did not want to play for Manchester United in their first match of the season.
For the second successive week, De Gea has not been included in United's match-day squad.
The 24-year-old will not feature against Aston Villa on Friday because Van Gaal is convinced he is not in the right frame of mind to play due to Real Madrid's interest in signing him.
That was the same reason the Dutchman cited last week for leaving De Gea out of his squad for the season-opening win against Tottenham last Saturday.
In a new twist, Van Gaal revealed during an odd exchange on Thursday that De Gea had told his goalkeeping coach Frans Hoek he did not want to play against Tottenham.
Van Gaal gave his normal pre-match press conference in the Jimmy Murphy Centre at Carrington and then stunned the room by wandering over and sitting next to a journalist in the audience who had earlier questioned him about De Gea.
Van Gaal then offered to divulge information about De Gea.
Insisting his comments should be regarded as on the record, Van Gaal explained what had made him decide to drop De Gea from the Spurs game.
"We've talked with him (De Gea), he was fully agreed with our decision," the United boss said to the reporter, who was surprised Van Gaal had decided to come and sit next to him after the press conference had ended.
"I have one assistant coach (Albert Stuivenberg) and another assistant coach (Marcel Bout) so we speak about that kind of thing. We have a goalkeeping coach, Frans Hoek, I'm not doing everything alone.
"Frans Hoek, he has a meeting with David de Gea and he asks him, 'Do you want to play?'."
When the reporter asked about De Gea's reply, Van Gaal said it was: "No."
Van Gaal added: "Then I have to take the decision. It is a process. We had been observing him in preparation, he was not so good, he was not the same David de Gea as before, he was my best player last season. According to the fans, he was the best of the last two years."
It was a bizarre episode that caught everyone by surprise.
"We have a goalkeeping coach, Frans Hoek, I'm not doing everything alone"
The fact Van Gaal had revealed details of what De Gea presumably thought was a private conversation may well come as a shock to the former Atletico Madrid goalkeeper, who has received praise from his boss for his attitude recently.
A United official attempted to "clarify" what had been said later by insisting Van Gaal meant De Gea was merely "not eager to play" against Tottenham because of the speculation surrounding his future.
The saga is proving to be something of a mess for United, who continue to insist they will not sell their goalkeeper to Madrid unless they get Sergio Ramos or a fee of over £32.6million in return.
When asked earlier if he had seen an improvement in De Gea's focus, Van Gaal said: "There is no difference. The transfer period is still open and he has still the same problems."
Sergio Romero therefore looks set to start at Villa Park on Friday. And he may hold on to the gloves after the transfer window even if De Gea stays.
"That depends on Romero also and his form," Van Gaal replied when asked what De Gea's situation would be if he stayed at United. It is always like that."
Van Gaal hopes to sign at least one player before the window shuts.
Pedro, who scored the winning goal in Barcelona's 5-4 victory over Sevilla in the UEFA Super Cup on Tuesday, is the kind of penetrative, pacy forward United need.
"Pedro is a player like that," Van Gaal said.
Van Gaal is not after another striker because he believes Wayne Rooney is good enough to plunder many goals this season;
"We have confidence that he can score more than 20 goals there," Van Gaal said.
Javier Hernandez has accepted his role as back-up, according to Van Gaal, and will not leave.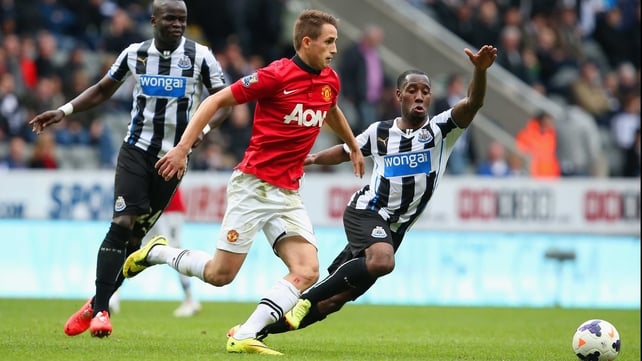 Another person who looks set to stay at United is Adnan Januzaj.
The Belgian was linked with a move to Sunderland after being left out of the match day squad for the Spurs game.
When quizzed on whether he would consider letting Januzaj leave on loan, Van Gaal replied: "He is still not for sale."
Januzaj broke into the United team during David Moyes' only year in charge, but has started just seven league games under the Scot's successor.
Van Gaal insists he is happy with the player, however.
He added: "I have 28 players and I have to select every week, every three days. Last week I choose our players. He (Januzaj) is doing his best. All the players are, I don't have any complaints."
The build-up to the Villa match was overshadowed by some strong words on Van Gaal from his former player Hristo Stoichkov.
The Bulgarian clashed with Van Gaal during the 64-year-old's first spell at Barcelona and he decided to sell the former striker to CSKA Sofia.
Seventeen years on, the pain is still raw for Stoichkov, who branded Van Gaal a "mediocre" manager who "destroys" players and clubs during an interview on Spanish radio this week.
Van Gaal dismissed Stoichkov's barb at his pre-match press conference on Thursday.
He said: "It is not bothering me. I have as a manager, I have to decide a lot of things. He is one of the players I sent away and that is why he is doing that."
Van Gaal has no new injury concerns ahead of the trip to the Midlands. Marouane Fellaini is suspended, Phil Jones is out with thrombosis and Marcos Rojo is still lacking match fitness.
Van Gaal is looking to put pressure on United's rivals by winning at Villa Park. The Dutchman feels an improvement in away form will be vital to the club's chances of challenging for the title.
"The key for success this season is improving away matches," said Van Gaal, who won just six times away last term. We were one of the best last season at home, third.
"I want to create a fortress at Old Trafford, we did that but away we have to improve and we can improve because last year we were not good."