Ireland will face Wales, Austria, Serbia, Moldova and Georgia in the qualifying group for the 2018 World Cup in Russia.
The Republic of Ireland were drawn in Group D and will be happy overall with how things panned out, given that they were fourth seeds going into today's draw. Wales are top seeds for this tournament on recent form, but would not be known as one of the powers of European football. They have not qualified for a World Cup since 1958.
Austria were Ireland's opponents in the qualifying group for the 2014 World Cup, with the sides playing twice in 2013. Ireland lost 1-0 away in Vienna and secured a 2-2 draw in Dublin. The home result in particular was disappointing, with Austria scoring deep into injury time at Aviva Stadium to further damage Irish hopes of qualifying for Brazil.
Serbia and Ireland last met in March 2014.The defeat in the friendly was the first for Martin O'Neill as Republic of Ireland manager - the final score was 2-1 to Serbia on the night. The Serbians could prove to be Ireland's toughest opponents, with a host of top stars added to the players who recently won the U20 World Cup in New Zealand.
Georgia are familiar opponents for Ireland as current members of Group D in the Euro 2016 qualifiers. Ireland came away with a 2-1 victory in Tblisi last year, thanks to two goals from Aidan McGeady - the second a brilliant late effort to give Ireland the points. The sides will meet again on 7 September.
This qualifying group will be the first time Ireland and Moldova have met in senior competition.
The winners will qualify automatically for the finals in Russia, with the eight best runners-up from the nine groups taking part in a play-off for the remaining places.
Elsewhere in the draw, Northern Ireland will have to face world champions Germany in Group C along with the Czech Republic, Norway, Azerbaijan and San Marino.
And England and Scotland were both drawn in Group F along with Slovakia, Slovenia, Lithuania and Malta. It is the first time England and Scotland have been drawn together to play a World Cup match, although the 'home nations championship' did act as a qualifying competition for the 1950 and 1954 World Cups.

World Cup draw: As it happened
1805: Some wonderfully generic reaction from former Ireland international Clinton Morrison: "It's a difficult group. I knew we'd get one of the home nations. It was always going to be difficult...
"He'll (manager Martin O'Neill) be very happy. There are a lot of harder teams they could have got, but Wales will be favourite. The Irish fans will be happy with that."
European Zone Round 1 #PrelimDraw http://t.co/c3B7z1vflL pic.twitter.com/gTSGsZcykN

— FIFAWorldCup (@FIFAWorldCup) July 25, 2015
The draw: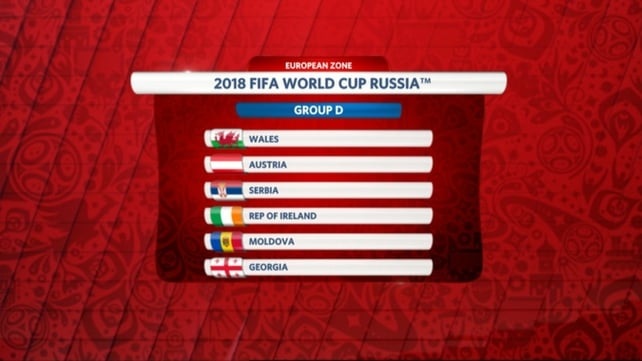 GROUP A
Netherlands
France
Sweden
Bulgaria
Belarus
Luxembourg
GROUP B
Portugal
Switzerland
Hungary
Faroe Islands
Latvia
Andorra
GROUP C
Germany
Czech Republic
Northern Ireland
Norway
Azerbaijan
San Marino
GROUP D
Wales
Austria
Serbia
Republic of Ireland
Moldova
Georgia
GROUP E
Romania
Denmark
Poland
Montenegro
Armenia
Kazahkstan
GROUP F
England
Slovakia
Scotland
Slovenia
Lithuania
Malta
GROUP G
Spain
Italy
Albania
Israel
FYR Macedonia
Lichenstein
GROUP H
Belgium
Bosnia
Greece
Estonia
Cyprus
GROUP I
Croatia
Iceland
Ukraine
Turkey
Finland
I swear I can make sense of this for @SatSportRTE #rtesoccer pic.twitter.com/mvBmlHOcEb

— Damien O'Meara (@damien_omeara) July 25, 2015
1743 These are the teams who average the highest number of points in teh UEFA zone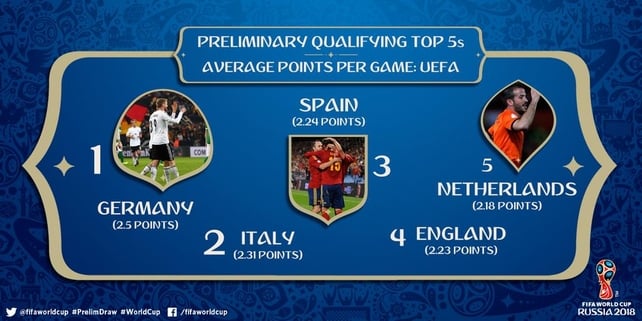 1741 Due to a commercial arrangement surrounding the sale of TV rights, England, France, Holland and Germany are guaranteed to be in six team groups - so they will have more matches on TV and therefore more advertising revenue
1739 So there are nine groups, seven of which will have six teams - two groups will be made up of five teams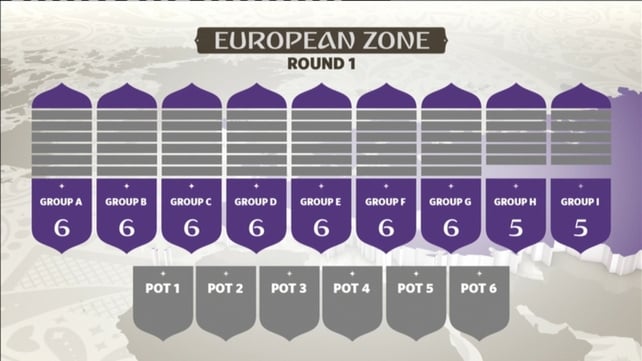 1737 We are having a jazz interlude in St Petersburg. Horrific.
1734 So after all of that, here comes the draw for the European groups. A reminder that Ireland are in pot 4 - which means a difficult draw is almost guaranteed - how difficult remains to be seen...
1731 The full fixture list for the first round of games in South America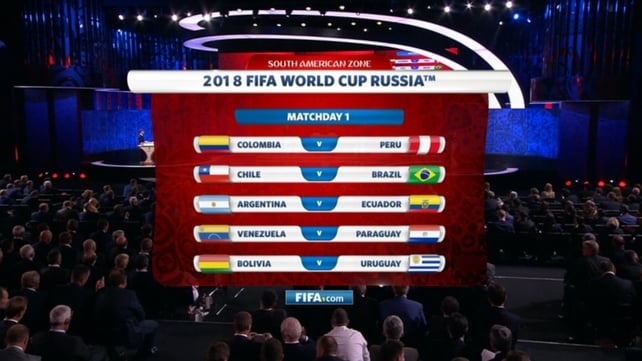 1729 We are running a bit behind schedule here - the European draw is up after the South America fixtures are confirmed
1724 Here are the teams who will be drawn next. In south America all teams play each other home and away, so essentially this is just the fixtures for Match Day 1
South American Zone #PrelimDraw has started! 10 teams, 4.5 #WorldCup qualification slots. http://t.co/c3B7z1vflL pic.twitter.com/EFWNAhVklk

— FIFAWorldCup (@FIFAWorldCup) July 25, 2015
1722 The Oceania draw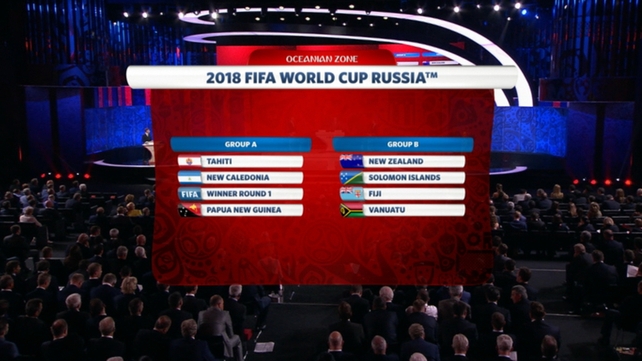 1710 And here is the CONCACAF draw in full
1700
The English TV announcer on this preliminary World Cup draw is translating Fabio Cannavaro's statement. Fabio Cannavaro is speaking English.

— Kolby Kuwitzky (@kolbykuwitzky) July 25, 2015
1656 And so on to North, Central American and Caribbean Zone - or CONCACAF when it's at home...
1651 Asia is next. 46 teams involved in this one - and there will be no draw today, as the qualification is already under way.
Four groups, with the first and second ranked teams qualifying - the already decided intercontinental playoff against a CONCACAF nation will await the winner of a playoff between third ranked teams.
1645 The Africa draw: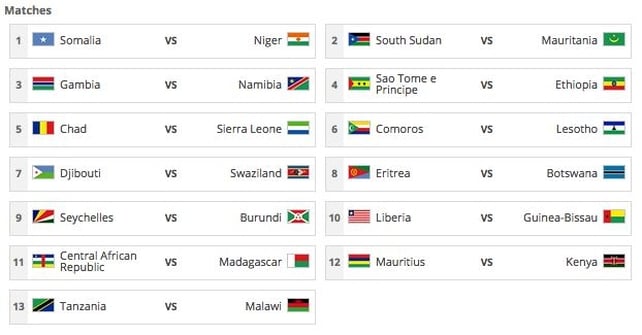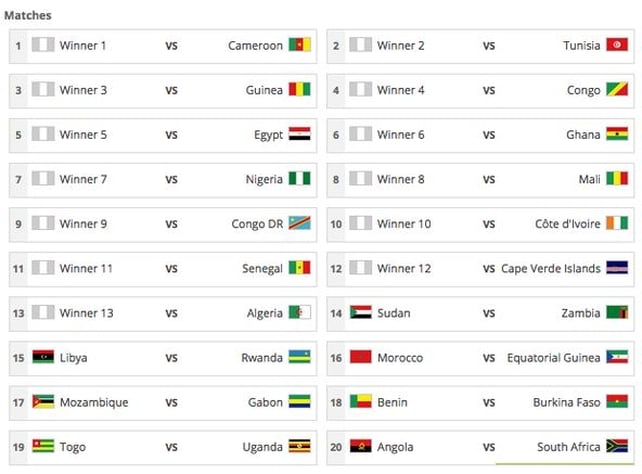 1643 The Africa draw is STILL going on by the way... It is the biggest federation after all - and the the set-up is not uncomplicated. Full details to follow once complete
1642 In safe hands here this evening... #thelads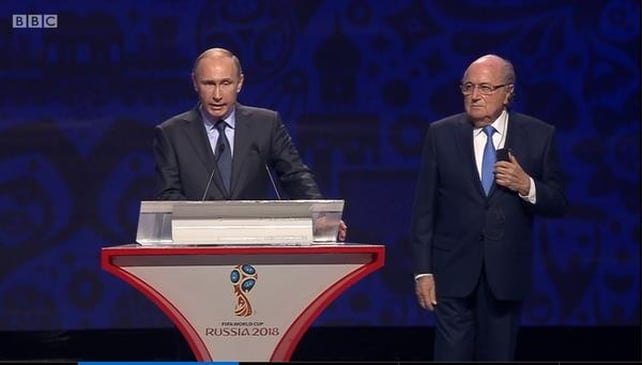 1630 Here is (part of) the complicated format for the Africa qualifier draw.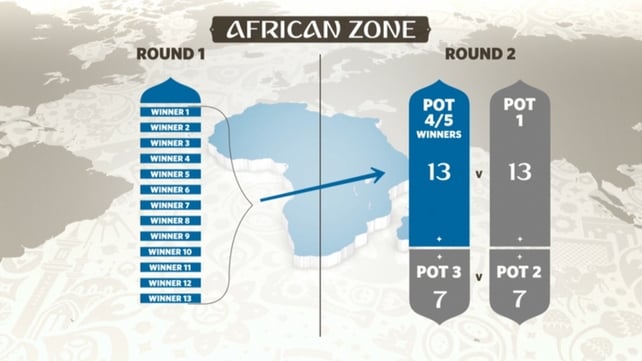 1624 The intercontinental playoff games will be:
CONCACAF v Asia
Oceania v South America
1626 Tony will be bringing us reaction to the draw for Ireland a bit later on...
Inside the draw hall @FIFAWorldCup @RTEsoccer @SoccRepublic pic.twitter.com/pa3kFEXNMH

— Tony O'Donoghue (@Corktod) July 25, 2015
1622 First up is the intercontinental play-off draw. CONCACAF, Oceania, South America, Asia in this one.
1615 One of the more interesting backdrops to the Eurovision-esque entertainment in St Petersburg...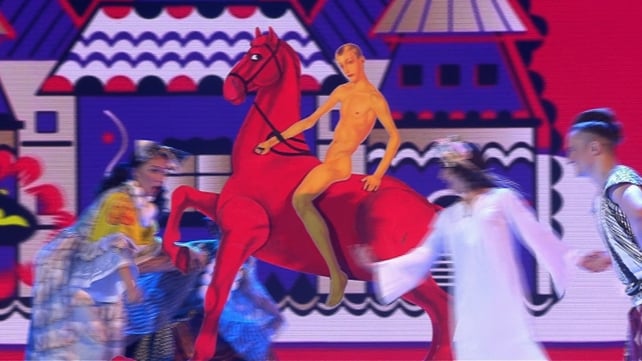 1611 And a much tougher option...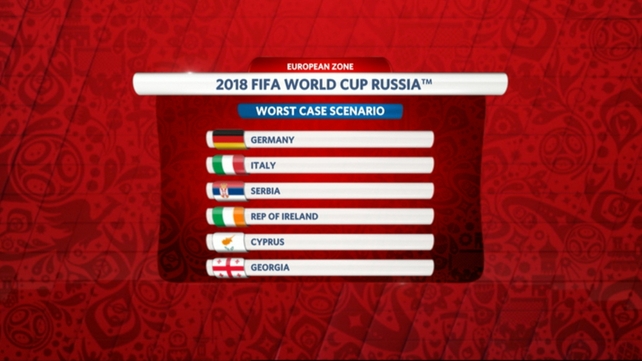 1610 The best case scenario...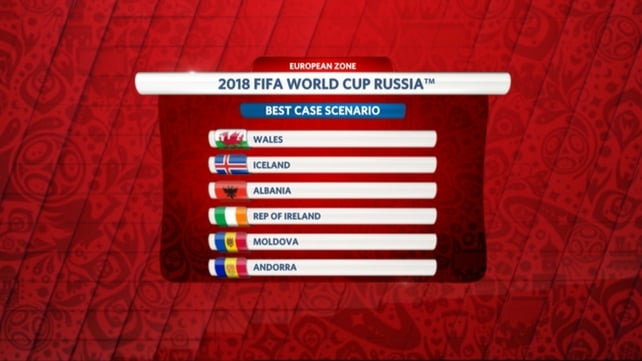 1605 So ... in the rehearsal for this draw in St Petersburg earlier, this was our group
Holland
France
Scotland
Ireland
Belarus
Andorra
1555: Sepp Blatter is present in St Petersburg for today's draw - however FAI CEO John Delaney is not. Ireland are fourth seeds for this draw - alongside Turkey, Slovenia, Israel, Republic of Ireland, Norway, Bulgaria, Faroe Islands, Montenegro and Estonia