UCD manager Collie O'Neill has said his side are looking to continue their remarkable progress in the Europa League qualifiers, and suggested their opponents for their round two qualifier may underestimate the Students.
Having received unlikely entry to the qualification rounds for the Europa League after Ireland finished third in the UEFA Respect Fair Play rankings, an unfancied UCD side went on to stun F91 Dudelange of Luxembourg in the first round of qualification, going through on away goals after Ryan Swan scored a goal in each each of their 2-2 draw.
Next up for O'Neill's side are Slovan Bratislava, a side which represent a huge step up in class.
With the first leg due for Thursday in Bratislava, O'Neill was under no illusions about the scale of the challenge ahead, but was quietly confident about his side's ability, and insistent they were not there simply to make up the numbers.
"[Slovan] are definitely a step, if not two, up, but they do have some weak points as well," O'Neill.
"We have a plan, to try and stop them from playing, and then we have other little bits, to try and pick them off."
He dismissed any notion that this was bonus time for UCD; their qualification for the competition attracted some criticism, but the team has more than answered this with their remarkable win over Dudelange.
O'Neill, though, is not happy to settle for just this.
"We're not going to lie down for anybody. Welcome to the Bowl" - Collie O'Neill
"We still want to get through this. We are loving it. It is very good. We are enjoying it. We don't want it to stop. We're not just here for the sake of it," he said. "We're actually here to try and win the game."
He said he had had a good opportunity to watch video footage of Slovan, and singled out their front man Róbert Vittek as a particular threat: the powerful forward has showed his class on the international stage, scoring four goals at world cups for his country.
"They are a top, top side," he said.
"And in Róbert Vittek they have a top, top centre forward. There is real quality in them; technically, they're very, very good.
"But, people always fall into a little trap when they're playing UCD: they think, 'Bunch of students, this is going to be easy'. 
"So many people throughout the years have fallen into that trap, and hopefully they will fall into it too.
"But we can only look to ourselves, and hopefully, if we do our plan, and play the way that we think we can play, then we might get something out of it."
O'Neill added that he would not be surprised if they had not looked at any video footage of UCD, and that they "probably won't pay much heed to our side".
The game is scheduled for an 8.15pm kick-off on Thursday, and with temperatures expected to hit near 30 degrees centigrade during the day, UCD will be hoping that it has cooled somewhat to suit their approach.
O'Neill said they were hoping to keep the contest alive by they welcomed Slovan back to the UCD Bowl for the return leg on Thursday week.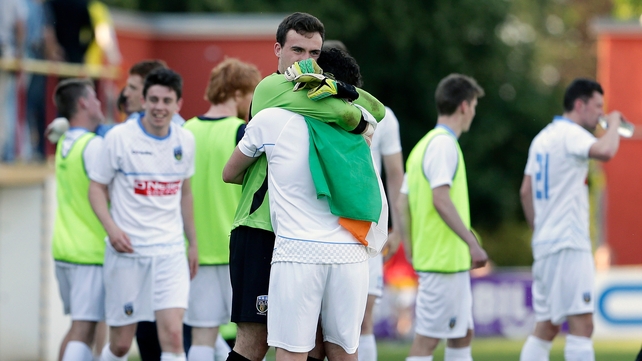 "I don't want the tie to be dead by the time it comes to here. We're going to try and stay in it as long as we can."
In team news, Tomás Boyle has a knee injury, but O'Neill said he believed Boyle would get the all-clear for the game on Thursday.
Mick Leahy is 50-50, despite an x-ray showing that he did not break his ankle against F91 Dudelange, and Ryan McLaughlin will miss the game after breaking his hand in a fall in the shower.
Ryan Swan, UCD's two-goal hero from the first round of qualification, had a calf concern but should be fine, while Sean Coyne is suspended.
O'Neill admitted that the injuries meant UCD were struggling a little bit defensively.
He said that he was looking for something special from his players to set the tone for the game, and impose themselves on the Slovakian side.
In the first leg against Dudelange, Jamie Doyle put in a crunching tackle that sparked his side; O'Neill said something similar would be welcome in the second round, too.
"It reminded me of James McClean's tackle [in the Republic of Ireland's Euro 2016 qualifier against Poland].
"It's something like that the sets the tone within the group, and everybody else then gets the bit between their teeth, and says: 'We're not going to lie down for anybody. Welcome to the Bowl'."