There has never been another moment like it in Irish sporting history.
For one glorious summer in 1990, the sun shone on Irish soccer, and the country was rapt by the remarkable progress of Jack Charlton's Ireland side. Sport moved from the back to the front pages; the names of Calgiari, Palermo and Genoa were etched into Irish geography; and we learned how to "Put 'em under pressure".
In Ireland's first appearance at the World Cup, they stunned the world, advancing out of a challenging group before eventually reaching a most unlikely-looking quarter-final.
It Says In The Papers - Italia 90 special (with a bit of Dunphy v Charlton.,.) https://t.co/EYTJDPL6Pq

— RTÉ Sport (@RTEsport) June 25, 2015
Though the lethal boot of Italy's Totò Schillaci would mean that they advanced ultimately no further than the final eight, before that game they had their greatest day: victory in a penalty shoot-out over a well-fancied Romanian side in the round of 16.
A nation held its breath; a generation of stars played their way into sporting immortality; and the way a country thought of sport changed forever.
The group stage
Ireland opened their World Cup account with an impressive 1-1 draw with England, Kevin Sheedy scoring an equaliser after Gary Lineker had put the English ahead.
Reporting on the game from Cagliari for The Irish Daily Star, Cathal Dervan, now sports editor for The Irish Sun, wrote that thousands of Irish fans were celebrating a moral victory, and that Jack Charlton had said Ireland were "bang on course for the next phase of the competition".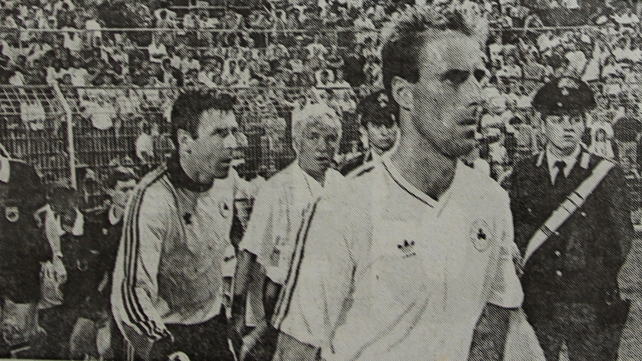 Peter Byrne wrote in the Irish Times that "honour was satisfied but ambition mildly unrequited" in the draw.
Gerry Thornley, who has since turned his attention to matters rugby-related, surveyed the coverage of the game in the UK papers, and noted the The Sun and The Daily Mirror concentrated on the decision to substitute Peter Beardsley for Steve McMahon, whose mistake led to Sheedy's goal.
The Sun's headline read, "McMug blows it", Thornley reported, and the Mirror varied its approach: its Irish edition ran the headline "Eire we go, Eire we go, Eire we go" while the UK edition had "Eire we go again" with a sub-heading of "I cocked it up", referring to Robson.
After that came a dull 0-0 draw against Egypt in Palermo, a game in which the Egyptians were strongly criticised for their lack of ambition.
Byrne wrote that Egypt "won no friends here with a performance which encompassed much that is bad in European football and precious little that was constructive".
Dervan reported about Charlton's condemnation of the Egyptian approach, quoting Big Jack as saying: "I hate teams like that, in fact I deplore them."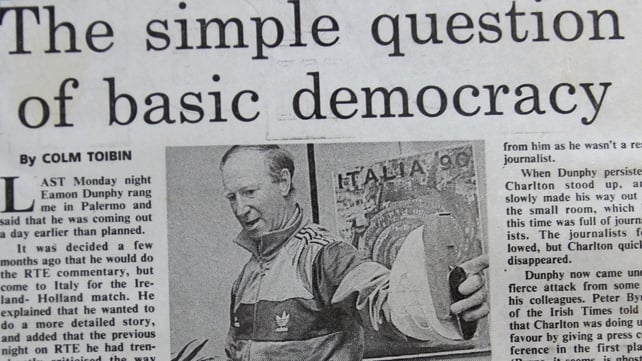 Another row involving Charlton was also brewing, this time with RTÉ soccer analyst Eamon Dunphy. Colm Toibin reported on a blow-up at an Ireland press conference, when Dunphy tried to ask Charlton if the tactics in qualifying should be different to the World Cup finals, and if Charlton had learned anything about this in the England and Egypt games.
As soon as Dunphy spoke, Toibin reported, Charlton stopped him and said he wouldn't answer any questions as Dunphy wasn't a real journalist. When Dunphy persisted, Charlton left, and other Irish hacks, who feared they were now without any quotes with which to fill the next day's newspapers, made their views clear to Dunphy.
The result left Ireland with a tough task in their third Group F game, against the Netherlands. After Ruud Gullit put the Dutch ahead things looked extremely challenging for Ireland, but Niall Quinn's 71st-minute leveller meant Ireland secured a draw and remarkable progress to the second round.
In Palermo, Kevin Myers wrote about an "almost uncontrollable display of emotion" from Irish fans "who, having suffered through two matches of tedious sterility, saw Ireland draw against Holland in an encounter of almost unbearable excitement and quality".
With Ireland and the Netherlands finishing on identical points, goal difference, goals scored and conceded, lots were drawn to see who would be awarded second spot in Group F. Ireland came out successful, and so avoided meeting West Germany in the second round.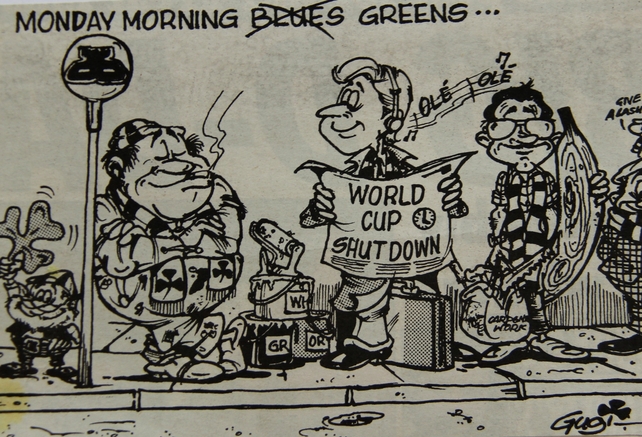 The scene was set for Genoa, Romania, and the greatest day in Irish soccer history.
25 June, 1990, Stadio Luigi Ferraris, Genoa
The heroics of its soccer team had by now utterly captivated Ireland. Then Labour leader Dick Spring had called on Minister for Labour Bertie Ahern to give fans a dig-out by declaring the day of the match a national holiday, a proposal dismissed as "zany" by Taoiseach Charles Haughey, according to a report by Christine Newman in the Irish Times.
The Dublin Chamber of Commerce advised early starting and finishing to allow employees watch the match, and encouraged employers to enter into the spirit of the occasion.
(A television was brought into the main hall of this reporter's school, and the principal required a note in writing if parents or guardians planned to take children out of school for the day. When such a note was duly dispatched from my father, citing "a matter of national importance", it placed my mother, then a teacher in the school, in an interesting bind.)
But where to watch the game? Nuala O'Faolain wrote in the Irish Times about the risks of watching it in a pub – in theory, they would be warm, communal baths where all differences are forgotten, in reality, "hells of noise and discomfort and smoke"; the absurdity of watching at home – "shouting at a television in an empty house" – and how she accidentally ended up renting a suite in the Shelbourne Hotel for the Netherlands game.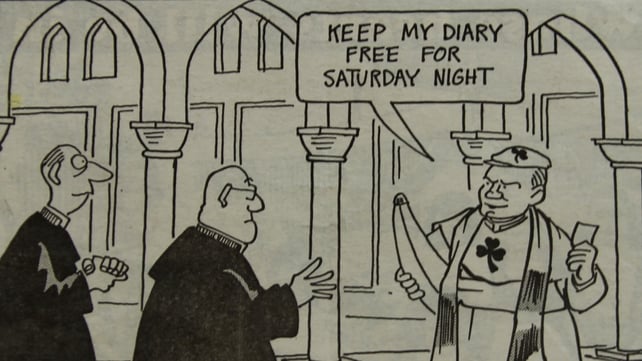 Reporting on the match for the Irish Times, Byrne echoed George Hamilton's epochal commentary when he wrote: "Millions of Irish people held their breath and then expanded with pride when first Packie Bonner parried Daniel Timofte's shot and then David O'Leary, with monumental calm, delivered the ball to the back of the net."
The win, Byrne wrote, was the perfect response to those who had questioned the players' ability to compete successfully at this level.
"Of heroes, there were many in green shirts," Byrne wrote.
"Bonner has seldom performed more inspiringly ... McCarthy's qualities of leadership are by now part of Irish sporting folklore [while] alongside him Moran enjoyed his best game of the championship."
Roy Curtis couldn't believe what he was seeing. "As I write these words my body is trembling with emotion... and my heart is pounding in disbelief," he wrote in the Irish Daily Star.
"In less than two hours we will be on our way back to Dublin, but the memories of this incredible fairytale will live with us forever."
Courage was the key to Ireland's historic win, wrote Dermot Gilleece in the Irish Times.
"It is a familiar quality to those of us who have had the great fortune to see Irish sportsmen triumph in the international arena."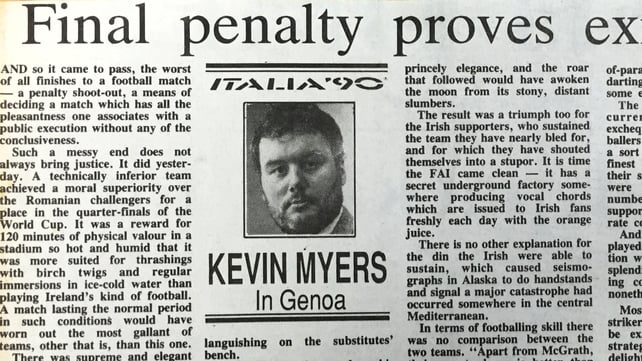 Myers wrote that although penalty shoot-outs did not always bring justice, in this case it did: "It was a reward for 120 minutes of physical valour in a stadium so hot it was more suited for thrashings with birch twigs and regular immersions in ice-cold water than playing Ireland's kind of football."
This was, as World Cup winner Jack Charlton said, "an even more wonderful day" than the final in 1966.
Even British Prime Minister Margaret Thatcher was interested, apparently. "Euphoria reigns. Mrs Thatcher is delighted for the Irish team," a spokesman was reported to have said.
Back in Dublin, Haughey was briefed on the game throughout a summit of European leaders, and suspended a press conference so that the penalties could be watched.
This was the Ireland of The Van, Jackie's Army, and "Olé, Olé, Olé".
In Palermo, Ireland's players and fans celebrated a historic victory and the promise of a World Cup quarter-final. At home, a country went loo-lah, overcome by Italia '90.
As the late Con Houlihan wryly noted: "I missed Italia 90, I was in Italy at the time."