It's as if it was only yesterday. I can remember every last detail.
It's an astonishing thing when you consider that many of the people who talk about it, and reminisce about it, can't even have a memory of it, because they're so young – maybe weren't even born – but it was such a seminal moment, in so many ways, that Italian World Cup, Ireland's first time in the competition, and the day against Romania.
It was, from the very outset, a very special day, and we knew that. It's a privilege to commentate on Irish matches at any time, because you know how many people are hanging on the whole event. But this was just something else, because it wasn't expected.
We went to the World Cup with the game against England first, and then the others against Egypt and Holland, thinking that, of course it would be great to do well, but that if we could a decent result against England the World Cup would be grand.
But it went better than that after the draw against England, and on we went, and the drawing of lots meant that we didn't meet West Germany, we met Romania, and there was, you felt, just the chance they might actually get to a quarter-final.
Smuggling operation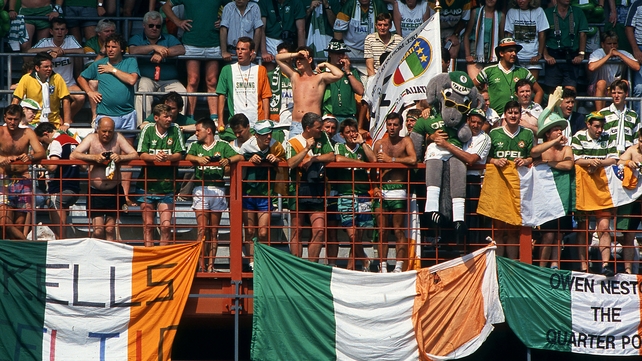 Tom Flanagan, an RTÉ floor manager, was my wingman – we didn't have co-commentators in those days, so Tom was my minder – and we were in Milan, because we'd done West Germany-Holland the night before.
We had 200km to go in the car, and as we left Milan we thought, "You know, it's just possible that there may be a celebration at the end of this. Maybe we should equip ourselves accordingly."
So we stopped at a supermarket, and we bought a bottle of Asti Spumante, and we put it in the boot, and we drove down the autostrada, and we were laughing and joking, and having a great time, like two lads going to the match, and that's exactly what it was.
We were supposed to come back to Milan after the match, because that's where our hotel room had been booked, but we decided, "Look. To hell with that. We'll stay, because one way or the other there's going to be a bit of a hoolie."
Off we went off to the game, the bubbles successfully secreted into the stadium. It was a dry World Cup: cities hosting matches were dry on match days, so there shouldn't have been any alcohol near the action. But we got it in, and it sat there with us through the two hours in the heat of the game.
When we went to interview the two key participants, Packie Bonner and David O'Leary, athletes who'd spent the afternoon in this baking hot sun, and offered them this tepid, no doubt awful-tasting Asti Spumante, they took a few sips and decided it wasn't for the drinking. Having raised a toast, they duly poured it over my head, live on air. That was my moment of the day, really, because it put the hat on it.
All eyes on penalty shoot-out
Penalty shoot-outs are by their nature very dramatic. To ratchet up the tension a little more, as the Irish players stepped up to take their spot kicks, I'd just had word that the RTÉ Six One news was going to join us.
There were only two TV channels in Ireland at the time: Network 2, as it was called, that we were on, and RTÉ 1. And the Six One news was on.
Meanwhile, in Dublin Castle, then Taoiseach Charles Haughey had suspended a press conference marking the end of Ireland's presidency of the European Union, saying, "There's something we should be watching on TV that might be a little bit interesting, for the Irish amongst us, at any rate."
Anybody watching Irish television at that time had to be watching Genoa and the penalty shoot-out.
The nation holds its breath...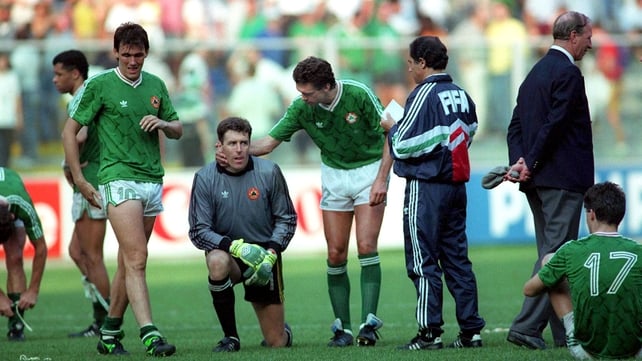 Gheorghe Hagi opens the scoring for Romania with a powerful drive above Bonner, before Kevin Sheedy more than matches him with a thunderbolt of his own, right down the middle of the goal. 1-1.
Romanian substitute Dănut Lupu coolly slots his kick to Bonner's left, the Donegal man again guessing correctly. Ray Houghton picks the same spot before falling to his knees briefly. 2-2.
Iosif Rotariu goes high and to Bonner's right, though again Ireland's keeper guesses the right way. Can Andy Townsend make it three from three for Ireland? Yes, he can, with a cool finish to the corner. 3-3.
Bonner gets a hand to Ioan Lupescu's penalty, but his dive takes him below the kick, and it's now up to Tony Cascarino – if he misses, Romania have a penalty to win. Cascarino's kick creeps under Silviu Lung  and in. 4-4.
Two hours and 42 minutes after the match began, Romania have their fifth kick. Dinamo Bucharest's Daniel Timofte vs Burtonport's Pat Bonner. Timofte goes low. To the keeper's right. It's saved. Bonner leaps, hands in the air. The big man from Donegal has set it up for victory.
David O'Leary steps forward. What is there to say?
Ireland's first World Cup. Expectations already surpassed. On the cusp of beyond our wildest dreams. Every television in the land tuned to this – to the Arsenal centre-half. To his careful placing of the ball on the spot - "This kick can decide it all". To his run-up, and then: "The nation holds its breath...
"Yes, we're there!"
Looking back
It was just the confluence of occurrences. The events brought us to the point where the line suggested itself. I didn't script it; it came out. It was completely spontaneous, but I think in my terms, of what I've done over the years, it probably is the one that has given me most satisfaction.
The game still makes the hairs on the back of my neck stand on end. I don't spend my time re-living Italia '90, obviously, no more than anybody else does. But with the 25-year anniversary coming up, I had a look at it again. It was quite astonishing to think that I'd actually lived through that, live.
It is something that gives me enormous satisfaction, but it's not about the commentator, it's about the event. It was the event that produced the line, not me, because without the event there was nothing to be said.
There have been enough dog days down the years in various sporting arenas, when you walk away saying 'That wasn't much good'.
But on that day, I think everybody knew that everything that anybody connected with it did, right down to the late Bill O'Herlihy, with the hat he wore, when they came back to the studio, the silly hat with the clapping hands on it. Everybody associated with that day got it absolutely right, right on the money.