Sepp Blatter has been described as a "lame duck president" by his former FIFA colleague Jack Warner, who has promised to reveal everything he knows about corruption in the organisation.
The Trinidadian, a former vice-president of football's world governing body, has urged Blatter to go now rather than wait for the appointment of a successor.
The 79-year-old Swiss announced on Tuesday he was standing down amid two separate corruption inquiries being carried out by the FBI and the Swiss authorities into the conduct of senior officials at the world governing body.
Chuck Blazer, formerly a senior official with the CONCACAF confederation which represents North American, Central American and Caribbean nations, has admitted in an FBI plea bargain published by the US Department of Justice on Wednesday that he and other FIFA executive committee members took bribes in relation to the 2010 and 1998 World Cup bids.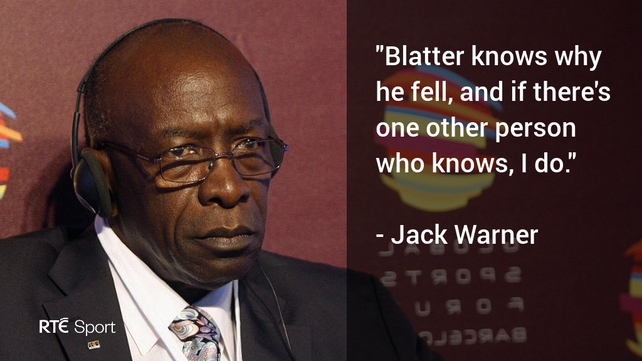 Warner, Blazer's former colleague at CONCACAF, was also named in the US indictment on alleged FIFA corruption and resigned from all football activity in 2011 following separate bribery allegations surrounding that year's FIFA presidential elections.
Speaking on Wednesday in his native Trinidad, Warner promised an "avalanche" of revelations would come out about his dealings with Blatter and FIFA, and said Blatter could not carry on until the election of a new FIFA president, which may not happen until as late as March next year.
"You can't say you're stepping down and then stay for several more months," Warner said.
"You can't do that. You can't do that. You will be a lame duck president."
Protesting his own innocence, Warner added: "Half the things you hear (about me) are not true. You all rush to write, it's not true. South Africa didn't give me any 10million dollars bribe, they didn't give me any bribe, Blatter didn't give me any bribe.
"Blatter knows why he fell, and if there's one other person who knows, I do."
Warner, who is the subject of an Interpol 'international wanted person' alert, later claimed he was in fear for his life after being named among 14 people included on the US Department of Justice's corruption charge sheet last week and said he would expose links between FIFA and the Trinidad and Tobago government.
"At the age of 73, I have no intention of allowing them to deprive me of my freedom," Warner, who denies any wrongdoing, said in a television address.
"I reasonably fear for my life. I have decided I will no longer keep secrets for them (the government).
"I have compiled a comprehensive series of documents, including cheques and corroborated statements, and have placed them in different and respected hands.
"These documents detail my knowledge in the following matters: the link between FIFA, its funding and me; the links between FIFA, its funding and the United National Congress [a political party in Trinidad and Tobago].
"These documents also deal with my knowledge of certain transactions at FIFA including, but not limited to, its president Sepp Blatter.
"My lawyers, at my instruction, are making contact with law enforcement authorities both inside and outside Trinidad and Tobago in regards to the statements I have made."
On Tuesday, hours before Blatter announced he would stand down, Press Association Sport obtained a letter from the South African FA addressed to FIFA secretary general Jerome Valcke requesting that FIFA make a payment of 10million US dollars to an account controlled by Warner.
In his FBI plea bargain, Blazer confessed that he "and others on the FIFA executive committee" had agreed to accept bribes in conjunction with the selection of South Africa as the host nation for the 2010 World Cup. His indictment also said that he and Warner travelled to Morocco in 1992 where they agreed to take a bribe to vote for that country for the 1998 World Cup, which was won by France.
The revelations follow reports that the FBI is also investigating the bidding processes for the 2018 and 2022 World Cups to be held in Russia and Qatar respectively. Those bidding processes are already the subject of the Swiss authorities' investigation.
Meanwhile, Australian Federal Police are reported to be investigating a 500,000 dollar payment which the country's football federation chairman Frank Lowy said was made to CONCACAF in relation to a training facility in Trinidad at a time when Australia was bidding to host the 2022 finals.
Lowy said in an open letter published on his federation website that subsequent to the payment being made to an official CONCACAF account, officials from CONCACAF notified him that the funds had been misappropriated by Warner.
Qatar has always strenuously denied any wrongdoing in relation to its successful bid to host the 2022 finals, but Australian independent senator Nick Xenophon told local reporters that there was a possibility of the bid being reopened as part of a wider reform process at FIFA.
"The game is up for Qatar," he said. "I'd like to think that Australia - if (any new) bidding process was going to be clear and transparent - would have a real chance.
"We would be absolute mugs if we participated in a bid unless there was wholesale reform of FIFA. Sepp Blatter may have gone but if his mates are still running the show then we should keep well away from it."
Meanwhile, Russian sports minister Vitaly Mutko - who is also a current member of the FIFA executive committee - has told the RIA news agency that there is "no risk" to his country's hosting of the 2018 finals as a consequence of the dramatic events at FIFA.