FAI chief executive John Delaney has said that the FIFA president Sepp Blatter's decision to resign represents "a good day for world football".
Blatter surprised the world by announcing his intention to resign from his role just days after being re-elected to the position for a fifth term.
The announcement followed an FBI raid on a hotel in Zurich six days ago, where several FIFA officials were arrested.
Blatter will remain in charge at FIFA until a successor is chosen at an extraordinary congress, which could mean that the 79-year-old will remain in situ for up to eight months.
Nevertheless, Delaney believes today is a great day for the world game and represents a real chance to repair the organisation's tattered image. 
"It's a good day for world football but it's now important that when debate moves on - and it is important that the debate moves on - that we use this opportunity to change the culture of FIFA," the FAI supremo told RTÉ Sport.
"The culture at FIFA was one of corruption, one of bribery. It had nothing to do with the beautiful game and as I described it last week, was more out of a mafia movie than football.
"I'm delighted today that Blatter has stepped down and I'm just hopeful that we can carry that change through.
"We have this great opportunity to get world football on the front pages for the right reasons."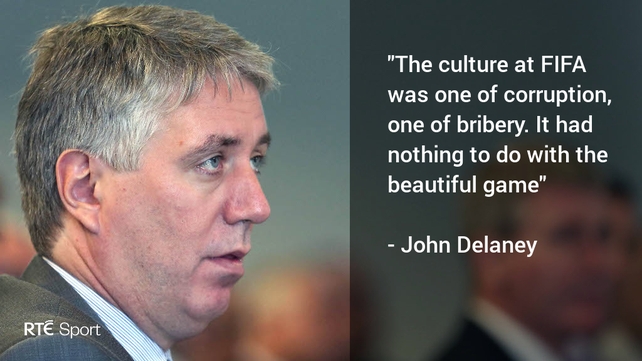 Delaney compared the changes needed at FIFA to those which the IOC underwent after the controversial decision to award the 2002 Winter Olympics to Salt Lake City.
"If you go back to the IOC, the international Olympic movement, they faced these issues many years ago and they changed that culture very quickly with a strong president who brought in good governance procedures," he added. 
Delaney also called on UEFA to reach out a hand of reconciliation to the countries that supported the veteran Swiss administrator, claiming that they did so for misguided reasons.
"I think there was a blind loyalty to Blatter, particularly from the Africans and Asians," he said.
"It's important now that UEFA gets its message out to Africa and Asia."
"I think some of those countries felt that if Blatter goes, they wouldn't get the money they were getting. In other words that the money they were getting was Blatter's money, not FIFA's money.
"The message must come now loud and clear from UEFA and South America - that this is football funding that will go to fund the projects in Africa and parts of Asia and that will continue."
Prince Ali Bin Al Hussein of Jordan, beaten by Blatter in the first round of last week's presidential election by 133 votes to 73, hinted he may stand again.
He told CNN: "I think this is the right move from Sepp Blatter and I think we have to look to the future.
"I am always there to serve football and I think that's the most important thing and to do so much work to fix this organisation in a proper way.
"I am at the disposal of our national associations. I don't want to be somebody who kicks somebody in the knees. At the end of the day, I will do my part to help the national associations."
UEFA president Michel Platini, now one of the possible contenders, welcomed the announcement.
Platini said: "It was a difficult decision, a brave decision, and the right decision."
Former France international David Ginola, who was briefly a candidate against Blatter for the presidency before aborting his campaign, said he would stand again and that it was time to "reboot" FIFA.
"This man was probably and surely under a lot of pressure and he resigned from the game and now it's time to reboot FIFA and reboot the game of football and that's the most important," Ginola told Sky News.
Luis Figo was another man who challenged Blatter in the latest election - before withdrawing in the week before the vote.
He used Facebook to react to Blatter's announcement.
"A good day for FIFA and for football," he posted.
"Change is finally coming. I said on Friday that the day would come sooner or later. Here it is! Now we should, responsibly and calmly, find a consensual solution worldwide in order to start new era of dynamism, transparency and democracy in FIFA."