FIFA President Sepp Blatter remained defiant ahead of today's election defiant in the face of worldwide condemnation and a threatened revolution from UEFA.
European countries are set to mount further challenges to Blatter's authority if, as expected, the 79-year-old wins today's vote against Prince Ali Bin Al Hussein.
Addressing the delegation at FIFA's Congress in Switzerland this morning, Blatter urged the membership to remain unified, saying: "Today, I am appealing to unity and team spirit so we can move forward together," he said. "It may not always be easy but he we are here together today to tackle the problems that have been created. We are here to solve them.
"I think the important point today is to move ahead and the important point is transparency. The important point is where does FIFA stand in the world. It is the fight against corruption, against match fixing, racism and discrimination which we still have and this hurts.
              
"Let's show to the world we are able to run our institution which is FIFA we can do it together."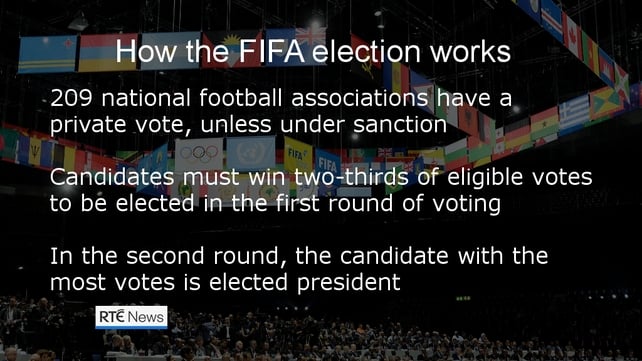 Delegates were briefly evacuated during a lunch break after a bomb threat was received before returning to the main congress hall at around 12.30pm Irish time.
Earlier, two pro-Palestinian protestors were ejected from the congress hall after making their way inside, while a demonstration calling for Israel to be ejected from FIFA continued outside.

Speaking on RTÉ's Morning Ireland, FAI chief executive John Delaney said that if Blatter loved football he would do the honourable thing and step down.
Delaney said Blatter had lost some support due to the corruption probes launched this week by US and Swiss authorities but that he still expected him to win a fifth term.
The Irishman said that in his tenure he has never voted for Blatter and that he is not the man to lead FIFA forward.
Delaney added he believes that the Swiss views FIFA as an empire and that it has "this huge power".
The Irishman continued: "He has a big ego. When he requires you he can try flatter you but in my opinion, and many people in Europe, personality aside, he is not the person to be leading FIFA going forward."  
Delaney denied that a reported €5million payment by FIFA to the FAI after Ireland missed out on the 2010 World Cup was "patronage" saying the "confidential" arrangement was the result of a legal case the FAI was pursuing against FIFA at the time.
UEFA president Michel Platini declared "enough is enough" and demanded that Blatter quit in face-to-face talks yesterday.
Platini warned all options would be considered - and did not rule out a World Cup boycott - while sponsors turned up the heat on Blatter.
Dawn raids by Swiss police on Wednesday saw arrests of seven FIFA officials including Jeffrey Webb, a FIFA vice-president from the Cayman Islands who holds a British passport and fellow vice-president, Eugenio Figueredo from Uruguay.
All are challenging extradition to the USA where authorities have indicted 18 people on corruption charges.
Blatter, however, refused to resign and tackled the crisis head on at the FIFA Congress opening ceremony, referring to "unprecedented and difficult times for FIFA" and saying corruption brought "shame and humiliation on football".
He said: "It must fall to me for the well-being of our organisation to find the way forward to fix things.
"Actions of individuals bring shame and humiliation on football and demand action and change. We cannot allow the reputation of football and FIFA to be dragged through the mud any longer, it has to stop - here and now."
Platini did not rule out the possibility of a World Cup boycott but said UEFA members may follow the example of English FA vice-chairman David Gill, who said he will refuse to serve on FIFA's executive committee if Blatter is re-elected.