Sevilla coach Unai Emery declared himself "very happy here" after guiding the Andalusian outfit to Europa League glory, but will make a decision on his future after talks with club officials "in a couple of days' time".
The 43-year-old, who earlier this week signed a two-year contract extension to remain at the Ramon Sanchez Pizjuan until June 2017, is expected to remain at the helm next term, but is a reported target for several clubs including Real Madrid and AC Milan.
"This is not the time to talk about my future," Emery said on www.sevillafc.es after the team's 3-2 European triumph over Dnipro in Warsaw. "I'm very happy here.
"Right now I just want to enjoy this and in a couple of days' time, I will sit down with the club president and the sporting director and take a decision."
Emery's side completed a successful Europa League defence and also secured a place in next season's Champions League with their come-from-behind success in Poland.
Sevilla also won the competition in 2007 and 2008, so the latest triumph has made them the most successful club in UEFA Cup/Europa League history.
"These are unique times," Emery said. "We want to congratulate Dnipro because they were worthy finalists.
"We've had to face a lot of adversity in the competition, including in the final.
"Against Dnipro, we were always on the back foot but I told my players at half-time to be patient and wait for our time. My players did an excellent job.
"This is what makes Sevilla strong, because each player wants to give more"
"It's not easy to win the Europa League but through hard work and perseverance we have succeeded.
"Sevilla finds a special chemistry in this competition and that gives us and added strength. We wanted more and we have achieved it."
Having finished fifth in the Primera Division, despite a strong end to the campaign which saw them post a club-record six straight wins to narrowly miss out on qualification for the Champions League, Sevilla now know they will take part in Europe's elite club competition next year after all.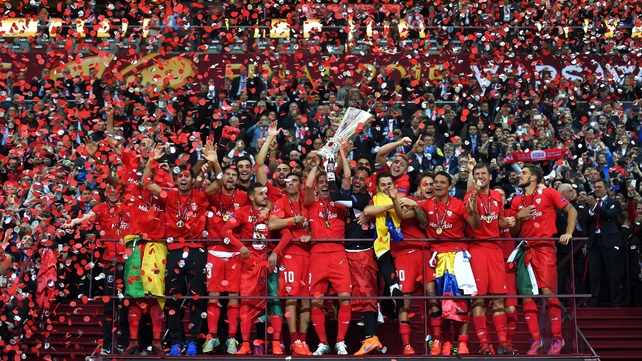 "We want to be happy with what we have and with what we can do," Emery said. "We know we need to be ambitious in order to grow.
"It's great to be in the Champions League - that was our aim. We will try to be competitive and do well.
"We are delighted with our season. We have won the Europa League and clinched 76 points in La Liga, which in previous seasons would have been enough to win the league title."
Emery praised goalscoring hero Carlos Bacca, who struck twice on Wednesday - including the winner - to increase his tally in the tournament to seven goals.
The Colombian forward has also enjoyed a strong season, finishing fifth in the Primera Division scoring charts with 20 goals.
"He is a very competitive player," Emery said. "Each time he steps on the pitch, he wants to give more to grow. He doesn't want to find his limit, but set himself higher aims.
"This is what makes Sevilla strong, because each player wants to give more.
"Now Bacca will want to play in the Champions League, be the best player and work for that.
"He has proved that in the two years he has been at Sevilla.
"I want players that think about the team ahead of themselves, but that their individual ambitions are present. He is one of them."