League of Ireland stalwart Damien Richardson has revealed a desire to return to management, feeling he is at his "very best" at this point in his career.
The 67-year-old helped steer Drogheda United to safety last season in the SSE Airtricity Premier Division to add to his notable achievements in the dugout, having first entered management at senior level in 1989.
Speaking in the latest episode of the podcast series Different Class, Richardson said: "When I went to Drogheda last year, I had turned down jobs in the previous years up to that. I thought 'I have to take this job because if I don't then that's me finished'.
"It just proved to me that the most important of management is experience. One thing that irks me is how clubs say we want a young manager who can grow with the club. Young managers don't grow with the club. What manager lasts three or four years in the job now? Nine out of 10 don't.
"If they take a young manager in and they get success, he'll go somewhere else. All football [now] is two or three years. I'm 67 years of age now. Thank God I still have my health, I'm still in love with the game, and I still have a lot offer. I am at my best.
"From a managerial point of view, I am at my very best. When I was in Drogheda, I had two good coaches with me in Neale Fenn and Darius Kearns and it was the perfect style of management. No manager does it on his own any more, that's the modern art of management.
"I still have a desire to be part of football. I'm very lucky in doing RTÉ's Soccer Republic on Monday evening and I love it, but I still want to be involved in the physical sense. The dressing-room is the greatest part of football, apart from playing itself."
Richardson's playing career is quite a contrast to the modern day, he had a long-standing involvement with Shamrock Rovers before moving to England to line out for Gillingham, again for close to a decade.
He spoke passionately about what it meant just to play the game.
"I loved playing. Even to this day, I still miss playing dreadfully. It is something I hope I never lose. If I lose that then it will dilute my desire to be involved.
"There is nothing better than playing football. When you go into a dressing-room for training or for playing, you hang your clothes up and you hang your worries up. You go out and play football and become a kid again. It is a magnificent feeling.
"No matter whether if your house is being repossessed or your missus is leaving you, when you play football for 90 minutes you are a king and you're playing this wonderful game and nothing else matters.
"Then you come back in, put your clothes back on you and along come the worries of the day with your clothes. I still have that great belief in football that it has the ability to do that. All the times I've managed, I've tried to emphasise that and make people aware of that fact."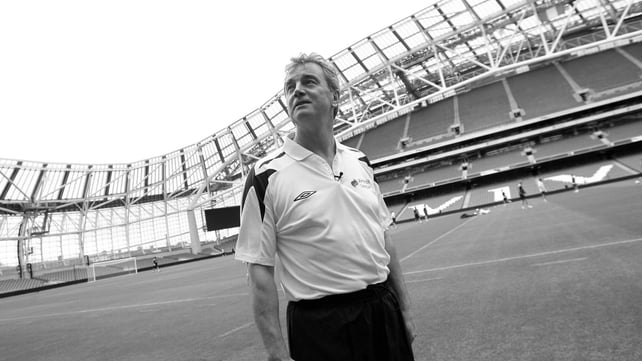 The path to management came in an unexpected form. The Dubliner had a choice to make after successfully embarking on a career selling double-glazing and building a sustainable income in that field.
The Gills offered Richardson a path into management, but with it came a sacrifice.
"I made more money selling double-glazing than I ever did in football. I could not believe it. I was self-employed, didn't have to pay huge amounts of tax, I had a lot of expenses obviously and made a lot of money. I bought a big house.
"Then one day I got a phone call from Gillingham. The manager of Gillingham changed, a lad called Paul Taylor become manager. His youth-team manager was John Gorman who later worked with Glenn Hoddle at Spurs and England.
"John became assistant at Gillingham, it was February when they called me and said they are in trouble and need someone to look after the youth team until the end of the season.
"I was driving a BMW 72i series, around the most beautiful county of Kent, I was making good money and talking to good people. I had to sell the car and take the Vauxhall Cavalier which was the club car for  the year for the youth-team manager.
"I went down from something ridiculous, £35,000 to £38,000 in 1987 to £12,000 a year. I had sold the car to someone that lived near the ground and as I drove in every morning I passed my BMW!"
But it led to a managerial career which saw Richardson take charge of five clubs in Ireland as well as Gillingham. He famously led Cork City to the title, as well as claiming three FAI Cups, including two with Shelbourne.
Listen to the full episode of Different Class here.