Trevor Croly has been unveiled as the new manager of Bray Wanderers.
Croly's appointment was confirmed at a press conference in Ballsbridge at noon on Monday.
Wanderers are currently second from bottom in the table, just two points clear of Limerick, having mustered just seven points from their opening 12 games.
Maciej Tarnogrodzki had been caretaker manager following the departure of Alan Mathews in April.
Tarnogrodzki left the post after the 8-1 defeat to Dundalk on 4 May, leaving captain David Cassidy in charge for the 4-2 loss to Drogheda United last Friday night.
Croly's experience includes a disappointing 18-month spell as Shamrock Rovers manager, and he was previously a coach at St Patrick's Athletic.
He joins Bray amidst a time of uncertainty, with a failed takeover, financial problems and confusion around the ownership of the club casting a cloud over the Carlisle Grounds outfit.
John Gill will be assistant to Croly; the duo previously worked together at Rovers.
Wanderers said in a statement released on their website: "In Trevor, Bray Wanderers are making a commitment to the future with an outstanding coach who has the skills, ability and qualities to secure consistency and success for the club.
"Trevor also has proven himself as a committed advocate of the development of youth football and structures, both of which are important parts of the club's plans.
"Trevor has signed for a three-year term, which was agreed as the minimum needed to establish a youth system that will provide the right opportunies for young footballers to fulfil their potential within the community-based club Bray Wanderers intends to be."
Speaking to RTÉ Sport after the press conference, chairman Denis O'Connor (below, right) said he hoped to resolve the uncertainty surrounding the club in the next week.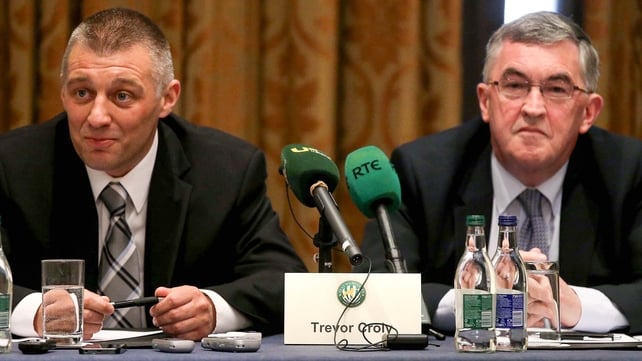 The McGettigan Group have been aiming to accquire the majority shareholding in Bray Wanderers since last December but have been unable to complete the deal.
Asked about their involvement at this time, O'Connor said: "The McGettigan Group are involved in that the Royal Hotel is a sponsor, which is part of their group. There are background issues, we expect to deal with them in the next seven days. We got a solicitor's letter from the McGettigan Group so therefore it makes it quite difficult to speak about it openly but we will deal with it and we will get all these issues resolved.
"The day-to-day affairs are going to be handled by the board of the club and company itself. There is a lot of malicious stuff going on out there and we need to, in the first instance, concentrate on Trevor and the team and what he is doing, and very quickly we'll get through all of this.
"It has been going on for years in the club, long before my time. I actually don't know what the background to some of it is. Some people are at property plays, I gather, from years back, perhaps it is still going on. But for me it is football this week and we'll deal with those issues next week."
Wanderers have conceded 20 goals in their last four games and the resignation of Tarnogrodzki prior to Croly's appointment was another farcical chapter in their season so far.
O'Connor felt they let down the former Under-19 boss at the Carlisle Grounds.
"I was actually astounded to discover recently that before Maciej was appointed, we had only won 1 in 26 Premier Division games which was kind of a shock. Maciej, we were unfair to because we left him there longer than we promised him.
"That was because as Trevor explained at the press conference, there was a good bit of negotiation before we got him over the line. Maciej, in fairness, got us seven invaluable points and on Friday [in the 4-2 defeat to Drogheda] I saw some of Maciej's results.
"They played football in the first half so we will always be grateful to Maciej, he is a good part of the history of Bray Wanderers.
"I knew during Maciej's reign that it was a temporary thing but he proved that there is something in the squad and there is something to be got out of them.
"Even though we were beaten on Friday night, we got two goals which we have been starved of. Listening to Trevor and some of his backroom staff, I am actually interested in training because I think there will be a whole new beginning and awakening in that senior squad.
"I am aware of some of his plans during the season to bolster the squad so I think yes, we will survive relegation and next year we won't be talking about relegation.
"The long-term plan isn't just about the senior squad. It is about the development of a youth academy that goes all the way down the line and I think Trevor has some serious, fantastic plans for that and we look forward to working with him on it."