Birthday boy Shay Given hopes to consign his unhappy FA Cup memories to history next month, while the Aston Villa and Republic of Ireland goalkeeper remains hopeful that Jack Grealish will nail his colours to the Ireland mast.
Given, who plays second fiddle to Brad Guzan in the Premier League, has been an ever-present in Villa's FA Cup run this season and played an important role in the club's 2-1 semi-final victory over Liverpool at Wembley on Sunday.
The Donegal netminder, who turned 39 on Monday, told RTÉ Sport: "It's the best birthday present you could ask for.
"I thought we deserved it as well. I thought we played well on the day and showed a lot of character as well - going one goal down and coming back to get the victory."
Given has received no confirmation from manager Tim Sherwood that he will start against Arsenal in the Wembley showpiece, but is enjoying life under the new Villa boss.
"The manager gives you that confidence and belief as well," Given revealed.
"I have known Tim from my Blackburn days and he's basically come in and said to everyone that it's a clean slate and that's in the goalkeeping department as well.
"I'm pushing Brad hard for a place in the Premier League team - hopefully closer than I was in the last year or two.
"I've just got to - when given the opportunity like in the FA Cup - to show to the manager, to show to Tony Parks, the goalkeeping coach, that I'm still here trying to get into the Premier League team.
"Hopefully I've shown that in the FA Cup games of recent weeks."
The custodian also shed light on the regime required for footballers to keep their ageing bodies in peak form.
"You've got to do more stuff in the gym, you've got to do yoga, more massages, watch what you eat, watch what you drink, all that kind of stuff.
"It goes hand in hand with getting older and still trying to play at the top level."
Given's first FA Cup final experience came in a 2-0 defeat to next month's finalists Arsenal during his long tenure at Newcastle back in 1998.
The Magpies were back at Wembley to face Manchester United just 12 months later but the outcome was the same, as Ruud Gullit's side were beaten on an identical scoreline by Manchester United.
That much saw Given suffer the ignominy of being dropped to the bench and he was again amongst the unused substitutes when he picked up a winner's medal in 2011 as Manchester City ended their long wait for silverware.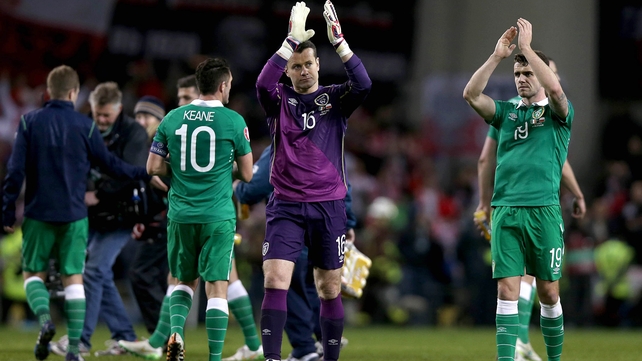 The chance at FA Cup redemption and his recent return to the Ireland fold in last month's 1-1 draw against Poland in the Euro 2016 qualifiers have provided Given with a welcome fillip and acted as a spur.
"It's got me back in people's minds, and Martin O'Neill picking me for the last qualifier was huge for me personally as well.
"I've got to keep pushing and try and keep showing to Martin as well that I'm still capable of doing a good job for the team.
"Every player wants to play and hopefully I'll get a chance this time and hopefully we can pick up the trophy.
"I'm not getting any younger and hopefully this is my chance to win a medal."
Villa starlet Jack Grealish played a pivotal role in the victory over Liverpool, providing the assist for Fabian Delph's winner.
His overall performance made a deep impression on his team-mate.
"He was brilliant," Given enthused.
"I said to Jack myself before the game, 'just relax, Jack, don't think of the occasion, don't think of anything, just go and do what you do on the training pitch and forget about everything else.
"I thought he was absolutely brilliant yesterday, for such a young man, in such a big game as well, to excel in the way he did.
"He's going to be a big star."
While Grealish has represented Ireland in the youth ranks, the Birmingham-born winger's future at senior level has yet to be decided. Given has been actively encouraging the 19-year-old to declare for the Boys in Green but is all too aware that his suitors from the England set-up may be stepping up their charm offensive.
"Hopefully we will get him," Given said.
"And the thing is, you don't want to put too much pressure on a young lad, but he's good enough to play for Ireland right now.
"The thing is about yesterday's performance, he excelled so much, and the bad side of that is the English people will be taking note as well and be in his head.
"No-one knows right now what's going to happen, but I'm in his ear most of the time, trying to get him to pull the green jersey on for the senior team."
For more listen to Game On, weeknights from 7pm on 2FM