Louis van Gaal would not rule out an 11th-hour tilt at the title after watching his Manchester United team blow Aston Villa apart at Old Trafford.
Ander Herrera bagged his sixth and seventh goals of the season and Wayne Rooney scored a stunning volley as United recorded a 3-1 win which moved them above Manchester City into third place.
United's Champions League's hopes looked to be in jeopardy a few weeks ago, but after five straight wins, Van Gaal's team are now eight points ahead of Liverpool and are just one point behind second-placed Arsenal.
Fourth was the target for Van Gaal at the start of the season, but he insists leaders Chelsea are not out of reach even though United have just seven matches left.
"We have to play against the first three in the league (Chelsea, City and Arsenal) and normally when you play against better teams with more points it's not done yet," the United manager said.
"We are looking up and we have to win every week but anything is possible.
"We have made a big gap to fifth and we can suffer a defeat.
"Liverpool is now eight points behind us and we are more than eight points behind Chelsea. We probably won't be champions but we can give pressure."
"I kissed him at half-time because he had controlled the ball for the first time in his life"
Rooney's 79th-minute strike will be a contender for goal of the month, if not the season.
The England captain brought down substitute Angel di Maria's cross with his left foot and then turned sharply before sweeping the ball past Brad Guzan on the volley with his right.
"It was beautiful - and also the assist of Di Maria," Van Gaal said.
"He was not on the pitch long and he already has an assist. That's fantastic.
"It was his 10th assist this season today and he hasn't played all the game like Herrera did so it's a fantastic result.
"Like Di Maria his time is coming but he has to wait for the right moment."
Herrera rounded off the 3-1 win with a low first-time drive after Christian Benteke had scored a late consolation for the visitors.
The Spaniard's first goal was a peach. He cushioned the ball with his left foot after Daley Blind's pull-back and then slammed a low drive into the far corner.
Van Gaal was so happy with Herrera's first that he planted a kiss on the young midfielder's head in the dressing room at half-time.
"Ander has a very good kicking technique and he should only be more composed," Van Gaal told MUTV.
"I said to him 'you have to control the ball before you shoot'.
"I said that to him again in yesterday's training session, and then I kissed him at half-time because he had controlled the ball for the first time in his life and then he shot!
"But then I came after the second half to him and he said 'without control I can do it also!"'
Villa, meanwhile, are nervously looking over their shoulders after the fourth defeat of Tim Sherwood's reign.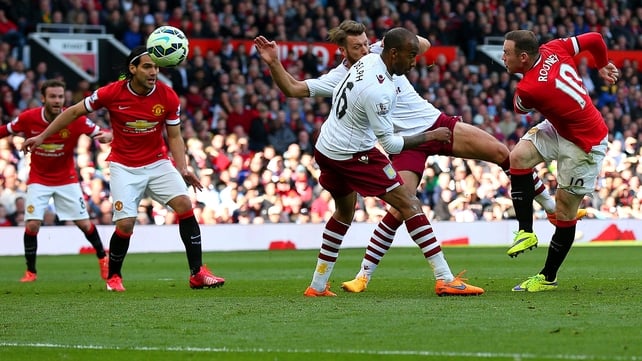 The Midlanders are three points from safety ahead of Tuesday's crunch match against fellow strugglers QPR.
Villa will be fourth from bottom if Sunderland beat Newcastle on Sunday.
Sherwood was not too unhappy with his team's efforts, but he was disappointed to go behind one minute before the break.
"There's never a good time to concede a goal but that first goal knocked the stuffing out of us before half-time," the Villa boss said.
"But we never panicked and kept ourselves in the game. We did that right until injury time when the third goal killed us.
"I thought we stuck in there. We were always in the game until the third goal killed us off.
"We were just waiting for a break. We thought we might have one more chance in us.
"They left nothing on the pitch. But Manchester United were too good for us."
Villa were hindered on Saturday because Ashley Westwood and Scott Sinclair were ruled out through hamstring injuries and they are not expected to be fit for the QPR game.
Alan Hutton is also a doubt after suffering an ankle injury at Old Trafford.
"The injuries are crippling, ridiculously crippling," Sherwood said.