Liverpool manager Brendan Rodgers has praised his players' "absolutely magnificent" response to their poor start to the season after moving within two points of the top four.
Few could have foreseen life without Luis Suarez beginning so badly, with a lack of creativity and cutting edge leading to the pressure growing on the Reds manager.
Matters reached a head on December 14 as they suffered a 3-0 defeat to Manchester United, which saw the Merseyside giants drop down to 10th place in the standings, a full 10 points behind their bitter rivals.
Since then, though, Liverpool have improved markedly and on Sunday cut the deficit to Louis van Gaal's side to just two points, with Philippe Coutinho and Raheem Sterling scoring in a controversial 2-0 win at Southampton.
"The first period of this season was nothing like what we've been during my time at the club," Liverpool boss Rodgers said.
"We had to find a solution to that, but we restructured the team and organised the team in a different way to get that solidity back and get the balance back, both offensively and defensively.
"The players' response has been absolutely magnificent. We've been playing two or three times a week for the last four months.
"(Sunday) was a huge win. To come here and win at any time is always a good victory, but to come here on the back of a tough European game in the week, not concede and score two goals really shows the level that the players are working at.
"This is arguably as good a, if not an even better, result than our win here last year, when we played very, very well."
The Southampton side that lost 3-0 that day included Dejan Lovren, Adam Lallana, and Rickie Lambert, who all now ply their trade at Anfield.
Rodgers says he could understand the jeers aimed at Lovren after his short stay and abrupt exit, but accused the club of disrespecting Lambert and, in particular, Lallana.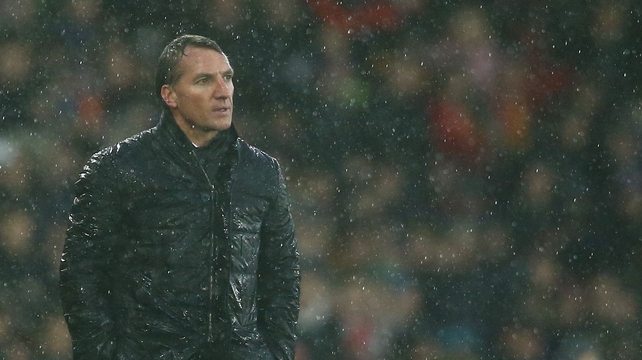 "Adam was the captain here for two years, gave incredible service to Southampton and I know for a fact he could have left here a number of times and didn't," the Reds boss said. "And to get the reception he got I thought was disappointing.
"I looked in the match programme and there was nothing relevant to his time here and all the time has been here since a boy.
"Then there's the like of Rickie Lambert - great servants to here, incredible players that have got the club to where it is today. There was no mention of him, which I thought was sad."
Lovren revealed that confidence was growing in the Liverpool camp.
"We have massive, massive talent and we can just go higher and higher because everyone is so young," the 25-year-old defender said.
"With the talent and young (players), I think we can achieve whatever we want, whatever we imagine. We just need to work hard and give our best on the pitch."
"We have massive, massive talent and we can just go higher and higher because everyone is so young." - Dejan Lovren
The average age of Liverpool's line-up at St Mary's was 23.4 years - the youngest in this Premier League this season, according to Transfermarkt.
"It's a massive three points for us, now we're a step closer to the top so we need to continue like this," Lovren told LFCTV. "I think we did a great job.
"Of course, it was a special moment to play against my ex-team - especially after the win, I'm more happy."
The victory was not without controversy, though, as referee Kevin Friend made a string of poor calls, with Filip Djuricic twice taken down in the box before Lovren handled late in the first half.
"I am not sure for all three (penalty claims)," Lovren said. "I know for mine when I touched the ball with the hand, I know it was too close. It was a deflection so I couldn't react and I don't think it was a penalty.
"For the first two, I am not sure - I didn't see. I was a little bit far away. I think at the end I think the referee was doing a great job."
That is not something Southampton midfielder Djuricic agreed with after being taken down by Emre Can and then Joe Allen in the opening minutes.
"I think the second one was a clear penalty," he said. "The first one, okay, I fell down because I felt the contact.
"The referee in that case could or could not whistle, but the second one I think was a clear one and it could decide the game on a different way, but we could also play a little bit better in the offensive line, and be more direct."
Southampton manager Ronald Koeman revealed that winger Sadio Mane was dropped to the bench after turning up late to St Mary's.
"He was 25 to 30 minutes too late for the pre-meal and we have rules, instructions with the players and everybody can be late one day in a morning, but you can't be late at one o'clock when you have to play against Liverpool," he said.
"The explanation is between the player and the coach, but he was too late and I can't and won't accept that."