Equatorial Guinea 0-3 Ghana
Crowd trouble marred the end of the African Nations Cup semi-final between hosts Equatorial Guinea and Ghana in Malabo as the Ghana fans were forced to flee the stands after being pelted with bottles.
The match, which Ghana won 3-0, was suspended for around half an hour when the Black Stars supporters had to leave the stands and take refuge behind one of the goals after being bombarded with objects from rival supporters.
Bottles could be seen scattered across the running track which surrounded the pitch, while there were reports of tear gas being fired into the stands in a bid to control the Equatorial Guinea fans.
The referee stopped the match and the players were left waiting in the middle of the pitch to find out if the match would restart, with the Equatorial Guinea players pleading with their fans to calm down.
A helicopter flew across the stadium in a bid to bring calm but Equatorial Guinea fans continued throwing objects onto the field.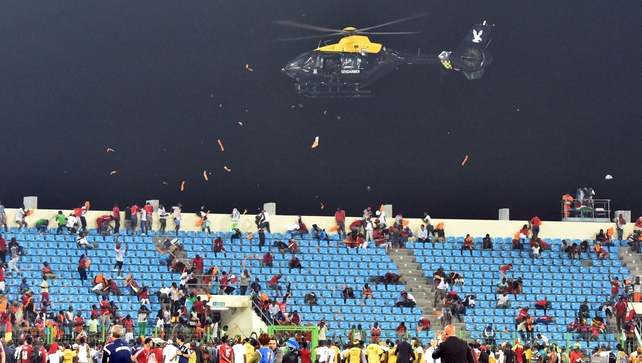 Ghana supporters appeared to be escorted away by police through the tunnel, with reports of Equatorial Guinea supporters waiting for them outside the stadium.
The match had eight minutes left to go when the trouble occurred and it looked set to be abandoned, but incredibly was allowed to continue, players clearing bottles off the pitch before the game restarted in the 90th minute.
Three minutes of injury-time were played without incident.
Equatorial Guinea only stepped in to host the tournament at the 11th hour after Morocco pulled out due to the Ebola epidemic.
Having never qualified for a World Cup, their only previous African Nations Cup campaign was in 2012 when they reached the quarter-finals.
They went one better than that by knocking Tunisia out in the last eight in the most dramatic of circumstances, but that achievement was soured by Thursday night's events.
Leicester's Ghanaian player Jeff Schlupp wrote on Twitter: "Absolutely embarrassing! Just let us go to the final and win this tournament in peace! #Ghana #BlackStars."
#Ghana fans moved out of the stadium with barbaric acts of vandalism and unprovoked violent attacks still going on. pic.twitter.com/iOJ3vY8VER

— Ghana FA Official (@ghanafaofficial) February 5, 2015